Volunteer: Coho and Steelhead Monitoring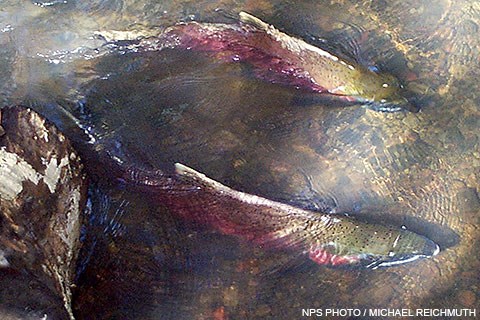 Overview
The Coho and Steelhead Monitoring Volunteer assists park staff in determining long-term trends in: a) distribution, abundance, and size of spawning coho salmon; b) abundance of smolt coho salmon and steelhead trout; and c) species diversity, distribution, abundance and size and age composition of juvenile coho salmon and steelhead trout. The volunteer also assists park staff in identifying gross changes in stream habitat.
Duties
Collect data relating to stream habitat, water quality, fish and invertebrate populations, salmon spawning, riparian area condition and stream channel substrate composition
Count numbers of spawning salmon, carcasses, and redds (nests) along Olema, Pine Gulch, Redwood, and Cheda Creeks during winter surveys
Help erect, repair and check smolt traps near creek mouths of Olema, Pine Gulch, and Redwood Creeks during spring surveys
Assist project staff during electrofishing operations by netting, measuring and recording data on juvenile fish during summer and fall surveys
Identify and record gross changes in habitat in Olema, Pine Gulch, Redwood, and Easkoot Creeks during summer and fall surveys
The volunteer must be able to follow verbal and written instructions and walk long distances over rough, uneven terrain in streams subject to high flows while carrying 20 to 40 lbs of equipment. The volunteer may be exposed to ticks, poison oak, rain and extreme temperatures. The work is off-trail and not recommended for volunteers with mobility constraints.
Schedule and Time Commitment
Work days are scheduled Monday to Friday throughout the year and are dependent upon weather conditions and program needs. Work days last six hours from 9 am to 3 pm. Please contact us (see below) for work schedules.
Coho and Steelhead Monitoring is a drop-in program where volunteers are not required to work more than one day at a time. However, volunteers are welcome to work as many of the work days as desired.
Training
On-the-job training
Benefits to the Volunteer
The volunteer will gain knowledge on stream and fish sampling techniques while enjoying the satisfaction of helping to preserve salmon for current and future generations.
Group Type
Individuals are encouraged to participate.
Minimum Age
Minimum age is 16. Volunteers under 18 must have a signed parental consent form. Please contact us (see below) for more information.
Accommodations
Housing and RV sites are unavailable.
Application and Contact Information
Please apply here. (You will be redirected to Volunteer.gov.)
For schedules and more information, contact Mike Reichmuth at 415-464-5191 or by email.
Last updated: February 4, 2023