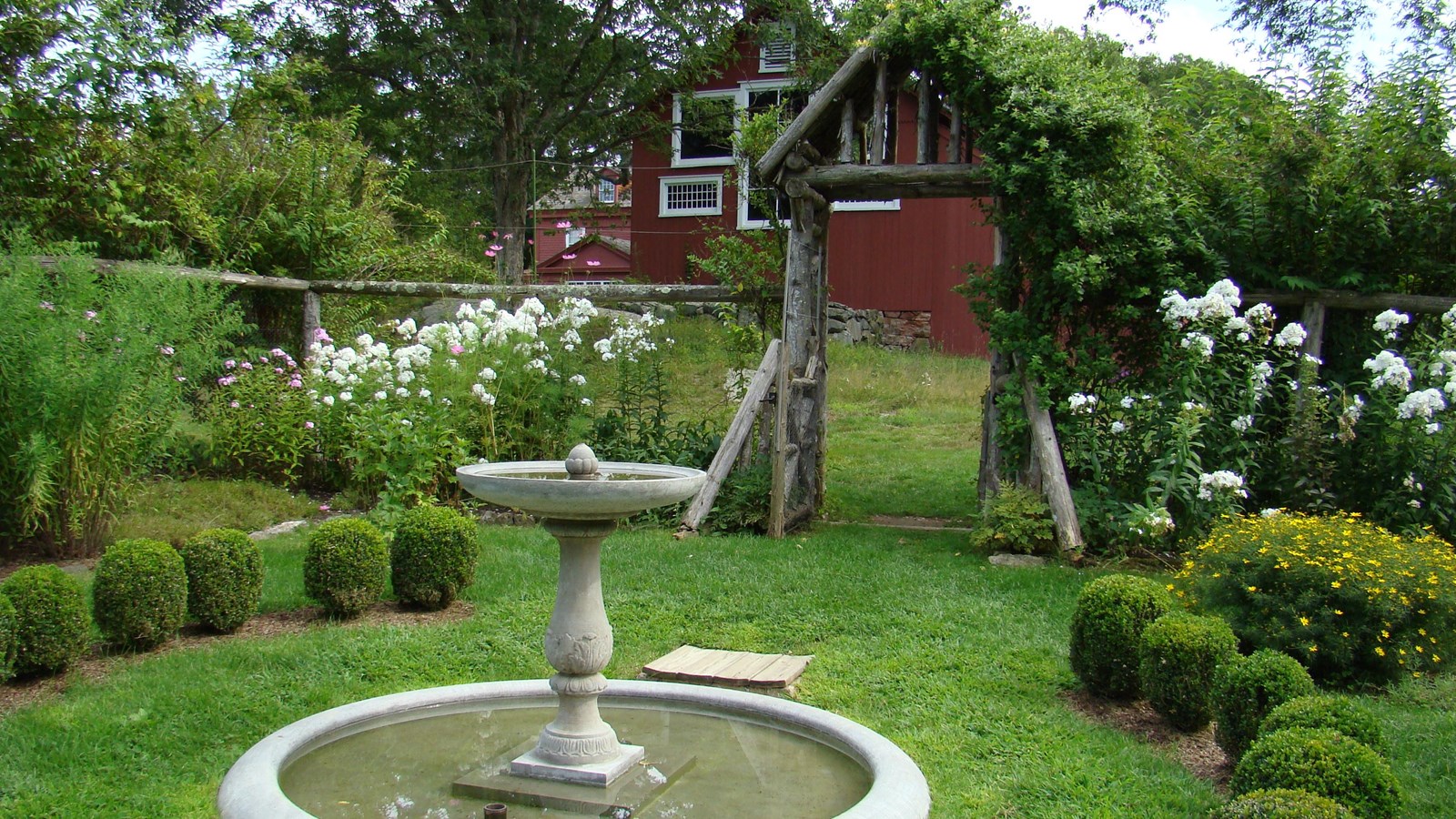 Location:
Weir Farm National Historical Park
Cellular Signal, Pets Allowed, Scenic View/Photo Spot
Named because the outside hedges became so overgrown it hid the garden, the Secret Garden is located near the Weir and Young Studios. The Ridgefield Garden Club worked with the National Park Service and the Olmstead Center for Landscape Preservation to restore this area in the mid-1990s. With its quaint wood fencing, bubbling fountain, and historic sundial, this spot encapsulates beauty and blooms with a dazzling array of flowers that are sure to inspire!
History
Although Julian Alden Weir created a series of sketches that depicted a garden north of his studio, he was possibly sketching an earlier garden his first wife, Anna Baker Weir, created. Sometime around 1915, Cora Weir Burlingham, Caroline Weir Ely, Dorothy Weir Young, or Ella Baker Weir all might have had a hand in the creation of the formal garden. It is still unclear who created the garden area. However, a series of historic photographs in the garden show a wide range of activities were enjoyed here.

When Dorothy and Mahonri Young owned the property, the hedgerows became overgrown and the wooden gates and fences would vanish. It was during this time that the garden gained the name the "Secret Garden" because the hedges became so overgrown it hid the garden to those that did not know it was there. The hedges along the outside of the garden are called Deutzia. The plant is native to Eastern and Central Asia, and parts of Central America and Europe, and have beautiful white flowers.

During the summer of 1995, with assistance from the Ridgefield Garden Club, the Secret Garden was restored. A new fountain and sundial, as well as fencing and plantings, were installed, and 23 non-historic trees were removed. Photos taken in 1915 were used to identify plant materials and help determine the general layout of the garden. The garden has been restored to circa-1940 and can be explored by visitors today.

Weir Farm National Historical Park works with volunteers, partners, and garden clubs to continue the preservation of the park's magnificent historic gardens. You can be part of the preservation story by becoming a Garden Volunteer! If you love gardening, spending time outdoors, or want to be part of the preservation of this National Park Service gem, join us in maintaining the beauty of your national park! To learn more about volunteering, visit the park's website.
Last updated: June 22, 2023