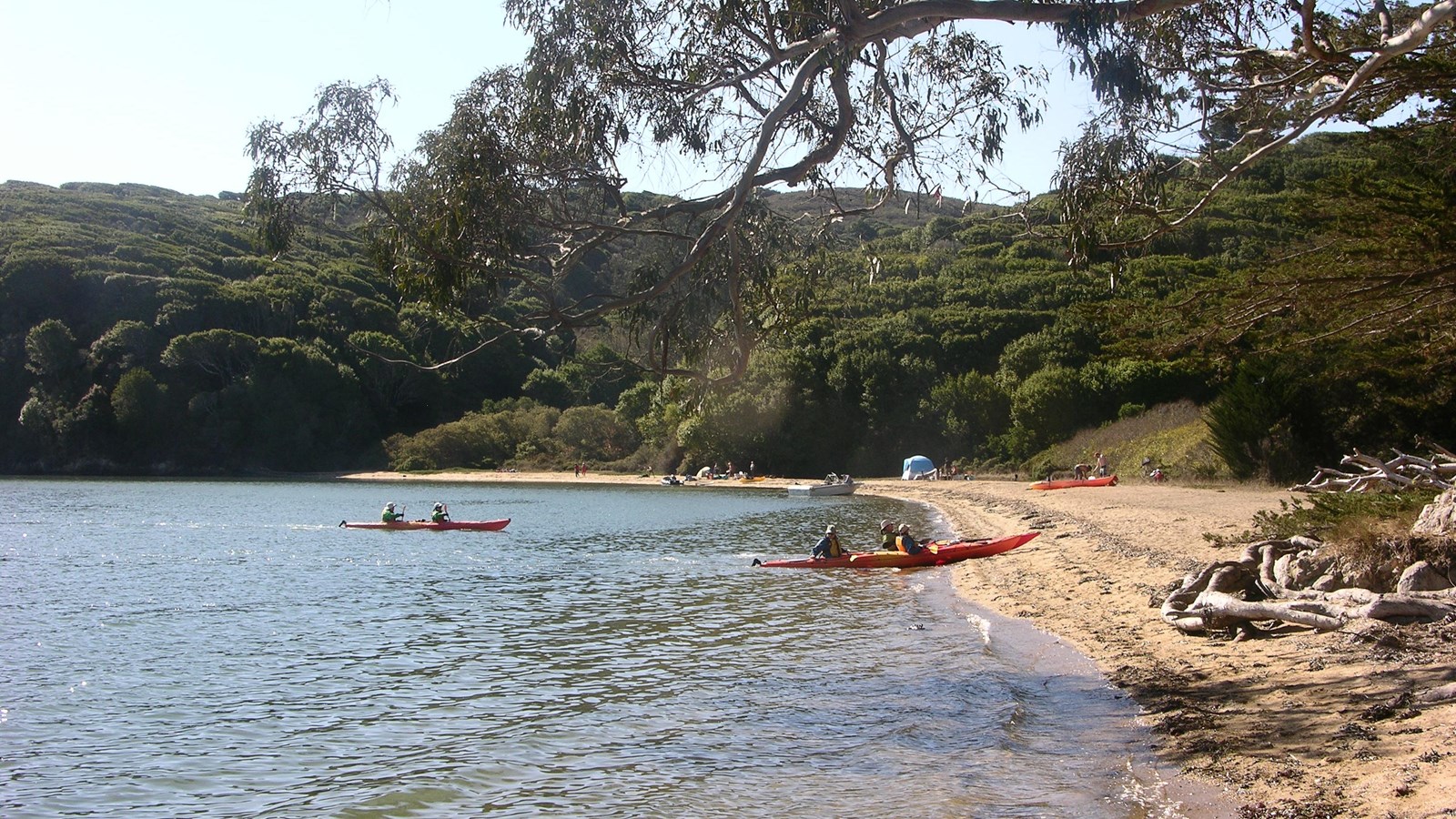 Location:
Marshall Beach, Point Reyes National Seashore. Geo-coordinates: 38.1631, -122.9155
Beach/Water Access, Primitive Campsites, Toilet - Vault/Composting, Trash/Litter Receptacles
Marshall Beach is a 400-foot-long (366-meter-long) beach on the west side of Tomales Bay in the northern part of the national seashore. Most visitors to this beach arrive via water, i.e., by kayak, canoe, paddle board, small motorboat, etc. (PWCs are prohibited on Tomales Bay.) Visitors may also hike or ride their bicycles or horses to Marshall Beach via the 1.2-mile-long (1.9-kilometer-long) Marshall Beach Trail. The Marshall Beach Trailhead is reached by vehicle via L Ranch Road, which is a 2.6-mile-long (4.2-kilometer-long) gravel road.
Safety
PWCs: Personal water craft (PWC)—often referred to by the trademarked brand names Jet Ski™, WaveRunner™, or Sea-Doo™—are prohibited on Tomales Bay.
Glass: Glass containers are prohibited on all Point Reyes Beaches.
Take only pictures; leave only footprints: Almost everything one finds at Point Reyes' beaches is protected by law, including shells, rocks, fossils, flowers, and artifacts.
Wildlife: Do not chase or feed the gulls (or any other birds) and keep your distance from seals and sea lions.
Drones: Launching, landing, or operating a drone from or on lands and waters within the boundaries of Point Reyes National Seashore is prohibited.
Metal-detectors: Metal-detectors are prohibited throughout the National Seashore.
Pets: Pets are permitted on Marshall Beach, but not on Marshall Beach Trail or elsewhere in the area. Visit our Pets page for more information.
Camping: Camping on Marshall Beach is allowed with a valid permit, IF one kayaks, canoes, or boats into the beach. Hiking in for overnight camping is prohibited. Visit our A Guide to Low-Impact Boat Camping page for more information on camping at Marshall Beach.
Wood fires: A permit is required to have a wood fire at any beach in Point Reyes National Seashore. Visit our Beach Fires page for more information.
Fishing: Fishing is permitted at Wildcat Beach. Please visit our Fishing page for more information and regulations.
Visit the park's Beaches of Point Reyes page for more details.
Help Keep Your Beaches Clean!
Follow Leave No Trace Principles to reduce our impact on the places we love. Vault toilets are located along the trail at Marshall Beach. Please help protect marine life and keep your park beaches clean by disposing of trash in the garbage cans located at launch sites or at Marshall Beach. If you build any driftwood structures during your visit, please disassemble them before you leave.
Last updated: March 24, 2022