Place
Newton B. Drury Scenic Parkway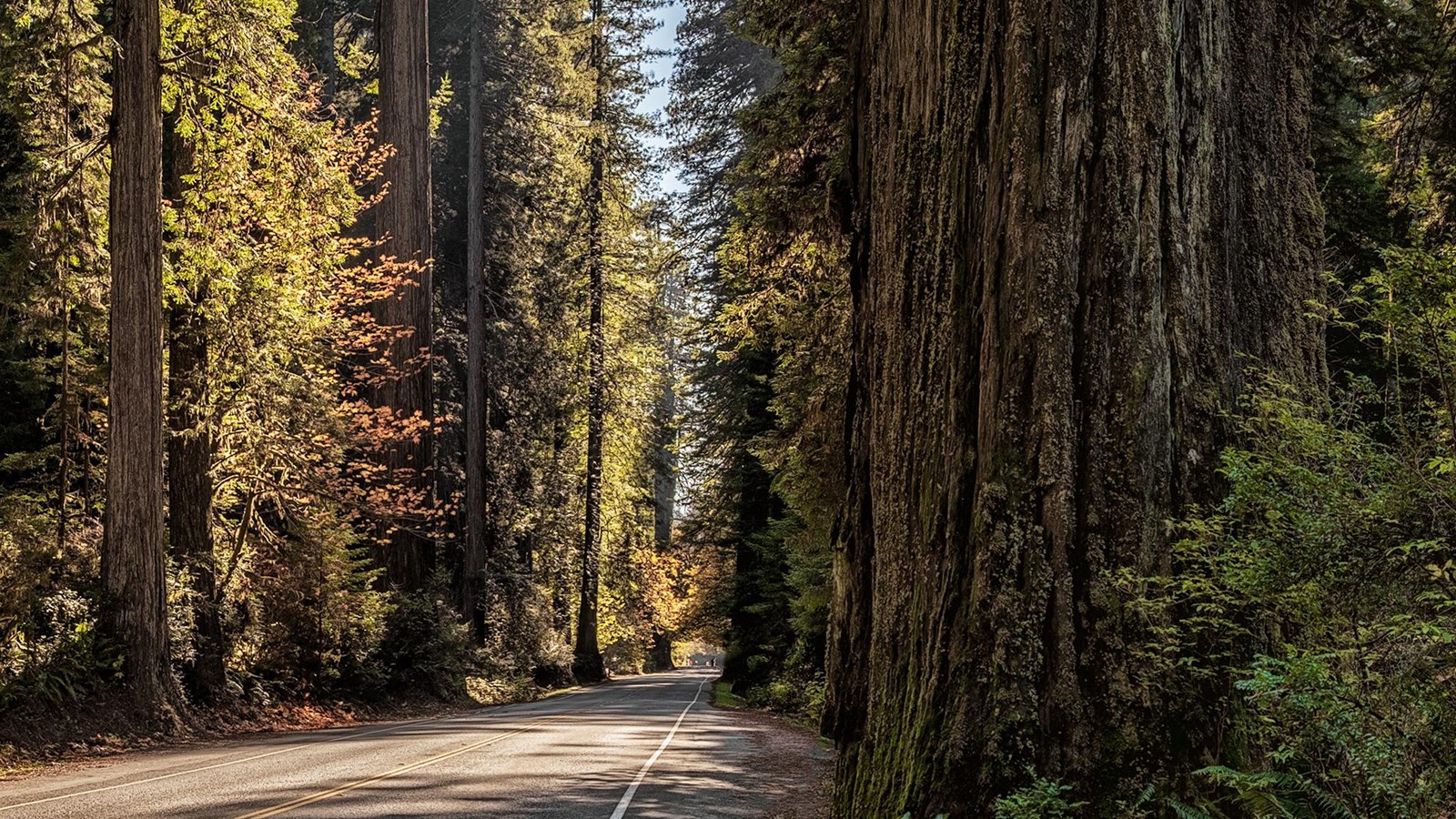 Location:
Between Klamath and Orick
Significance:
Ten Miles of Stunning Redwood Forests
Bicycle - Rack, Bus/Shuttle Stop, Gifts/Souvenirs/Books, Information - Maps Available, Information - Ranger/Staff Member Present, Information Kiosk/Bulletin Board, Parking - Auto, Parking - Bus/RV, Picnic Table, Trailhead, Trash/Litter Receptacles, Wheelchair Accessible
This scenic drive is a must! If you miss this, then you miss out.

The two entrance/exits for the parkway are clearly signposted with large brown signs on HWY 101. The southern exit is exit #753. The northern exit is exit #765

You won't see many redwood trees unless you get off Highway 101 - so why not enjoy this ten mile drive? It parallels Highway 101 - so there is no need to backtrack or make any big changes to your driving plans. Additionally, this scenic drive is suitable for recreational vehicles and vehicles pulling trailers. This ability to take bigger vehicles (and also find parking) to see redwoods in these parks is rare - even more reason to take this drive.

Set in the heart of Prairie Creek Redwoods State Park, the ten miles of this parkway takes you past thousands of acres of old-growth redwood trees, and a wide range of walking and hiking opportunities. More than a dozen trails and pull-outs are located along the parkway. Near the southern end of the parkway the popular Big Tree Wayside.

Since time immemorial, the forest and meadows now along the Parkway have been home to Yurok people. Along the length of the parkway there are interpretive wayside panels, audio boxes, and information kiosks that explain the human connection and Yurok history of the area. 

At the southern end of the parkway is a very large meadow that often has elk and other wildlife. Summer parking along this half-mile section of the parkway can be crowded.  On the western side of  the meadow is the Elk Prairie campground and the Prairie Creek Visitor Center is on the northern edge of the meadow.

The parkway is named after a 20th century redwood conservation advocate and leader: Newton B. Drury (b.1889 d.1978). Mr Drury's work in leading different agencies and organizations led to the protection of 135,000 acres of redwood forests - that is more than half of what remains today. He is the only person who in their career held the title of Executive Director of Save the Redwoods League (1919-1939) and the Director of the National Park Service (1940-1951). Newton Drury also was instrumental in the centralization of California State Parks in the 1920s, and he held the role of Director of California Parks and Beaches (1951-1959), and he returned to the Save the Redwoods League as Executive Director in 1959. 
 

 
Last updated: February 4, 2023