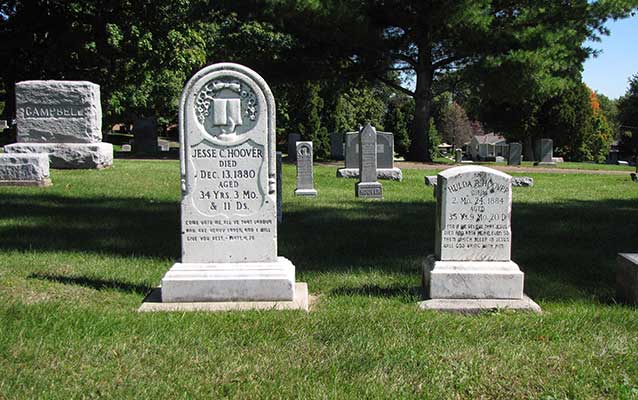 Quick Facts
Location:

West Branch, Iowa

Significance:

Burial Site of Jesse & Hulda Hoover, Parents of the 31st President

OPEN TO PUBLIC:

Yes

MANAGED BY:
Herbert Hoover's parents, Jesse and Hulda Hoover, are buried among relatives at the West Branch Municipal Cemetery on North Maple Street. 
Quaker Burial Ground
The first cemetery in West Branch was next to the Friends meetinghouse, at its original location on North Downey Street. In 1879 the city bought land just northwest of town for use as a new cemetery that would include a section exclusively for use as the Quaker burial ground. 
Burials Of Jesse & Hulda Hoover
In 1880, when Herbert was only 6, Jesse died at age 34 of rheumatism of the heart complicated by pneumonia. Jesse was the first Friend buried in the new cemetery. Herbert's mother purchased a stone for her husband's grave that was considered too high to meet the Friends' standards of simplicity, thus obliging her to set the stone deeper in the ground. Hulda Hoover was buried next to her husband following her death at age 35 from typhoid and pneumonia in 1884.
Directions
To get to Jesse and Hulda Hoover's graves from the Visitor Center or Presidential Library-Museum:
Turn left onto Parkside Drive.
At the four-way stop, turn left onto Main Street.
Go one block and turn right onto Downey Street. 
Take the first left onto Orange Street (a two–block distance).
Go two blocks and turn right onto North Maple Street.
Take the second left into the cemetery next to the sign that reads "Cemetery Closed at Dusk".
Go straight west to the garbage bin, then turn left and park right away, before you pass the first tree (a cedar).
Stand about 20 feet north of the tree and face toward the cemetery. Jesse's and Hulda's headstones are about 25 paces in.
Gravesite Of President & Mrs. Hoover
President Hoover is buried alongside his wife in a memorial gravesite at Herbert Hoover National Historic Site.