Place
Gold Bluffs Beach Backcountry Site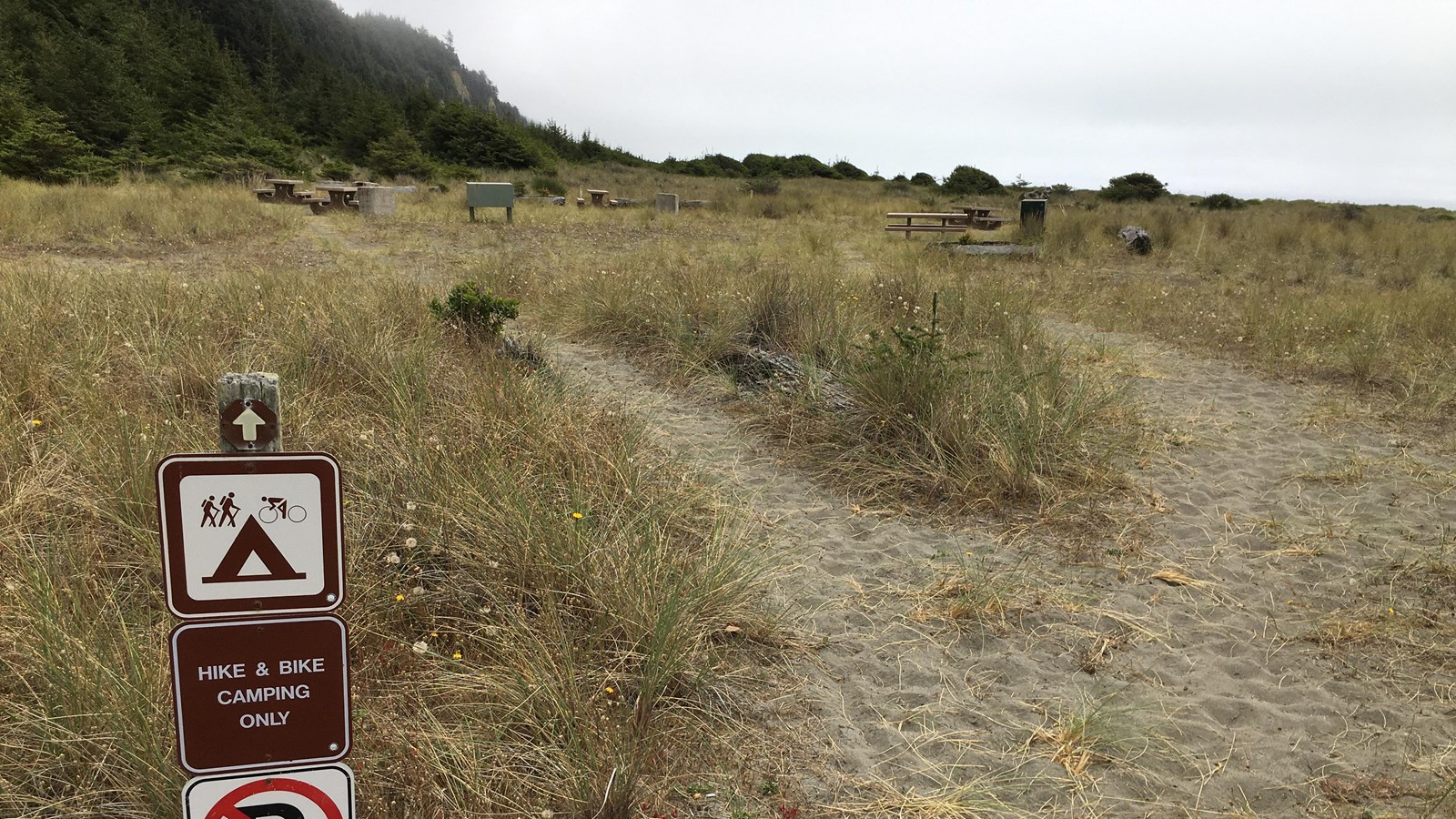 Location:
North west of Orick, CA
Significance:
Backcountry Campsite
Bicycle - Rack, Fire Pit, Grill, Information Kiosk/Bulletin Board, Locker/Storage, Picnic Table, Restroom, Showers, Toilet - Flush, Trailhead, Trash/Litter Receptacles, Water - Drinking/Potable
Gold Bluffs Beach campground
Front and backcountry campground at Redwood National and State Parks.
A five-mile hike, or a much longer bike-ride is needed to use this backcountry hike / bike site. People arriving by vehicle may not use this site.
A camping fee of $5 per person, per night is required. A self-pay station is located nearby. Hikers need a backcountry permit for overnight camping at this site .
To prepare for any trip to this location, download the detailed Gold Bluffs Beach Campground Hike / Bike Site guide and map..
Access
All overnight vehicles must park at the designated area located next to the Prairie Creek Ranger Office (across Newton B. Drury Scenic Parkway from the Prairie Creek Visitor Center).
Backcountry hikers/bikers, who have a vehicle, must display a parking permit that will be issued with the backcountry permit.
Secure items of value and keep them out of sight; better yet, leave them at home! Lock vehicle doors, roll up windows, and engage anti-theft devices.
Thru-hikers only: - 11.5 miles to camp from Flint Ridge on the Coastal Trail. The Coastal Trail may be inaccessible at high tide from Carruthers Cove to Ossagon Creek.
Thru mountain bicyclist: - 6.1 miles to camp from Ossagon Trailhead (mile marker 132.9 on Newton B Drury Scenic Parkway.
Hikers: - 4.5 miles from the Prairie Creek Visitor Center to camp on the Miners Ridge Trail and 7 miles on the James Irvine Trail.
Bicyclist: - 19 mile loop with overnight: From the Prairie Creek Visitor Center to camp is 7 miles by way of Streelow Creek Trail and 12 miles by way of Ossagon Trail.
Designated Site
The hiker/biker site is in Gold Bluffs Beach Campground ONLY. Look for the access trail between campsites 19 and 20. Look for the hiker/biker sign. Maximum of 8 people per night allowed.
Disposal of Garbage and Human Waste
Restrooms with showers (quarter operated and solar powered/cold).
Animal proof trash cans and recycle bins available.
Food and Garbage Storage
Store food, garbage, cooking gear, and all odorous items in food storage lockers.
Keep a clean camp, store food and other smelly items responsibly, and properly dispose of all garbage-even crumbs!
Do not feed wildlife (including birds) or allow them access to food. It's illegal, dangerous to you, other humans, and the fed animal.
Water
Potable water is available in the campground.
Fires & Firewood
Use of portable camp stoves in lieu of campfires is strongly recommended.
Campfires are restricted to designated fire rings only.
Collecting of firewood is not permitted. However, you may purchase firewood from the Camp Host if available.
• Do not leave fires unattended or smoldering.
Leave No Trace
Understand the importance of
Leave No Trace
ethics in the redwoods.  
Last updated: June 27, 2023