Place
English Camp Parade Grounds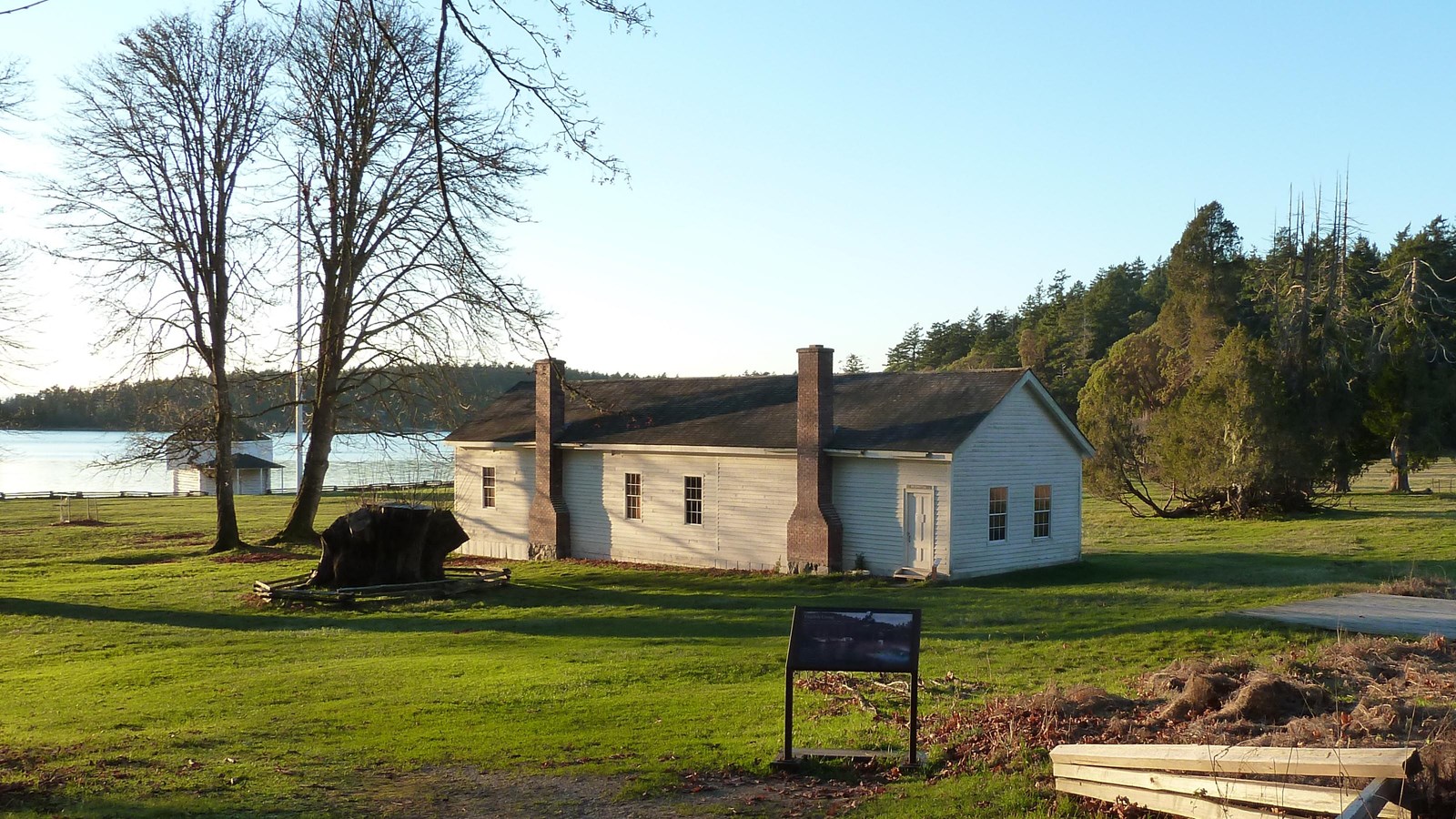 Location:
San Juan Island, Washington
Significance:
Site of the infamous 19th century Pig War
Designation:
National Historical Park
Beach/Water Access, Bicycle - Rack, Bus/Shuttle Stop, Canoe/Kayak/Small Boat Launch, Cellular Signal, Dock/Pier, Fire Extinguisher, First Aid Kit Available, Gifts/Souvenirs/Books, Historical/Interpretive Information/Exhibits, Information - Maps Available, Information - Ranger/Staff Member Present, Parking - Auto, Parking - Bus/RV, Picnic Table, Public Transit, Restroom, Restroom - Accessible, Scenic View/Photo Spot, Toilet - Vault/Composting, Trailhead, Trash/Litter Receptacles, Water - Drinking/Potable
English Camp Parade Ground
The English Camp Parade Ground is located on Garrison Bay, in the northwest corner of San Juan Island. Occupation of this area was not new; Coast Salish tribes had lived on this bay since time immemorial. When the Royal Marines landed at English Camp, they noted that the surface of the Parade Ground was "a shell bank - the accumulation of Years, evidently, as it averaged ten feet high, from thirty-five to forty feet through, by 120 yards long. It was the work of Indians, as they live very much on a shell-fish called "Clams." They also found a Coast Salish longhouse that accommodated as many as 600 individuals and which the English disassembled and used as building materials 
The British chose to live in this spot during the boundary dispute for several reasons. First, it was at the opposite end of the island to the Americans. Second, there was an established trail connecting it to Hudson Bay Company's Belle Vue Sheep Farm. Third, there was enough room in the area for the large number of soldiers expected to be needed. And last but not least, the Roche Harbor Highlands Watershed provided good water and plenty of other natural resources.  
In opposition to the utilitarian nature and appearance of American Camp, English Camp was constructed to be pretty and remind its inhabitants of home. They had several flower gardens and grew English produce. Jim Crook, a prominent caretaker of English Camp, moved there with his family when he was little. Even when the British occupation of the land ended, Crook was paid by the British government to maintain the Royal Marines Cemetery. He dedicated his life to the stewardship of his family's home and English Camp.  
Today, you can view what remains from the British occupation and appreciate the same resources that drew them to the area. Participate in a ranger guided walk to learn more about the camp's history. Check out the visitor center that used to be a barrack for Royal Marines. Those with mobility issues can be driven around to these sites via golf cart by our staff. 
There are many hiking trails originating near the English Camp Parade Ground. If you're looking for a fairly strenuous hike, make the journey up Young Hill to visit the Royal Marine's Cemetery and take in wonderful views of Canada. The parade ground hosts less strenuous activities as well. Have a picnic, launch a kayak, or forage for shellfish.  
It is important to note that cellular service on this side of the island is spotty. For your safety, be sure to download or print a map, and bring a compass. 
English Camp
English Camp is located on Garrison Bay, 9 miles northwest of Friday Harbor. The Royal Marines lived at English Camp during the peaceful 12-year joint British/U.S. occupation of San Juan Island.
Today, you can visit sites from the Royal Marine era including the parade ground, barracks, blockhouse, commissary, and formal garden.
Take an in depth look at the 
history of English Camp
.  
Last updated: July 18, 2022