Foraging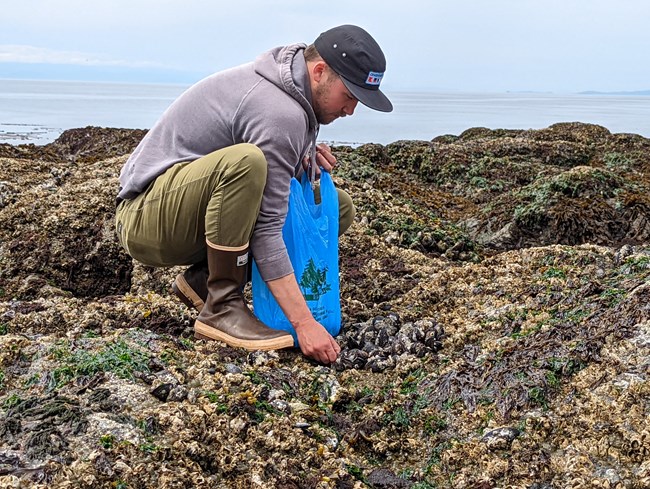 San Juan Island National Historic Park is teeming with plants and animals. Among the living things on our island are many edible plants and animals that visitors can forage and eat. Remember to not trample any sensitive areas or harm any resources while you pick fresh, local food in our park!

There are many marine resources available for foraging. Find delicious, healthy oysters in Garrison Bay and Westcott Bay at our English Camp Unit. Due to sensitive resources you may not forage in the waters around the parade ground, only in the area to the north of the dinghy dock. Mussels, clams, and edible seaweed can also be found in the tidepools and maritime rocks of South Beach and Grandma's Cove in our American Camp unit. Marine foraging requires a license from Washington State, and marine foragers must follow Washington State maritime foraging regulations. Occasional red tides impact water quality and shellfish quality, so check here to make sure you're in the clear before you hit the beach to find food.

Fruits and berries are available in abundance at our park. In late May and early June, salmonberries ripen throughout our trails. Native trailing blackberries, red currants, and bright red thimbleberries ripen in early July. In August and September, the heirloom plum trees planted at the English Camp Parade Ground and the Sandwith Orchard available to pick. Pears, apples, and invasive Himalayan blackberries are ripe in the fall. They were planted by the Crook and Sandwith families. As winter falls, our fruit trees and bushes go dormant for the year.
Last updated: July 12, 2022