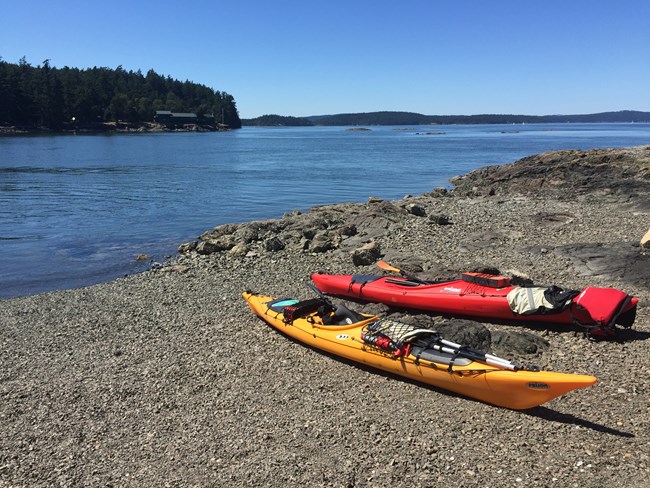 Many people come to San Juan Island seeking the adventure of exploring the area by boat. Sea kayaks are very popular for travel among the islands. Operating a small craft on the Salish Sea is fun and exciting, but can also be extremely hazardous when weather conditions become unfavorable.
Paddlers must know their equipment, know their limits, obtain a current weather forecast, and respect the ever-changing environment of Puget Sound.
Launches, Locations, & Parking
There are areas to launch kayaks in both American Camp and English Camp.

At English Camp, visitors must park in the parking lot and carry their kayaks to the dinghy dock to launch. It is prohibited to launch any vessel from the beach to protect sensitive ecological and archaeological resources. Guss Island, located in the water of Garrison Bay near English Camp, is off limits to visitors. Watercraft are prohibited from landing on Guss Island.

At American Camp, visitors can launch from Fourth of July Beach and South Beach. Vessels can be carried from the parking lot and launched directly from shore.