Place
English Camp Dinghy Dock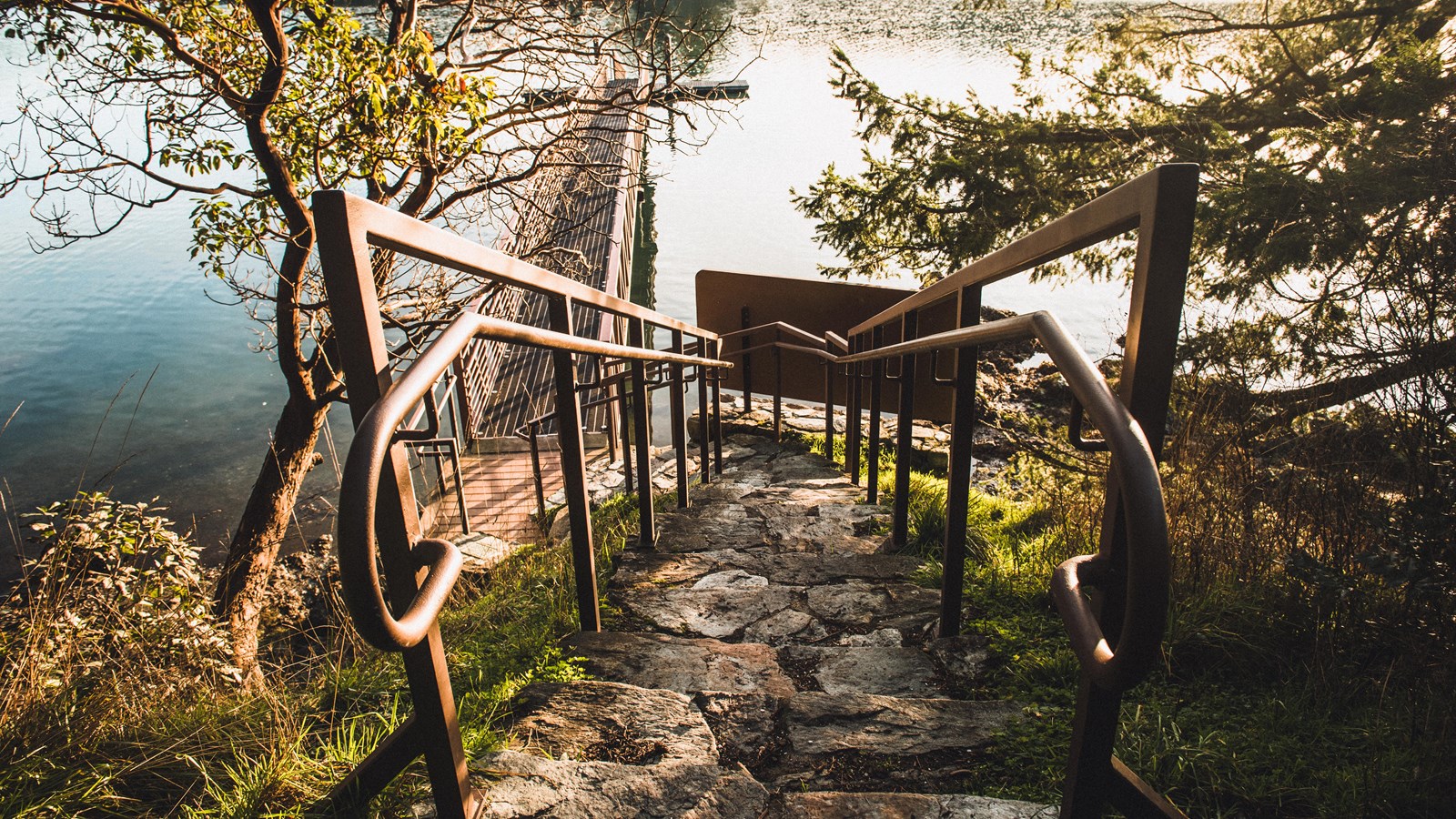 Location:
Friday Harbor, WA
Beach/Water Access, Canoe/Kayak/Small Boat Launch, Dock/Pier, First Aid Kit Available, Gifts/Souvenirs/Books, Historical/Interpretive Information/Exhibits, Trailhead
The sheltered waters of
Garrison Bay
 have long attracted seafarers. Where English Camp now stands, Coast Salish people once launched long canoes, feasted on oysters gathered from the shores and slept in a 500-foot longhouse constructed on the
Parade Ground
. During the Joint Occupation (1860-1872) boats regularly arrived with provisions and sightseers from Victoria on Vancouver Island. The
Crook family
, who lived in English Camp from 1875-1971, built boats in an onsite workshop and had a dock for their own boat or boats on site.
This maritime tradition continues today at the dinghy dock, where small boats or kayaks can be launched or docked. This site is the only place in the English Camp unit where you can launch or dock watercraft and allows waterborne visitors to access our park. Vessel docking is permitted at the English Camp dinghy dock with the following restrictions: Vessels may not exceed 20-feet in length and a vessel may not be docked longer than a period of 4-hours in a 24-hour day.The first dock was erected in 1986 as a donation from the International Yachting Fellowship of Rotarians of Victoria, an example of the international friendship that our park commemorates, to commemorate the 20th anniversary of the park's creation. The original dock was inadequate to the site's environmental needs and was extended and replaced in 2012.
Clam, oyster, and mussel harvesting are allowed year-round just to the north of the dinghy dock;
check here
to see if any health advisories currently prevent seafood foraging. The waters of Garrison Bay that surround English Camp are renowned for their bioluminescent algae making night visitation particularly attractive. Additional boat launch sites can be found at
South Beach
 and
4th of July Beach
. Check our
kayaking safety page
to learn the rules for self-propelled watercraft on San Juan Island and how you can stay safe on the water.
Guss Island, located off the coast of Garrison Bay is closed to the public and no watercraft are permitted to land there
Last updated: July 21, 2022