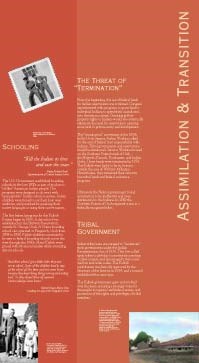 Schooling
Kill the Indian in him and save the man.
Henry Richard Pratt, Superintendent
Carlisle Indian School
The U.S. Government established boarding schools in the late 1800s as part of its plan to "civilize" American Indian people. The programs were designed to do away with "unacceptable" Indian cultural customs. Indian children were forced to cut their hair, wear uniforms, and punished for speaking their native languages or using their native names.
The first federal programs for the Kaibab Paiutes began in 1898. A day school was established on the Shivwits Reservation, outside St. George, Utah. A Paiute boarding school also operated at Panguitch, Utah from 1904 to 1909. Kaibab children continued to be sent to federal boarding schools across the west through the 1960s. Many Kaibab were placed with Mormon families while attending distant schools.
And then when I got a little older they sent me to school. Some of the children had to stay at the school all the time and not come home because they kept doing things wrong and acting bad. So they stayed there all summer....but we always came home.
Kaibab Paiute, Mabel Drye
recalling her days at the Panguitch school.