Horses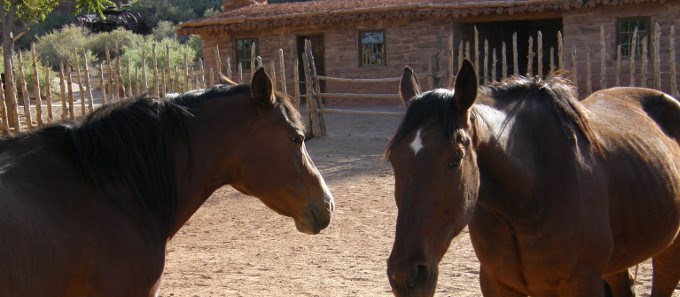 Fast facts:
A male horse is known as a stallion (mature horse, usually the leader of the group)

A female horse is known as a mare

Baby horses are referred to as foals
New born horses cannot eat grass because their legs are too tall
New born horses learn to stand up within one hour of being born
Most horses live up to 30 years of age, and ponies live even longer
A pony is a full grown horse, but just small in size
Horses who have lived at Pipe Spring through the years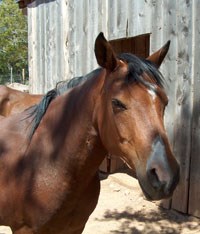 Princess is an Arabian/paint Quarter Horse mix bay mare. She was born April 24, 1994 in Montana. She was sold to Ray Palmer in 1997. Ray and Princess volunteered together at Zion N.P. and here at Pipe Spring, until Zion Natural History Association purchased her from Ray in 1998 to be a permanent part of our living history program.
As a Quarter Horse mix, Princess also fits right into our living history program Because of all those great Quarter Horse qualities that made them popular as western ranch horses. Although it is doubtful there were Arabians in this area during our historical period, Arabians are widely used today as western ranch horses.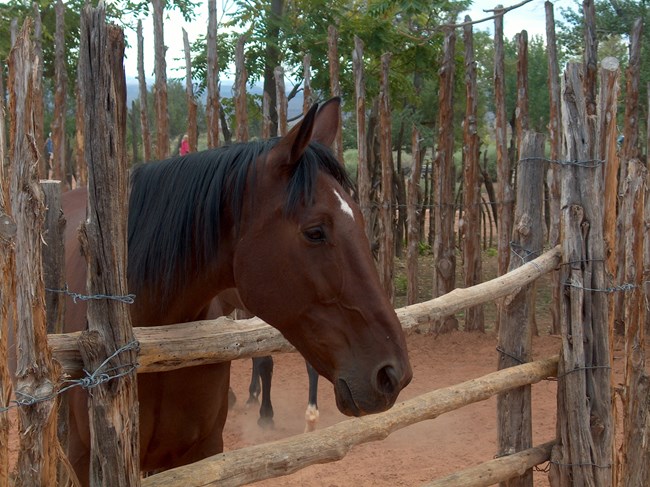 Habeas is a dark bay Standardbred gelding. His birth date and place are not known. He is approximately 18 to 20 years old. His career for the National Park Service started as a park police horse in Washington, D.C, (date unknown). As park police acquire some of their mounts from Maryland race tracks and because Habeas has a racing tattoo on his lip, it is thought that he was harness raced as a young horse. Due to down sizing of the park police horse numbers, he was transferred to Capitol Reef National Monument in October, 1996, where he was used as a pack horse. In February, 2001, he was transferred to Petrified Forest National Monument for use as a back country law enforcement patrol horse. Due to his very large hooves, he experienced some stumbling problems in the back country of Petrified Forest National Park, resulting in his being used and ridden less and less. Ranger Chuck Dorn of Petrified Forest National Park felt Habeas might be of more use in Pipe Spring's living history program, resulting in his transfer here in August, 2004. Habeas is appropriate for our living history program because Standardbreds would have been used as carriage and coach horses.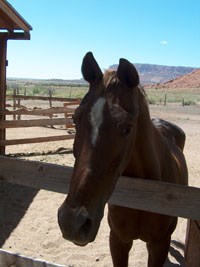 Kelly is a 27 year old sorrel gelding. Although said to be a registered Quarter Horse, experienced horsemen here see Thoroughbred traits in him as well. He was acquired by Yosemite National Park in 1983 and was used around the park and in the mountain patrol school. He was transferred to Capitol Reef National Monument in 1986 where he was used as a back country horse. He transferred to Zion National Park in the mid 1990s. With other Zion N.P. horses, he was wintered at Pipe Spring until the late 1990s, when he was retired from the Park Service and became a permanent resident at Pipe Spring. As a retired quarter horse or quarter horse mix, Kelly fits right into the living history program at Pipe Spring because of the popular use of Quarter Horses as ranch horses in the west. (They were first introduced to Texas in the 1840s). Quarter Horses are well-balanced, powerful, high endurance, fast and smart; a perfect combination for "cow ponies" and "cuttin' horses".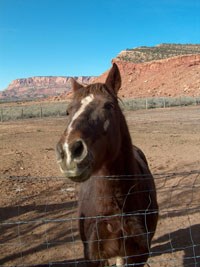 Kestrel is a 22 year old dark chestnut Morgan gelding. He is owned by Debra and Eric Judd and was brought to Pipe Spring in January, 2001. Kestrel is appropriate for our living history program because Morgans would have been a favored coach or carriage horse and a good saddle horse. In addition, Morgans have proved their worth on western ranges as cow horses. Although small, (generally less than 15 hands high and weighing around 1000 pounds), Morgans are fast, powerful, have endurance and good dispositions, and are smart and easily trained.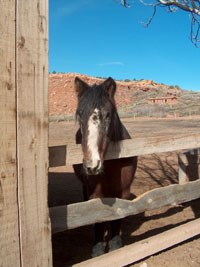 Tuggs is a 21 year old bay Mustang gelding. He is owned by Debra and Eric Judd and was brought here with Kestrel in January, 2001. According to Webster's New Universal Unabridged Dictionary, a Mustang is a "small, wild or half-wild horse of the southwestern plains of the United States". We know that there were wild horses in the area and that wild horses were rounded up by western ranchers. Once saddle broken, they proved themselves to be hardy, durable, sure-footed and trainable as saddle horses, trail horses and cow horses. Tuggs is certainly appropriate for our living history program. In fact, he is a good living history example of the rugged little Mustang that John Wesley Powell rode while exploring the Arizona Strip.
Last updated: April 16, 2020