November Programs at Pipe Spring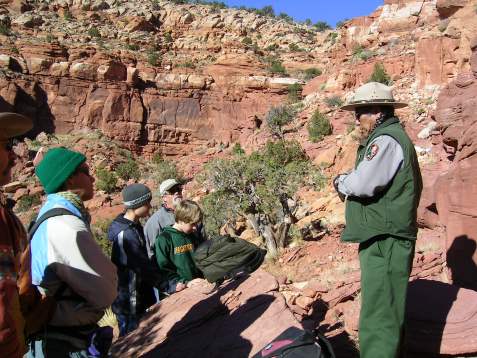 News Release Date:
November 6, 2014
Contact: Paula Ogden-Muse  , 928-643-7105
Pipe Spring, AZ - Since 1994 U.S. presidents have proclaimed November as National Native American Heritage Month. This is a time to celebrate and recognize tribal culture and learn about the heritage, history, art, and traditions of American Indians. During November, Pipe Spring National Monument will be offering programs on the heritage and culture of the Kaibab Paiute and Southern Paiute, and ancestral, and other Native Americans who have inhabited, or ventured through, the Pipe Spring area.
This is a great time to visit the partnership, Kaibab Band of Paiute Indians – Pipe Spring National Monument Visitor Center and Cultural Museum. The Visitor Center and Museum is located on the Kaibab Paiute Indian Reservation at the entrance to Pipe Spring National Monument. The Museum presents extensive exhibits on various aspects of Kaibab Paiute and other Native American heritage. Included, are exhibits on: the ancestral people of the area, known to some as Ancestral Puebloans, to the Navajo as Anasazi, to the Hopi as Hisatsinom, and to the Southern Paiute as Enengweng; Kaibab Paiute relationships with the land and natural resources; Kaibab Paiute life ways and historic subsistence techniques and tools; other historic native American neighbors of the Kaibab Paiute; a significant sampling of historic photographs (1870's) of the Southern Paiute taken by John Wesley Powell's expeditionary photographer, John K. Hillers; 20th century history of the Kaibab Paiute, touching on boarding schools, establishment of the Indian Reservation, and continuance of Kaibab families; and, the present, 21st century continuance of the Tribe, its people and its activities. The contemporary time period exhibits were just redone in early 2014 with new information on the Tribe and its activities. The Museum also includes interactive exhibits with more information on Kaibab Paiute culture, and the acclaimed 25 minute long documentary film about the Kaibab Paiute, Mormon pioneers, and the Federal government, titled "Encounter on the High Desert."
Special Native American Heritage Month activities include hikes in Mu'uputs Canyon, on the Kaibab Indian Reservation adjacent to the National Monument. This is an easy 2 mile round trip and focuses on the history and life ways of the Kaibab Paiute Indians. Participants will also visit two fascinating petroglyph sites. The hikes are limited to 20 visitors; call Pipe Spring National Monument to make a reservation (928-643-7105). There is an additional $10 per person tribal fee for this hike. These hikes will be provided on:
- November 6th, 13th, 15th, 16th, 20th, 23rd, and 26th at 9:00 – 10:45 am;
- November 12th at 1:00 – 2:15 pm
RESERVE YOUR SPOT NOW!
The book store and gift shop operated by the non-profit, partner, Zion Natural History Association carries a fine and comprehensive collection of Native American arts and crafts, and books for sale.
 
As always, guided tours of the historic Winsor Castle are offered daily, generally, on the hour and half hour, from 9:00 a.m. – 4:00 p.m.
You are invited to attend any of these programs. The monument is open from 8:00 a.m. to 5:00 p.m. daily. The entrance fee is $5.00 per person (15 years old and younger are free). Interagency Annual, Senior, and Access Passes, as well as Golden Age and Access Passports, are also accepted for the general entrance fee at Pipe Spring National Monument (and available for sale or issuance at Pipe Spring).
Pipe Spring is located 15 miles west of Fredonia, Arizona on AZ 389, or 45 miles east of Hurricane, Utah on UT 59 and AZ 389.

Last updated: February 24, 2015