Group Camping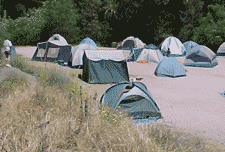 There are 14 group sites at Pinnacles Campground. Each has picnic tables, a fire ring, nearby water spigots, and parking for up to five vehicles. Up to 20 people can camp in a group site.
For groups larger than 20 people, it may be possible to reserve two adjoining group sites. Check the campground map to locate adjoining sites.
You can make reservations up to five months in advance by visiting www.recreation.gov or calling (877)444-6777.
If you're bringing a group to Pinnacles National Park, please take a moment to review our campground rules and our park safety information.
Parking may be limited on weekends at trailheads and day use areas within the park. You may want to consider hiking from the campground. Destinations that are within walking distance include Bear Gulch Nature Center and Trailheads (2.3 mi), Bear Gulch Cave and reservoir (3.3 mi), the South Wilderness Trail (0.6 mi), and Balconies (3.7 mi). For more information, please visit our trails page.
If you're not able to hike into the park, consider shuttling your group in and leaving most of your vehicles at your campsite. On weekends in the spring, you can also ride our park shuttle.
Last updated: July 15, 2013