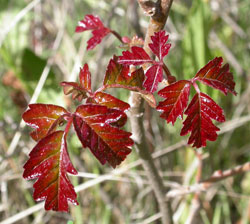 Poison Oak
Poison oak is a common plant in California and at Pinnacles in particular. It is common along most trails. The secret to avoid encountering poison oak is to learn to recognize the plant.
Poison oak can be a shrub, vine, or even a small tree. Its leaves can be red, green, or any color in between. The leaves sometimes have a waxy coating, but this is not always apparent.
The best way to identify poison oak is by the way its leaves are arranged in groups of three. Remember: leaves of three, let it be!