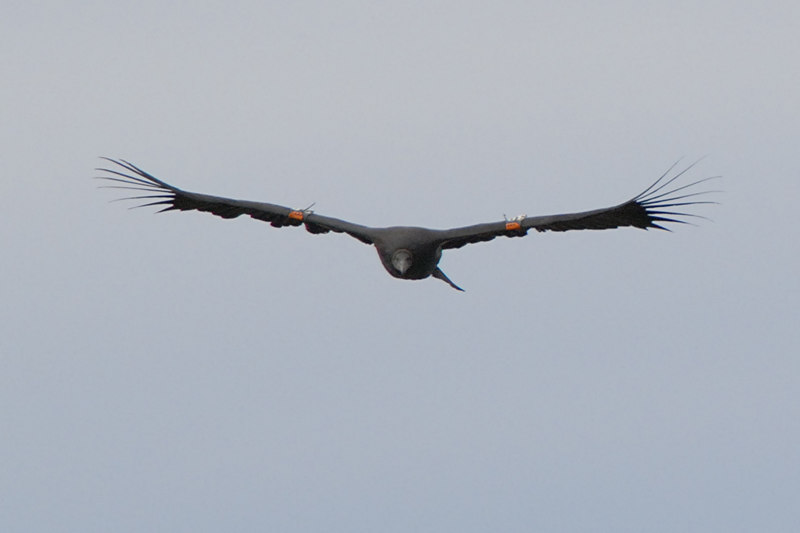 News Release Date:
September 6, 2011
Contact: B.G. Horvat, Interpretation Division, (831) 389–4486 at ext. 267
The public is invited to attend Condor Comeback 2011, on Saturday, September 24, at Pinnacles National Monument, 80 miles south of San Jose. Up to two young California condors will be released for their first flight into the wild during the release celebration from 9:00 AM - 1:00 PM.  

No entrance fee will be charged. The event coincides with National Public Lands Day, a day when these fees are waived at all national park sites.

The Condor Comeback will feature two large flat panel video display screens that will carry a live, remote video feed from the backcountry condor facility to the Pinnacles Visitor Center. Visitors can watch the young condors in the facility pen and the first flight of any released birds. There will be speakers, informational and educational booths staffed by rangers and park partners, an activity booth for children, and a volunteer micro-trash pickup.

 The event will be held at the Pinnacles Visitor Center near the campground on the east side of the park, accessed from Highway 25 south of Hollister. Car pooling is encouraged since parking is limited and will be on a first come, first served basis.    

 Further details of the release event are available on the Pinnacles National Monument website at www.nps.gov/pinn or by calling Pinnacles at 831-389-4486 extension 267.  

General park information can be obtained by visiting www.nps.gov/pinn or by calling Pinnacles National Monument at (831) 389-4486 extension 0.