Date:
May 14, 2007
Contact:
Bear Gulch Visitor Center
, (831)389-4485 ext 0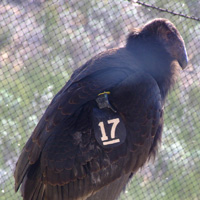 One of three juvenile California condors released in the past two weeks from Pinnacles National Monument died Saturday of unknown causes.  It is being sent to the Forensics Laboratory in Ashland, Oregon, managed by the U.S. Fish and Wildlife Service.
"Condor 417 was just released," National Park Service (NPS) Superintendent Eric Brunnemann said.  "By all reports, it appeared to be behaving normally and we're all stunned by this sudden turn of events."
Condor 417 fed and drank normally in the facility prior to her release, according to NPS Wildlife Biologist Court VanTassell.  "She was behaving as we would expect a newly released juvenile condor to behave - feeding immediately after her release outside the monument and again four days later."
Biologists followed her activities daily, using radio telemetry, observing her exploring farther each day and finding appropriate perches each night.
On Saturday morning, biologists tracked her movements; later that afternoon she was found dead, lying on her back in a field.  "Every condor mortality is a tragic loss," stressed Brunnemann.  Since beginning the condor release program at Pinnacles National Monument in 2003, this is the monument's first condor death.
NPS biologists and rangers, together with San Benito County Sheriff, recovered her remains.  On Sunday, California Fish and Game experts agreed that there appeared to be no immediate signs of predation or other causes of death.
Condor 417 will undergo a necropsy, an examination and dissection of a dead animal to determine cause of death, by the U.S. Fish and Wildlife Service in a joint investigation with the California Fish and Game, National Park Service and the San Benito County Sheriffs Office.
From a population low of 22 birds in the mid 1980s, California condors are making a slow, but steady recovery through intensive captive breeding efforts and public education programs.  As of April, 2007, 145 California condors are in captivity, and 135 are in the wild.  The initial goal for California is to have 150 free flying condors in the state.  Pinnacles currently has 14 free flying California condors that are routinely visible at the monument, which hosts the only public condor release in California.