Kids & Youth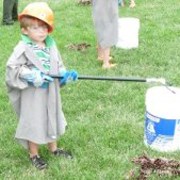 Kids visiting Perry's Victory & International Peace Memorial have the opportunity to learn and have fun in many ways.
Children's Programs During the summer hands-on Children's programs are offered daily and cover topics from natural sciences to history. Visit the link above to find times, or ask at the Visitor Center when you visit.
Become a Junior Ranger Find our Junior Ranger booklets here.
Scouting The National Park Service and Perry's Victory and International Peace Memorial have many opportunities for scouts of all ages.
Youth Programs Visit the National Park Services Youth Programs page to learn how you can get involved with the National Park Service.
Every Kid Outdoors allows U.S. fourth graders and family members free access to over 2,000 federal lands and waters so you can discover our wildlife, resources, and history. Every Kid Outdoors creates crucial connections to public lands and inspires a future generation of stewards for America's spectacular national parks and other public lands.
Kids Portal National parks are great places to explore anything kids can imagine. Go on an outdoor adventure. Walk in the footsteps of famous people. Take in unique scenery. Explore new interests. Experience real places you may have only heard about. But most of all, national parks are places where you can have fun and create memories that last a lifetime.
Online Junior Ranger Cannot come to visit the Memorial in person. How about check out our different online activities for Junior Rangers.

Hold the Fort The survival of Baltimore and possibly the United States depends on you!



A Sailor's Life for Me Explore the life of a sailor during the War of 1812




Cast Your Vote Will it be war or peace? The vote in 1812 was one of the closest in history. How do you vote?



Powder Monkey Did you know kids served on ships, too? Learn what it meant to be a "powder monkey"




Protect the Harbor What do the Great Wall of China, Alcatraz and Fort McHenry have in common? Location, location, location!



A Whaling Adventure! Life as a merchant in the 1800s wasn't easy, but someone needed to bring goods back to port
Last updated: April 9, 2020