Perry Education Days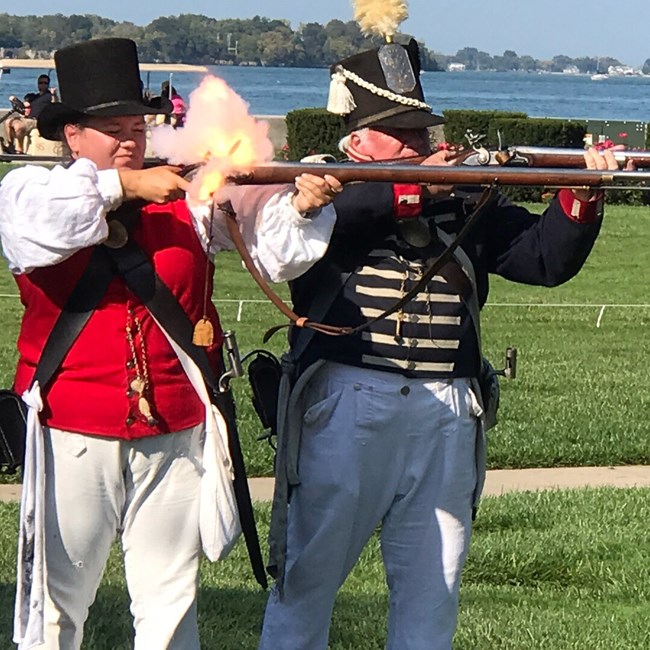 Virtual Perry Education Days May 19th-21st
Due to COVID-19 Perry Education days will be canceled. However we are still looking at bringing the story of the War of 1812, Battle of Lake Erie, and the Memorial to your students.
All programs will be prerecorded videos. Programs will be about 15 minutes and released on Facebook and YouTube on the designated date and time. Rangers will be conducting a Watch Party and will answer questions typed into both websites as fast as we can. We will also answer questions that are asked after the initial broadcast. Each program will be individual and stand alone so you do not need to watch them all. But they do overall tie together. If you or your students have questions ahead of time feel free to send them in and we try to answer some in the prerecorded video.





If there is another topic you are interested in let us know we might be able to add another session.




Questions can be send to

Jeff Helmer

or

Robert Whitman

.





Tuesday May 19th:
10:00 "Are you a Nutcracker?"- Uniforms of the War of 1812
Learn about the different uniforms and clothing people wore during the War of 1812 time period and why they dressed that way. May also drive into personal items soldiers and sailors would have carried. This will include the US, British & Canadian forces.
YouTube
Facebook
12:00 Lock, Stock, and Barrel- Musket Demonstration
Learn about the weapon that the average soldier would have carried into the War of 1812. Learn about basic parts, origin of common phases such as flash in the pan, don't go off half cock, and lock, stock, and barrel. Then see one of the drills soldiers used concluding with the firing of the musket.
YouTube
Facebook
2:00 "I thought it was a cannon"- Carronade Talk
The Carronade is a lightweight piece of naval artillery that help win the Battle of Lake Erie. Learn what made it different from a cannon and why it was important.
YouTube
Facebook
Wednesday May 20th:
10:00 Butcher's Bill- Care of the wounded
Learn what happen after battle to those wounded and had to face the surgeon. See the tools used and learn how they were used. Weather it was a musket wound or broken bone. May also go into the treatment of those sick and education and training surgeons would have received.
Disclaimer: By the nature of this being medical topic it does have a gross factor to it. However, no blood or actual simulated wounds.
YouTube
Facebook
12:00 "An army marches on its stomach"-Food during the War of 1812
Learn about the daily rations of a solider that fought in the War of 1812. Along with ways they were able to supplement their rations. See some of these food items as well and the items used to cook it with.
YouTube
Facebook
2:00 "What is that over there?"- Tour of the Memorial
Might not be able to see the Memorial in person this year but we will do the next best thing. We will take you on a personal tour of the Memorial. Stops will include the plazas, the rotunda which includes the final resting place of 6 officers killed in the battle, lower elevator landing, and the Observation Deck. We cannot guarantee the weather so no idea what the view will be like to that day. We will try to have some other videos (Facebook video post) from the deck other days if the weather is good.
YouTube
Facebook
Thursday May 21st:
10:00 Tour of Visitor Center
YouTube
Facebook
12:00 Walk with a Builder- Building of the Memorial
What does it take to build a 352-foot-tall stone monument on an island in Lake Erie? Join Wesley Harrison as he tells the story of his involvement in the building of the Perry's Victory and International Peace Memorial. This program will be given in 1st person. The Q&A section will be 3rd person.
YouTube
Facebook
2:00 Talk with a Ranger
This will be a general question and answer session. It will be driven by questions viewers submit. We will have some on hand topics if needed or you can submit questions in advance. Topics can be War of 1812, building of the Monument, National Park Service, careers in the NPS, or American History in general. No promises that we will answer all, but we will try our hardest to answer live. If we cannot answer a question we will try and find an answer for you.
YouTube
Facebook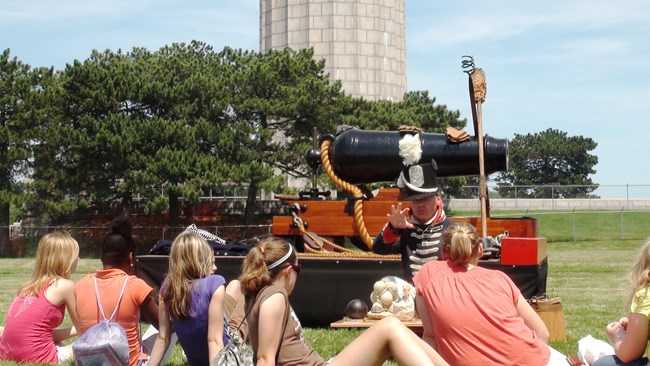 2020 dates for Perry Education Days are May 19, 20, & 21.

Looking for an exciting fun field trip that your students will remember for years plus learn about a pivotal time American History and get an incredible view of Lake Erie. Perry Education Days is the field trip you are looking for. Your students can walk the grounds visiting different stations and learn about topics ranging from cooking, music, and medical care, musket demonstrations, from our Park Rangers in period uniforms and clothing, and get up close to a carronade, a naval cannon used in the Battle of Lake Erie. Then take your students to get a one of kind view 317 feet above Lake Erie, 12 feet higher than Statue of Liberty.
Best part of it trip is that stations and the Visitor Center are FREE. You can apply for a fee waiver for going to the Observation Deck of the Memorial. For more information on the day or to apply for a fee waiver call the park at 419-285-2184 or email us.
Last updated: May 21, 2020