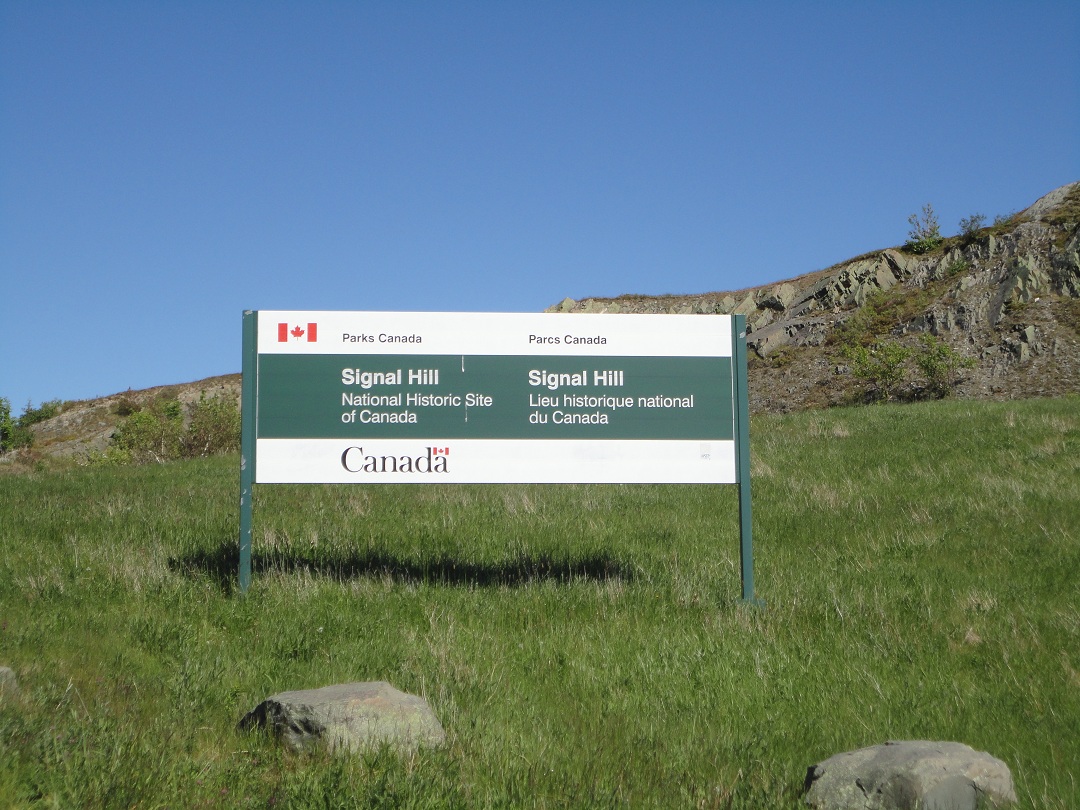 So the adventure begins. It all started back in April when I was asked if I would be willing to go to Signal Hill for a month. Who would turn that opportunity down? To share the history of their park with an audience so distance and unfamiliar but at the same time so connected to the park.
One of the first things I received about the trip then was that they wanted to know my measurements. My only concern was that they were going to make me the Parks Canada Beaver. Not that he/she is bad it just seemed weird to have the US Park Ranger dressed as their Beaver. The response was no to the beaver then a long list of historic weapons they demonstrate at the site. Boy was it an overwhelming list with small and long arms from the French and Indian War/Seven Years War to small arms of World War I. This was overwhelming for the simple fact that at PEVI we only commemorate one small piece of time and thus our list of historic weapons is very short in comparison.
After seeing this long list my one question was what do you want me to bring. I was wonder if I should pack my US Infantry, Militia, Sailor, or even the O.H. Perry kit. The response I got back was simply bring your whites. (Shirt, vest, and pants.) I was ok with this at first but as time passed it really seemed weird not to have the US Park Ranger wearing the uniform of the Americans to share that side of the story. This really hit hard on Sunday June 22 during the Park's Carronade Weekend. I realized that would be the last time I would get to where an American kit for over a month. That was really weird since I had started wearing the US Infantry kit in 2007 my first year at the park and the kit I have worn the most over the years. That night I checked my email, (yes I checked my government email off the clock, it had been a busy weekend.) One email caught my eye right away. It was an email saying bring your American kit. That was an amazing email. I decided to pack two kits my US Infantry and Sailor kits. So when I started packing my bags it was like playing a game of Tetris with the ranger flat hat, 1812 shako, and a sailor's tar hat trying to get them in my luggage without crushing them. You have to wait with me and see once I unpack to see how good of job I did packing.
I am currently typing this during my layover at Newark. The first leg of my journey has gone well. After take off the plane hugged the north shore of Lake Erie. I was on the wrong side of the plane but was able to look across and see the familiar shapes of the Lake Erie Islands. Unfortunately I could not see the Memorial, but I could imagine Rangers Rich, Marianne, and ok any of them for that matter being on the observation deck today waving bye to every plane they saw headed east. Not being at the Memorial and working with this great bunch of rangers is going to be the hardest thing (besides being away from family) about being gone for a month at our sister park. I just have a feeling I am leaving them in a hard spot with one less ranger. By the way they gave me a great send off Friday after we closed the Memorial. It included ice cream and a cake with Tsar Alexander I of Russia on it. (It is an inside joke that everyone can be in on now. Google Tsar Alexander I and if you know Ranger Rob you will understand.)
Later… (Monday)
Flight was a little behind schedule however once I was through customs and claimed my baggage I was greeted by the smiling faces of three Park Canada staff members. (Robin, Tom, and Jonathan). They then gave me a quick tour of St. John's and helped take my stuff into the apartment. Thus the end of a long day. Oh, all three hats made it in my baggage with no damage.
Ranger Rob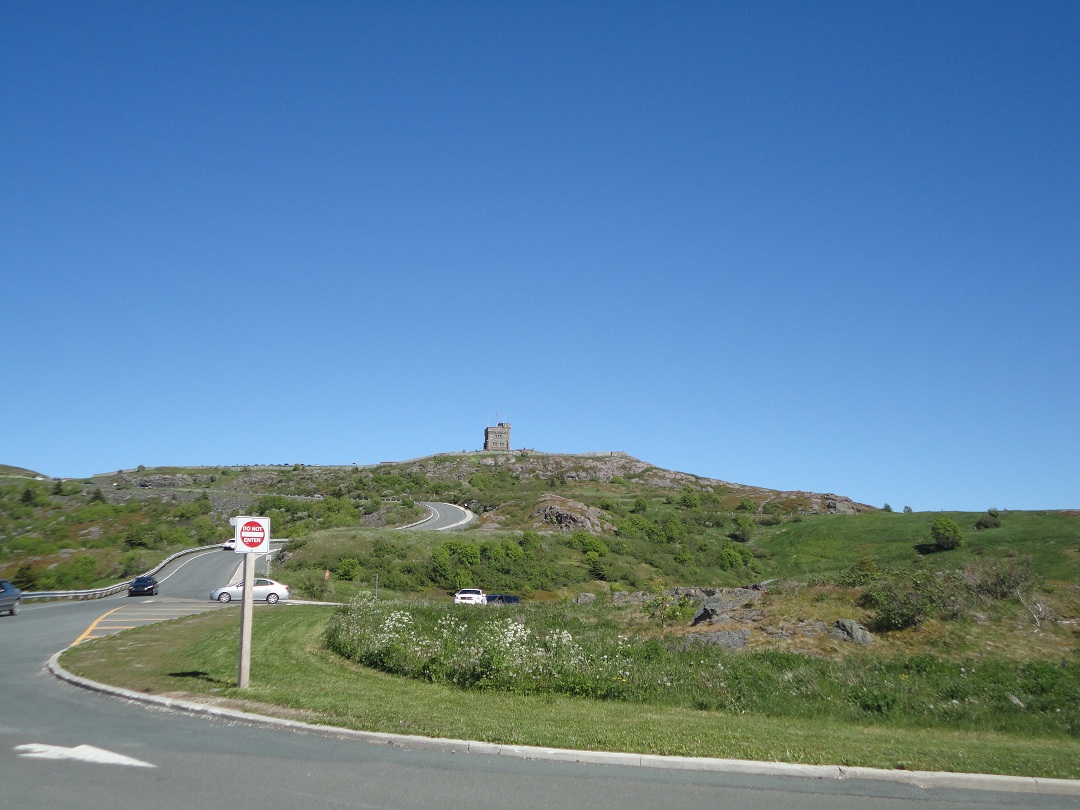 View of Cabot Tower at the top of Signal Hill.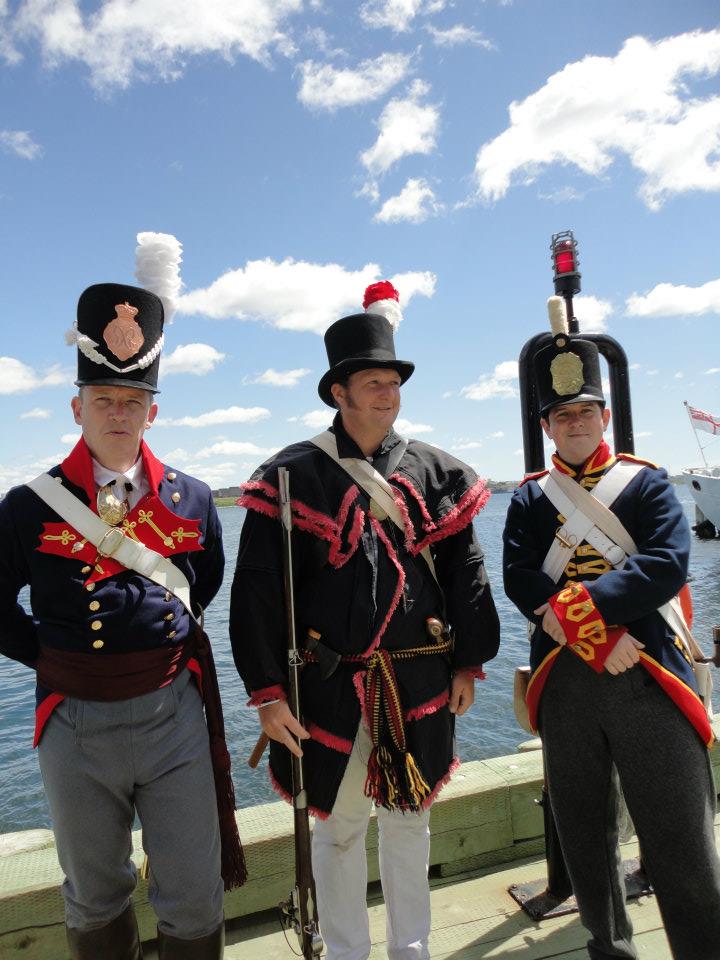 Two of the three smiling faces that greeted me at the airport in St. John's.
This picture was taken at the Tall Ships Festival in Halifax in 2012.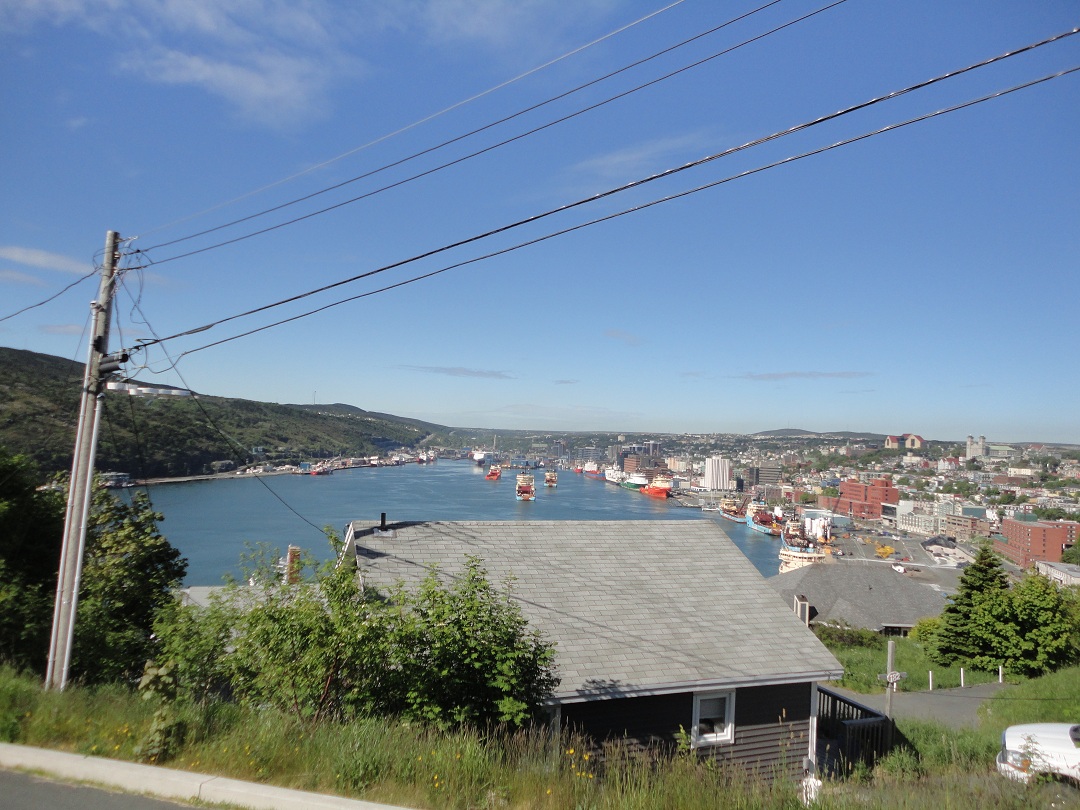 View from the apartment that Parks Canada is renting for my stay. No view of Signal Hill from here because of another hill between here and there.