Volcanoes Day Use Area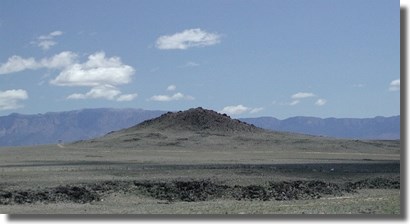 Parking lot hours are 9:00 a.m. to 5:00 p.m. daily. May close early due to severe weather. This area is officially open to visitors daily from sunrise to sunset. Before- or after-hours access is permitted by parking outside of gated parking lot.

Leashed pets/dogs are allowed. Maximum leash length of 6 feet is strictly enforced. Owners must pick up all dog waste and carry it out to a trash can.

Bicycle riding is not allowed on any of the trails within the Volcanoes Day Use Area. If you want to ride a bike, we suggest you look up the City of Albuquerque's Paseo de la Mesa trail.
GPS Lat: 35.1306 GPS Long: -106.7803
Difficulty: easy to moderately strenuous.
Vault restroom facilities are available at the parking area.
Trail Information

Volcanoes Trail

Distance: About 3 1/2 miles round trip loop from the parking lot to the JA Volcano and around the Vulcan Volcano back to parking lot.
Difficulty: easy to moderate

The entire trail starts at the parking lot and goes past the JA Volcano to the scenic overlook, up to the Vulcan Volcano and back to the parking lot, with sweeping views of Albuquerque and the Rio Grande Valley throughout.

JA Volcano and the Albuquerque Overlook

Distance: 1 mile round trip from parking lot to scenic overlook and back.
Difficulty: easy

This sub-section of the trail departs from the parking lot and heads east to a scenic view of the Rio Grande Valley, Albuquerque, and the Sandia Mountains. You will have to turn around the way you came back to the parking lot to complete it. This trail has two shaded rest areas with benches.

Vulcan Volcano Loop

Distance: 2 miles from north side of parking lot around Vulcan Volcano and back.
Difficulty: moderate

This sub-section of the the trail can be found by going to the northside of the main parking lot near the gate. The trail along the eastern base of Vulcan is difficult to find but do not give up. A gradual incline up the east side of Vulcan leads to a level, mini-volcanic valley on Vulcan's north side. Continue on trail and go left (south) when you approach the 'Y' on the northwest side of Vulcan. At next 'Y' go left again for an up-close look at this well preserved cinder cone. Follow trail down, continuing south on old road which leads back to the parking lot.

North Volcanoes Loop Trail

Distance: 2.3 miles connected to the Vulcan Volcano Loop and back.
Difficulty: moderate

This section of the trail connects to the Vulcan Volcano Loop and will take you to the remnants of a historic corral.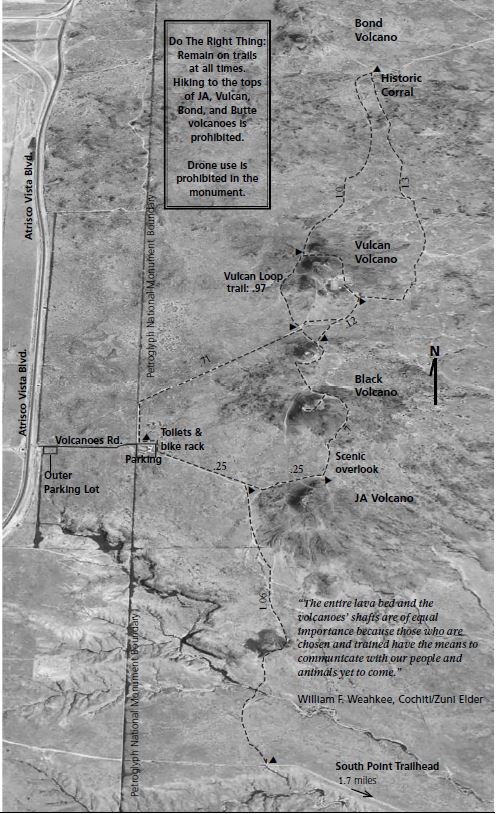 Last updated: August 30, 2022