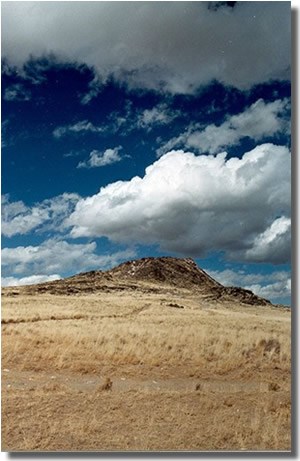 Natural Resources
Petroglyph National Monument has much more to offer than the cultural resources for which it is so well known. Various types of wildlife utilize this narrow corridor, some in transit during migration, others for their entire lifespan. Plants, birds, insects, animals, all are part of the ecosystem that Petroglyph holds in this tiny strip of land and all will eventually encounter the millipedes of Petroglyph NM.
Another less popular but well known resident of the monument is the rattlesnake. This landscape is home for several varieties, please be careful when you are visiting the monument. Follow this link for some guidelines about dealing with our legless friend, the snake.
These remnants of erupting volcanoes, which produced the basalt that became the canvas for people for thousands of years, stand starkly against the western horizon. A moderate hike will take you partway up some of these volcanic cones. Be sure to stay on the trails. It takes decades for this fragile volcanic landscape to recover from a single footstep.
While hiking in the Monument, you will notice a wide range of native desert plants.