History & Culture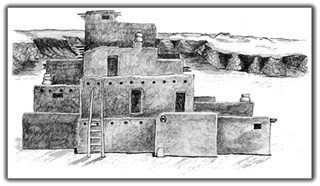 Do you wonder what a petroglyph is or why they were made? We hope to answer these questions in this website or during your visit. Either way, you can help us protect and take care of the petroglyphs by following some simple rules.
New Mexico's history has led to a wondrous blending of cultures: from the Puebloan and other indigenous groups that have been here for thousands of years, through the Spanish and Mexican heritage moving in several centuries ago, to the more recent additions of Northern European descent during the last two centuries.
Each has provided customs and traditions that make New Mexico unique and a beloved a place to be. Of course the evidence of the early inhabitants is shown in the petroglyphs, but when you visit, you will also be surrounded by many of the other popular aspects of the New Mexico. Chile ristras can be seen almost everywhere you look. Luminarias are utilized during the Christmas holiday season. Artistry influenced by all the cultures abounds.
Enjoy your visit to the park and to the wondrously diverse aspects of our cities and state.


Last updated: February 17, 2019