What are Petroglyphs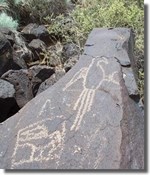 Petroglyphs are rock carvings (rock paintings are called pictographs) made by pecking directly on the rock surface using a stone chisel and a hammerstone. When the desert varnish (or patina) on the surface of the rock was chipped off, the lighter rock underneath was exposed, creating the petroglyph. Archaeologists have estimated there may be over 25,000 petroglyph images along the 17 miles of escarpment within the monument boundary.
It is estimated 90% of the monument's petroglyphs were created by the ancestors of today's Pueblo people. Puebloans have lived in the Rio Grande Valley since before 500 A.D., but a population increase around 1300 A.D. resulted in numerous new settlements. It is believed that the majority of the petroglyphs were carved from about 1300 through the late 1680s.
The arrival of Spanish people in 1540 had a dramatic impact on the lifestyle of the pueblo people. In 1680 the Pueblo tribes rose up in revolt of Spanish rule, and drove the settlers out of the area and back to El Paso, Texas. In 1692 the Spanish resettled in the Albuquerque area. As a result of their return, there was a renewed influence of the Catholic religion, which discouraged participation by the Puebloans in many of their traditional ceremonial practices. As a consequence, many of these practices went underground, and much of the image making by the Puebloans decreased. A small percentage of the petroglyphs found within the park pre-date the Puebloan time period, perhaps reaching as far back as 2000 B.C. Other images date from historic periods starting in the 1700s, with petroglyphs carved by early Spanish settlers.

Why were the petroglyphs made? To find out more, click here.


Last updated: March 20, 2021