Things To Do
From getting your free USS Arizona Memorial program tickets in Aloha Court to taking a walk through our exhibit galleries, here are some of the things you can expect to see and do during your visit to the Pearl Harbor Visitor Center.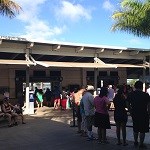 Orientation in Aloha Court
Visitors can receive information about planning their day at Pearl Harbor immediately upon entering the Pearl Harbor Visitor Center. Information is available in Aloha Court.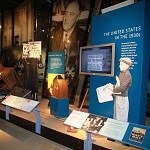 Exhibit Galleries: "Road to War" and "Attack"
These two exhibit galleries bring visitors closer to the sights and sounds of the events leading up to the attack on Oahu and its aftermath. These galleries display personal memorabilia, dramatic photographs, artifacts of the battle, and other exhibits. Kiosks are available to hear history from those who witnessed it.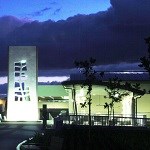 Pearl Harbor Memorial Theater
The Pearl Harbor Memorial Theater is located across from the two exhibit galleries. The USS Arizona Memorial program is seperate from the 23-minute documentary. Visitors can enter theater two to view a 23-minute documentary film on the Dec. 7, 1941 attack, film starts every 15 and 45 minutes past the hour.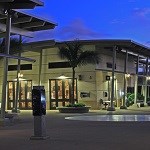 The bookstore is filled with over 120 book titles relating to the Pacific War effort. There are over 50 videos, posters, audio recordings, and other mementos relating to the the USS Arizona, the attack on Oahu, and War in the Pacific that visitors can purchase as a reminder of their visit and to further educate themselves on the subject.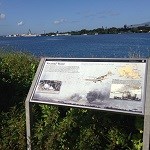 Interpretive Wayside Exhibits
Throughout the facility are interpretive wayside exhibits that invite visitors to imagine the experience of that tragic day. Through superimposing descriptive images of Pearl Harbor as it was in 1941 across the panorama of the busy port as it appears today, the wayside exhibits allow visitors to connect the past with the present.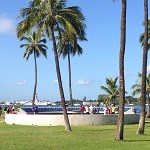 Remembrance Circle
This exhibit pays tribute to the men, women, and children, both military and civilian, who were killed as a result of the attack on December 7, 1941. Medal of Honor recipients are noted with their names listed in gold lettering, and a bronze 3-D map of Oahu illustrates the various attack targets of that day.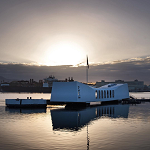 The USS Arizona Memorial Program
The 45-minute program for the USS Arizona Memorial begins at the theater validation desk checkin. It includes a Navy-operated shuttle boat ride to the USS Arizona Memorial, time to experience the memorial itself, and finally, a boat ride back to the visitor center.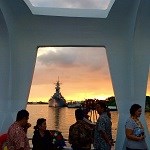 Pearl Harbor Historic Sites
The Battleship Missouri Memorial, Pacific Fleet Submarine Museum, and the Pearl Harbor Aviation Museum are seperate and independent sites not managed by the National Park Service. Please visit their respective websites to learn more about program offerings and admission rates.


Last updated: March 17, 2023