News Release
Tom Leatherman selected as superintendent for Pearl Harbor National Memorial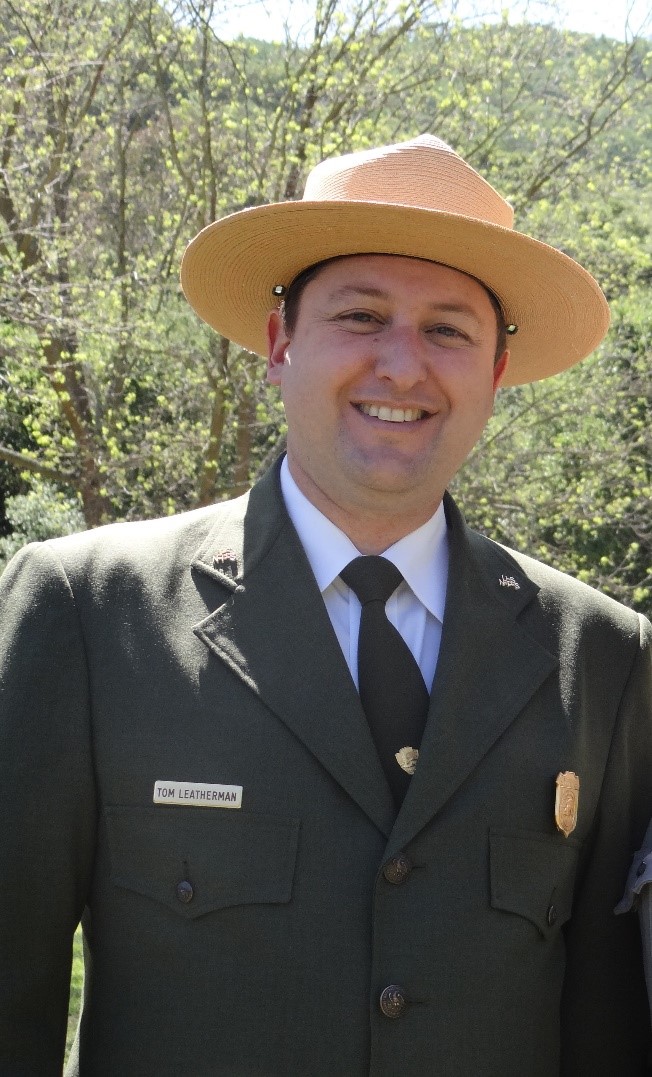 News Release Date:
August 10, 2021
Contact: Public Information Officer
SAN FRANCISCO - The National Park Service (NPS) has selected Tom Leatherman to serve as the superintendent of Pearl Harbor National Memorial starting in October. Leatherman currently serves as the superintendent of four NPS sites in the Oakland area, including Eugene O'Neil National Historic Site, John Muir National Historic Site, Port Chicago Naval Magazine National Memorial and Rosie the Riveter/World War II Home Front National Historical Park. 
"With more than 30-years of experience, Tom is a seasoned and experienced leader," said Acting NPS Regional Director Cindy Orlando. "He is perfect for this position because he has a proven track record of cultivating and fostering successful relationships with partners, including the military and diverse communities. Tom cares about the people he works with and the public he serves."   
"I am humbled to serve as the superintendent at Pearl Harbor National Memorial," said Leatherman. "I look forward to working with the staff, and the park's partners to honor those whose lives were lost and to keep the site relevant for future generations in the years to come." 
Leatherman began his NPS career as an intern at Pinnacles National Park in 1989. In 2005 he began his first permanent superintendent assignment at Manzanar National Historic Site where he developed strong relationships with the Japanese American community. He has maintained this relationship as the regional representative for the NPS' Japanese American Confinement Sites grant program.  
In his current superintendent role, which he has held since 2010, Tom works closely with the Army and Navy in providing access to the Port Chicago Naval Magazine National Memorial site on the active military base at Military Ocean Terminal Concord.   
Leatherman has been a superintendent for 14 years. He has held several regional leadership positions including multiple acting deputy regional director assignments, team lead for the regional Serious Accident Investigation Team, and most recently as the acting superintendent at Mount Rainier National Park. Leatherman has worked at many other NPS sites throughout his career, including Golden Gate National Recreation Area, Sequoia and Kings Canyon National Parks, Joshua Tree National Park, Santa Monica Mountains National Recreation Area, and Great Basin National Park. 
Leatherman, his wife Jeanie (who is an elementary teacher) and their cat Leo, will be moving to Oahu this fall. Their two children will remain on the mainland to attend college. When not working Tom loves to cook gourmet food, hike, garden and relax on a lanai with friends. 
Pearl Harbor National Memorial and its partners preserve, interpret, and commemorate the history of World War II in the Pacific, from the events leading to the December 7, 1941 attack on O`ahu to peace and reconciliation. The NPS works closely with the Pearl Harbor Historic Sites (the USS Bowfin Submarine Museum and Park, the Battleship Missouri Memorial, and the Pearl Harbor Aviation Museum Pearl Harbor), and the US Navy to conserve historic resources and serve the visiting public. Learn more at www.nps.gov/perl/