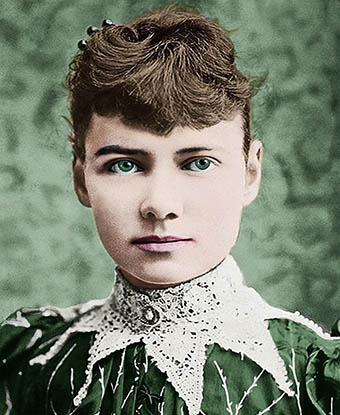 Significance:
women's history, disability history, journalist
Place of Birth:
Cochran's Mills, Pennsylvania
Date of Birth:
May 5, 1864
Place of Death:
St. Mark's Hospital, New York City
Date of Death:
January 27, 1922
Place of Burial:
The Bronx, New York City
Cemetery Name:
Woodlawn Cemetery
Nellie Bly was a nationally significant journalist at the New York World. She was a pioneer in investigative journalism. Her reporting introduced readers to the horrors of insane asylums and to international travel. 
Born Elizabeth Cochran Seaman, Nellie Bly grew up in Pennsylvania in an area that is now a suburb of Pittsburgh. Her grandfather was an Irish immigrant, and Bly's father had spent his working life moving up from a mill worker to a merchant and associate justice. After her father's death, Bly's mother moved the family into Pittsburgh. In response to an article in the paper that stated that girls were of use for bearing children and keeping house, Bly wrote an anonymous letter to the editor of the Pittsburgh Dispatch. Impressed with her response, the editor published a note inviting the writer to reveal herself and accept a job writing at the newspaper. As a journalist and columnist, she chose her pseudonym: Nellie Bly. She would continue to use this name for much of her professional career. 
After writing about women's factory conditions in Pittsburgh, Bly moved to Mexico and reported on the government's unfair imprisonment and censorship of Mexican journalists. When she was threatened with arrest, Bly moved to New York City. There, she worked with Joseph Pulitzer at the New York World. Her first assignment was an undercover investigation of the Women's Lunatic Asylum on Blackwell's Island. The word "lunatic" comes from luna, meaning moon, and the popular misconception that the changing moon could cause people to have fevers or to act irrationally. In Bly's lifetime, "lunatic" was an umbrella term used to describe any person with a mental illness or behavioral disorder. Tourette's syndrome, autism spectrum disorders, anger or rage disorders, schizophrenia, depression, and many other illnesses were not well-known in the 19th and early 20th centuries. Therefore, people with a variety of symptoms could be considered "lunatics" and sent to an asylum. 
After pretending to have amnesia, Bly was committed to the asylum. Inside the asylum, she found other patients who had been committed when they were also healthy. Many of these patients could not speak fluent English, so they could not convince the nurses that they were actually sane. While posing as a patient, Bly documented the abuse and neglect in the asylum: physical and emotional abuse from caretakers, cold showers, filthy living conditions, spoiled food, etc. Bly wrote a book chronicling these experiences at Blackwell's Island: Ten Days in a Madhouse. This book sparked hospital and asylum reforms across the United States, and it catapulted Bly to fame. 
After her time in the Women's Lunatic Asylum, Bly set out to travel around the world, inspired by Jules Verne's novel Around the World in Eighty Days. The New York World covered her trip, and readers eagerly followed the journalist's progress. Bly returned to the United States 72 days after she had departed. She set a world record for the fastest circumnavigation of the globe. 
Bly's journalism career would later include stories about industrialization, coverage of World War I, and support for the suffrage movement. She rode in the 1913 suffrage parade in Washington, DC and in her coverage of the event, predicted that it would be at least 1920 before women got the vote. Bly inherited and ran her late husband's manufacturing estate before she herself died of pneumonia.[1]
Notes:
[1] Nellie Bly was buried in Woodlawn Cemetery in the Bronx, New York. Woodlawn Cemetery was listed on the National Register of Historic Places and designated a National Historic Landmark on June 23, 2011.

Works Referenced: 
Nellie Bly, The Collected Works of Journalist Nellie Bly, Golgotha Press, 2015 
Arlisha R. Norwood, "Nellie Bly," National Women's History Museum, 2017
Brooke Kroeger, Nellie Bly: Daredevil, Reporter, Feminist, Times Books, 1995 
Daniel Nasaw, "How Offensive is the Word 'Lunatic'?", BBC News, 9 May 2012
"Marching for the Vote: Remembering the Woman Suffrage Parade of 1913," Library of Congress
Last updated: March 22, 2021