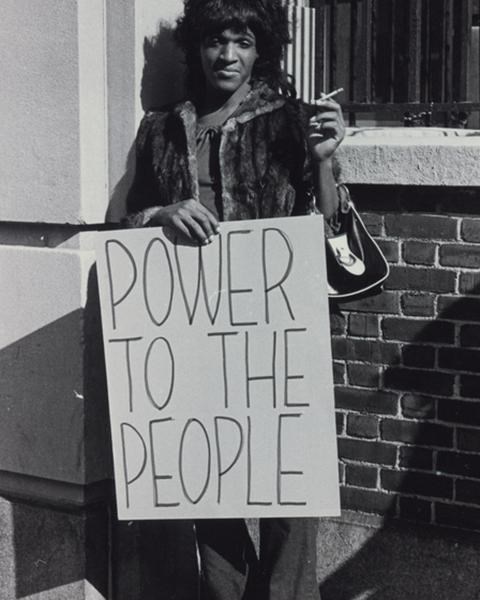 Significance:
Gay liberation activist, AIDS activist, performer
Place of Birth:
Elizabeth, New Jersey
Date of Birth:
August 24, 1945
Place of Death:
New York City, New York
Date of Death:
July 6, 1992
Place of Burial:
Cremated
Cemetery Name:
Ashes scattered in the Hudson River
Marsha P. Johnson grew up in Elizabeth, New Jersey, with her mother. She's said that the town had zero tolerance for LGBTQ people — and as a woman assigned male at birth, she left as soon as she could. She graduated high school at 17, then fled to New York City, where she could finally start dressing how she wanted. She worked both as a waitress and a sex worker. Choosing a name is a rite of passage for many transgender people, and she tried on a few before settling on Marsha P. Johnson. "Johnson" was inspired by a Howard Johnson restaurant she liked, and the "P" stood for "Pay it No Mind," which is how she responded when questioned about her gender.
This profile is part of an article written by Cal Goodin for the National Parks Conservation Association. It is reproduced with permission.
Johnson is often credited with throwing the first brick at Stonewall. In reality, she didn't arrive at Stonewall until about 2 a.m., long after the uprising began. That night, she had invited a bunch of her friends, including Rivera, to a party. She waited and waited, but no one showed up. Finally, she decided she'd make her own fun and started checking out the local scene. When she got to Stonewall, she encountered shouting, fire and chaos. She was seen dropping a very heavy object on top of a police car, among other actions. Johnson said she wasn't afraid of being arrested because she'd spent the last 10 years going to jail simply for wearing makeup on 42nd street. She had nothing to lose. While she may not have started the riots, she was a major player in the LGBTQ rights movement and community during the 1960s, 70s and 80s.
Johnson would go on to create a trans rights group with Sylvia Rivera called Street Transvestite Action Revolutionaries (STAR). They also maintained the STAR House, a place of refuge for LGBTQ homeless youth. Johnson was known for her immense generosity. She'd spend her meager earnings on meals for others and couldn't walk downtown without multiple people calling her name, wishing her well. She was joyous and creative and enjoyed performing. She made intricate outfits out of garbage, modeled for Andy Warhol and wrote poetry. She was a Catholic with a strong sense of faith.[1] Her work continues today through the Marsha P. Johnson Institute, which fights for the rights of Black transgender people.
Earlier this year, New York Gov. Andrew Cuomo dedicated a seven-acre waterfront park in Brooklyn to Marsha P. Johnson, the first state park dedicated to an LGBTQ historic figure and a transgender woman of color. 
Notes:
[1] Marsha's body was recovered from the Hudson River. Initially ruled a suicide, her death has since been ruled a possible homicide.
 
Sources:
Goodin, Cal. "The Unsung Heroines of Stonewall" National Parks Conservation Association Blog, October 1, 2020.
Marsha P. Johnson Institute. "About"
 
Last updated: October 5, 2020