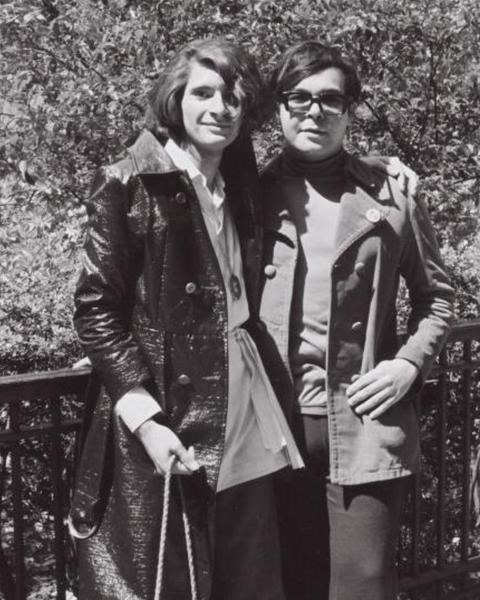 Significance:
Gay liberation activist, transgender activist, advocate for the homeless
Place of Birth:
New York City, New York
Date of Birth:
July 2, 1951
Place of Death:
New York City, New York
Date of Death:
February 19, 2002
Place of Burial:
Cremated
Sylvia Rivera was practically born with a megaphone in hand. She was assigned male at birth, which came with a lot of expectations about how boys should and should not dress. Rivera did not follow the rules society set for her — by age 9, she was already wearing makeup to school.
This profile is part of an article written by Cal Goodin for the National Parks Conservation Association. It is reproduced with permission.
One day when Rivera was in 6th grade, she was on the playground in skintight pants and makeup. A much taller and stockier kid called her by a homophobic slur. Rivera pounced and beat him up. The principal called her into his office. After explaining what happened, she looked him in the eye and asked if she looked like someone who deserved to be called that derogatory term. He said no. Rivera was suspended for a week, and her bully for a month. Rivera made it clear that despite the acrid homophobia and transphobia present in 1960s America, she was not to be messed with.
Rivera was 17 years old during the Stonewall Uprising. She is sometimes credited with throwing the first Molotov cocktail at police, inspiring others to do the same. She debunked this myth in a 2001 speech, saying she threw not the first, but the second. She was an active participant all six nights, refusing to go home even to sleep, not wanting to miss a moment of the revolution.
Rivera's life was full of intense hardships, activism and love for her trans sisters. Fierce until the very end, her legacy continues in countless ways, including through the Sylvia Rivera Law Project, which works to ensure "that all people are free to self-determine their gender identity and expression, regardless of income or race, and without facing harassment, discrimination, or violence."
Sources:
Goodin, Cal. "The Unsung Heroines of Stonewall" National Parks Conservation Association Blog, October 1, 2020.
Rivera, Sylvia. "Our Armies Are Rising and We Are Getting Stronger." Sylvia Rivera's June 2001 talk at the Lesbian and Gay Community Services Center, New York City.
Sylvia Rivera Law Project. Our Approach and Principles.
 
Last updated: October 5, 2020