Place
Low Memorial Library, Columbia University, New York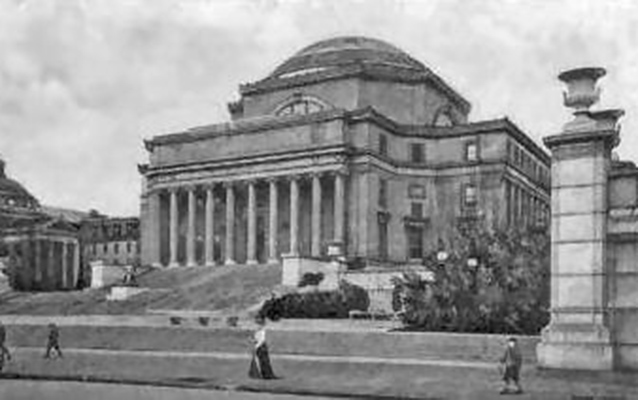 Location:
West 16th Street, between Broadway and Amsterdam, New York City, NY
Significance:
architecture
Designation:
National Historic Landmark
MANAGED BY:
Columbia University
Columbia College was chartered by George II in 1754 as King's College. The university was moved from Madison Avenue and 49th Street in 1897 to New York City's Morningside Heights neighborhood.

The first major building of Columbia's new campus was the Low Memorial Library built in 1895-1897. Funds for the library were donated by Seth Low (1850-1916) in honor of his father Abiel Abbot Low (1811-1893), a wealthy importer in the China trade. Seth Low was a Columbia graduate in 1870 and was also President of the University between 1890 and 1901, one of the youngest in the University's history.

Columbia University has long occupied a central place in the architectural life of America. Its campus design, by McKim, Mead and White, is today recognized as a classic of Beaux-Arts planning principles. Its centerpiece, the majestic Low Memorial Library, is appreciated as a masterwork of its architect, Charles Follen McKim.

Modeled after the Pantheon in Rome, Low Library was conceived as the visual and academic focal point of the campus plan, housing both administrative offices and the college libraries. Designed on a Greek cross plan, the Library is composed of a central, octagonal hall with upper galleries, ambulatory, four corner staircases, and the four projecting arms of the cross. The great hall served originally as the library's principal reading room, and was modeled after the main reading room of the British Museum in London. The room contained side, corner, and central bookcases for 12,000 volumes, and was dominated by a circular arrangement of tiered desks fitted with bronze reading lamps. These desks surrounded a central reference desk bordered by four columns. An elaborate iron configuration rested on the column capitals, supporting a central, four-faced clock crowned by a bronze eagle. A white sphere was suspended from the center of the domed ceiling, designed to produce the effect of a luminous moon, by reflecting light from lamps situated in the galleries. A stack room beneath the reading room housed 150,000 volumes while the galleries above shelved an additional 16,000 books. At full capacity the library was expected to accommodate 1.9 million volumes.

However, the large central space never really worked as a library reading room. The library was much more successful as a ceremonial space and administrative offices. Since 1934, this civic monument has been used for exhibitions, convocations, and a reception area. King George VI of England, Winston Churchill, and Queen Juliana of the Netherlands were all welcomed here.

Centrally located on the main axis of the campus, the Low building is the symbolic center of Columbia University. It is separated from the street by several flights of steps, two landings, and a wide landscaped esplanade. Midway up the stairs is the seated statue of Alma Mater by Daniel Chester French. Here, weather permitting, graduation ceremonies are held with the classic Beaux-arts Low Memorial as a backdrop.

Due to its central location on campus, Columbia students, faculty, staff, and alumni visit Low Memorial Library every day. Among Columbia's notable alumni is Mabel Ping-Hua Lee, an immigrant and suffragist who was the first Chinese woman to receive a doctorate from the university. She participated in suffrage parades and wrote feminist essays during her teenage and undergraduate years, before receiving her doctorate in economics in 1921. Her dissertation, The Economic History of China, was published by the university's political science faculty. After receiving her doctorate, Mabel sailed from New York City to Paris to see historic landmarks and study the economic problems of Europe. She sought to return to China to educate the women there. However, her father's death in 1924 caused her to return to New York and begin leading his First Chinese Baptist Church. Mabel later established her own Chinese Christian Center.

The Low Memorial Library was designated a National Historic Landmark on December 23, 1987.

Read the full nomination.

Find out more about the National Historic Landmarks program.
Last updated: March 4, 2020