Place
Chinatown and Little Italy Historic District New York, New York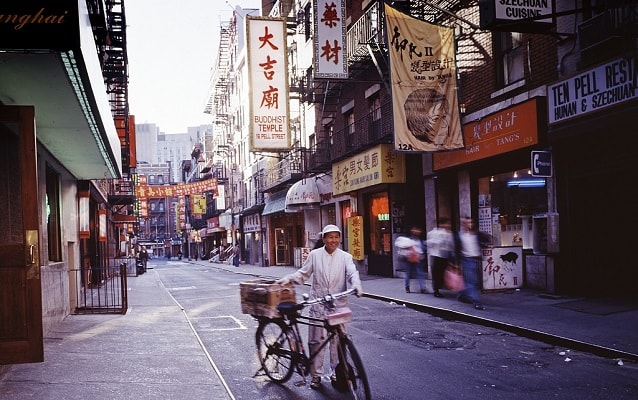 The Chinatown and Little Italy Historic District is located in downtown New York City. The Chinatown neighborhood was formed from the mid-19th to the early 20th century, a dynamic period in American history when waves of immigrants from all corners of the world came to New York seeking opportunity. Immigration to New York City far outweighed that in any other city in the United States and New York City's Chinatown eventually became the largest Chinatown in the U.S.
History
Before the 1800s, immigration from Asia to the U.S. was minimal. During the 19th century, however, the U.S. experienced mass migrations of immigrants from several Asian countries, particularly China. Multiple factors triggered this large-scale immigration. In 1848, gold was discovered in California and throughout the 1850s Chinese were recruited as a major source of labor for the mines. Many Chinese also immigrated during this period to escape the Taiping Rebellion, a large-scale civil war that encompassed most of Southern China. In the 1860s, Chinese were recruited in large numbers from both China and the U.S. western mining industry to help build the Central Pacific Railroad's portion of the Transcontinental Railroad. 

By the 1870s, the U.S. economy was in a post-Civil War decline. The country experienced a series of economic crises starting with the Panic of 1873. The deflation and depression that followed caused wage levels to fall and many Americans to lose their jobs. In the West, white laborers found themselves competing for scarce jobs with Chinese immigrants who would work for lower wages. This led to rising resentment among the white population. Political and labor leaders began to use Chinese immigrants as scapegoats, blaming them for declining wages and high unemployment, and accusing them of being morally corrupt. Mob violence and rampant discrimination began to drive many Chinese immigrants east to larger cities such as New York, where there were more job opportunities and the population was more diverse.

During the 1870s, the Chinese in New York City began to concentrate around Mott Street south of Canal Street. Many Chinese men left wives to come to America, hoping to get rich and return later. As the Chinese quarter started growing the residents, almost exclusively men, began to form various social societies. These societies along with native place and family associations became an important lifeline for the residents of Chinatown.
By 1880, Chinatown was home to between 700 and 1,100 Chinese immigrants. The passage of the Chinese Exclusion Act of 1882, which restricted Chinese immigration, slowed Chinatown's growth. The U.S. Congress passed other exclusionary laws aimed at Chinese immigrants between 1888 and 1902, effectively reducing the number of Chinese entering the country.
By the 1890s, Mott and Pell streets were lined with Chinese restaurants, which became popular with the non-Chinese residents of New York City. Joss houses, an American name for incense-filled Taoist shrines, were a fixture in Chinatown. In 1893, Actor Chu Fong opened the Chinese Opera House at 5-7 Doyers Street, the first Chinese-language theater east of San Francisco. The Chinese Consolidated Benevolent Association (CCBA) purchased the building at 16 Mott Street, and this was considered the city hall of Chinatown. The organization meditated disputes, acted as middlemen in business transactions, and advocated for the rights of Chinese and Chinese Americans.
By the 1920s, the Chinese population of New York City was running a substantial food industry, with Chinese farmers on Long island growing traditional produce such as bitter melons, long beans, and mustard greens and trucking the produce into Chinatown daily. By 1930, over 4,000 Chinese were living in Chinatown.
The various Chinese exclusion laws were lifted in the 1940s and China was given a small immigration quota, allowing Chinatown to continue to grow. In the early 1950s, an urban renewal project, the China Village Plan, threatened to destroy Chinatown's historic core, replacing the businesses and residences with a large-scale housing project. Community advocates fought the plan, which would have destroyed the local Chinatown economy, and it was abandoned.
 
The Immigration and Nationality Act of 1965 overturned the immigration quota system, allowing many more immigrants from Asia into the U.S. A new wave of Chinese immigrants began to settle in Chinatown and the population increased dramatically. The influx of new residents helped Chinatown expand its boundaries from its historic seven-block area around Mott and Mulberry Streets to an estimated 55-block area from the East River to City Hall and from St. James Place to north of Canal Street, eradicating the traditional "dividing line" between Little Italy and Chinatown. Buildings in Little Italy were turned into garment factories and offices and the rents in Chinatown became some of the highest in New York City.

The  rapidly growing Chinese community continued to expand well beyond its historical boundaries, and by 1980 the Chinese community in New York City (including neighborhoods in Brooklyn and Flushing, Queens) was the largest in the country, surpassing the one in San Francisco. The Italian population of Little Italy contracted dramatically starting in the 1950s, when, like so many Americans, large numbers of the middle and upper classes moved to the growing suburbs. Little Italy has contracted in size, having been overtaken by Chinatown from the South, and today its core is centered around Mulberry Street, with its numerous cafes, restaurants, bakeries, and annual festivals.
Architecture
The predominant building type in Chinatown is the mid-19th through early 20th century tenement. There are also Federal and Greek Revival townhouses, factories, loft buildings, utility buildings, club houses, former stables, churches, and schools. From the early 1820s until 1837, a frenzy of bank lending and real estate investment coincided with a steadily growing immigrant population in need of housing. Tenement buildings became the dominant form of housing in New York City from the 1820s to the 1920s. These buildings are predominantly flat-roofed and square with small often windowless apartments. The buildings had fire escapes which the residents would sleep on during the hot summer months.
New York's Chinatown was built by modifying the buildings that existed there to conform to Chinese uses and tastes. From the 1880s a number of older tenement buildings were altered using Chinese ornaments and architectural design. One example is the CCBA building at 16 Mott Street, considered to be the first genuine Chinese building in New York. The building is a renovated Federal style townhouse, enlarged to accommodate the CCBA in 1888. A new wave of Chinese modifications to tenements took place from 1920-1950. The most common feature of these modifications was a second-story porch carved out of the building as a retrofitted terrace. Bold plaques in Chinese are affixed to the front of important buildings such as mutual aid societies and benevolent associations. Scaled-down Chinese pagoda-style porch roofs were also common in this period.
Today's Chinatown is a tightly packed sprawling neighborhood that continues to grow. It is both a tourist attraction and home to a majority of New York City's Chinese population. Visitors today will experience a living Chinese-American community bustling with restaurants, booming fruit and fish markets, residences, and various businesses and shops, a testament to an historic and still thriving immigrant community.
Mabel Ping-Hua Lee's Chinatown
Despite the Chinese Exclusion Acts, Manhattan's Chinatown flourished with small businesses and family residences. Within this community was Lee Tow, a pastor from Canton, China who had previously emigrated to the United States. He arrived in New York City in 1900, and by 1904 was the pastor of the Baptist Chinese Mission in Chinatown. His wife, Libreck Lee (also spelled Lennick Lee) and their daughter, Mabel Ping-Hua Lee, soon joined him. They left Hong Kong in 1905 after Mabel, who had studied English in China, was awarded a Boxer Indemnity Scholarship and a U.S. visa. Mabel became committed to political activism as she continued her education in the United States. While growing up at 53 Bayard St. in Chinatown, Mabel sought to inspire other Chinese women to become civically engaged. At age 16, she began attending Barnard College and wrote various feminist essays including "Meaning of Woman Suffrage" for the May 1914 Chinese Students' Monthly. In about 1915, she was asked to deliver a speech on behalf of the Women's Political Union, which she entitled "China's Submerged Half." In these writings, Mabel advocated for women's education, equality, and independence.

As a Chinese immigrant, Mabel was legally unable to vote under the Chinese Exclusion Act. Though she personally would not gain voting rights under the 19th Amendment, she fervently supported the women's suffrage movement, and even succeeded in inspiring other Chinese women to march in the national women's suffrage parade on Fifth Avenue in 1917. Despite Mabel's engagement with this national movement, she remained engaged in her local immigrant community. Following her father's death in 1924, she assumed directorship of the First Chinese Baptist Church at 21 Pell Street and dedicated the rest of her life to the social and spiritual uplift of the neighborhood. Mabel later established the Chinese Christian Center, which offered vocational and English classes, a health clinic, and a kindergarten. The Chinese Exclusion Act was repealed in 1943, finally allowing Mabel and other Chinese immigrants to vote. On December 3, 2018, Chinatown's Post Office Station at 6 Doyers Street was dedicated to Mabel for her contributions to the suffrage movement and the local Chinese community.

The Chinatown and Little Italy Historic District, listed in the National Register of Historic Places, is located in New York, NY. The district is roughly bounded by Baxter Street, Center Street, Cleveland Place and Lafayette Street to the west, Jersey Street and East Hudson to the north; Elizabeth Street to the east and Worth Street to the south. Click here for the National Register of Historic Places file: text and photos. For more information, visit the New York Chinatown website.
Last updated: March 4, 2020