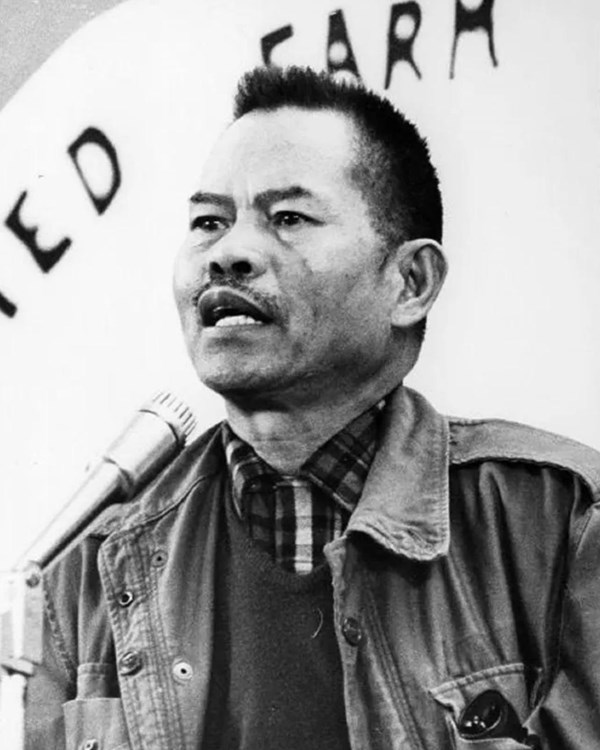 Significance:
Filipino American labor organizer and civil rights activist. One of the founders of the United Farm Workers, which orchestrated the 1965-66 Delano grape strike and boycott.
Place of Birth:
San Nicolas, Pangasinan, Philippines
Date of Birth:
October 25, 1913
Place of Death:
Delano, California
Date of Death:
February 8, 1977
Place of Burial:
Delano, California
Cemetery Name:
North Kern Cemetery
Larry Itliong (pronunciation: LEH-ree EET-lee-AW-ng) was a Filipino American labor organizer and civil rights activist who played a central role in the founding of the United Farm Workers (UFW) union. Itliong is best known for his role in the 1965-1966 strike and boycott against California grape growers and the subsequent founding of the UFW union. However, Itliong's activism was a lifelong endeavor that began much earlier. For more than four decades, he organized and advocated on behalf of farm and cannery workers, immigrants, and Asian Americans.
Early Life
Modesto "Larry" Dulay Itliong was born October 25, 1913, in the Pangasinan province of the Philippines, then a U.S. territory. He was one of six children of Artemio and Francesca Itliong. He had only a sixth-grade education when left his home in the San Nicolas municipality for the United States in 1929 at the age of fifteen. Itliong hoped to continue his education in the United States. However, he arrived during the dire economic conditions of the Great Depression and pervasive racial violence and rhetoric against Filipinos and other immigrants. These conditions prevented him from realizing his academic ambitions. 
Although Filipinos were technically American nationals, they faced legal and social discrimination. Anti-miscegenation laws prevented Filipinos (who were overwhelmingly young men) from marrying white women. Police raided Filipino dancehalls and violent mobs targeted Filipino communities. The only work available to most Filipinos was low-paid agricultural, cannery, and domestic work. Itliong's experience of racism and economic injustice gave rise to a lifetime of activism.
Itliong's Early Organizing at the Alaska Canneries
Like many other Filipinos in America at the time, Itliong "followed the seasons." He migrated up and down the West Coast to fill short-term labor needs, such as planting, tending, and harvesting different crops. Mostly young single men, Filipinos crowded into jalopies or hitched rides on boxcars to find the next job. Many Filipinos, including Itliong, made their way to Seattle each year. Here, they signed contracts to spend the summer working in Alaska's salmon canneries, a critical site for Filipino labor organizing in the 1930s. 
Itliong's first experience with organizing came in 1930, shortly after he first arrived in the United States. He was among 1,500 farmworkers to walk out of the lettuce fields near Monroe, Washington, on strike. By 1933, he organized farmworkers in California's Salinas Valley. This was one of many strikes that were part of a growing movement in Filipino farmworker organizing during the 1930s. Itliong also helped found the Alaska Cannery Workers Union, which later became Local 7 of the United Cannery, Agricultural and Packinghouse Workers of America (UCAPAWA). His efforts with the union fought for a contract that offered workers an eight-hour workday with overtime. Itliong emerged as a leader in the Filipino American community of "Manongs" – respected elder workers who were crucial in shaping the labor movement. 
Itliong, Stockton, and the Farmworkers Movement 
During World War II, Itliong served as a steward on a US Army transport ship. After the war, he settled in Stockton, California, where he started a family and resumed his activism. Throughout the 1940s and 1950s, Itliong continued to organize farmworkers as a member of UCAPAWA and later the International Longshore and Warehouse Union (ILWU). Itliong also became involved in Filipino community and civic organizations like the Legionarios del Trabajo (League of Workers) and the Filipino Voters League. 
In 1948, Itliong, along with Philip Vera Cruz and other labor leaders, participated in the 1948 asparagus strike in Stockton. The asparagus strike was the first major U.S. agricultural strike after World War II. In 1956, Itliong continued his organizing work with the Filipino Farm Labor Union (FFLU) in Stockton. Itliong was asked to organize for the Agricultural Worker's Organizing Committee (AWOC), a newly chartered union in the AFL-CIO in 1959. Though the union was largely Filipino, it included Mexican, Arab, Black, and white workers within its ranks.
United Farm Workers and the Delano Farmworkers Grape Strike
In 1965, Itliong and the AWOC led 1,500 Filipino farmworkers on a strike against the grape growers in and around Delano, California. But grape growers could easily replace the striking workers. A successful strike required the support of Mexican farmworkers, many of whom were represented by the National Farm Workers Association (NFWA) organized by César Chávez and Dolores Huerta. Chavez was hesitant to join the strike as he believed that the Mexican farmworkers needed more time to be organized. However, Itliong convinced him  to bring the NFWA to join forces with the AWOC. Together, they commenced the massive 1965–1966 grape strike and boycott.
In 1967, the two unions officially merged to become the United Farm Workers, AFL-CIO (UFW). Chavez was the director and Itliong was the assistant director. In the years that followed, the UFW drew national attention to the plight of farmworkers through highly publicized boycotts and marches. Through their efforts, the UFW won labor contracts that guaranteed farmworkers higher wages and safer working conditions.
However, tensions and internal conflict emerged within UFW. Chavez and Itliong's leadership styles and viewpoints were in conflict. Chavez saw the union as more of a social movement, while Itliong approached it as a more traditional trade union. In 1971, Itliong resigned from the union.
Itliong's Later Organizing Years
Itliong continued to organize for workers' rights. Itliong traveled to defend and organize farm workers in Brazil and Chile in solidarity with other labor movements across the world. In addition, he was an elected delegate at the 1972 Democratic National Convention in Miami Beach, Florida.  He helped to establish the Paulo Agbayani Retirement Village, a retirement community for aging Filipino farmworkers. Agbayani opened its doors in 1974. Itliong remained politically active as a member of the Filipino American Political Association. His community activism continued until his death in 1977 at the age of 63. He was laid to rest in North Kern Cemetery in Delano, California. 
Legacy
Larry Itliong is remembered as one of the "fathers of the West Coast labor movement" and a key figure within the Asian American movement. In 1995, the first mural honoring Filipino American farmworkers was completed in Los Angeles' Historic Filipinotown, which features Itliong. In 2015, California Governor Jerry Brown signed a bill designating October 25 as Larry Itliong Day in California. Itliong's story of labor and union organizing among migrant farm workers sheds light on the history of Filipino American activism within the civil rights era.
---
This article was written by Roneva Keel, PhD, an ACLS Fellow with the National Capital Region, and edited by Marjorie Justine Antonio, NCPE Intern with the Cultural Resources Office of Interpretation and Education.
---
Learn More
Labor History Subject Site
Series: The Road to Sacramento: Marching for Justice in the Fields
Gravesites of Larry Itliong and Richard Chavez
Filipino Community Hall: Cultural Center of Delano
Series: Curiosity Kit: César Chávez
Sources
Aroy, Marissa, dir. Delano Manongs: Forgotten Heroes of the United Farm Workers. Media Factory, 2014. 26 min 50 s. https://www.delanomanongs.com/.
Chang, Benji. "Itliong, Larry (1913–1977)." In Asian Americans: An Encyclopedia of Social, Cultural, Economic, and Political History. Vol 1: A-F. Edited by Xiaojian Zhao and Edward J. W. Park. Santa Barbara, CA: Greenwood, 2014.
Friday, Chris. Organizing Asian American Labor: The Pacific Coast Canned-Salmon Industry, 1870-1942. Philadelphia: Temple University Press, 1994.
Kim, Hyung-chan. Distinguished Asian Americans: A Biographical Dictionary. Westport, CT: Greenwood Press, 1999.
Mabalon, Dawn Bohulano. Little Manila Is in the Heart. Durham, NC: Duke University Press, 2013.
Mabalon, Dawn Bohulano, and Gayle Romasanta. Journey for Justice: The Life of Larry Itliong. Illustrated by Andre Sibayan. Stockton, California: Bridge and Delta Publishing, 2018.
Mabalon, Dawn Bohulano, and Rico Reyes. Filipinos of Stockton. Charleston, SC: Arcadia Publishing, 2008.
Last updated: December 16, 2022