Person
Dr. "General" Rosalie Jones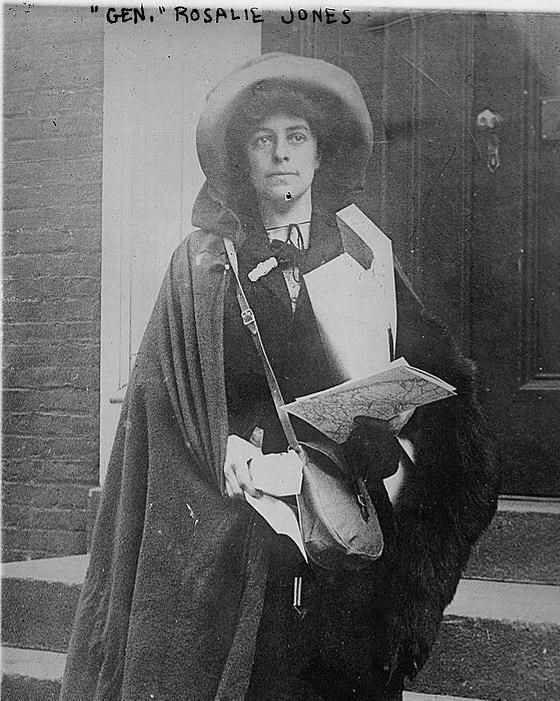 Significance:
Suffragist, attorney, businesswoman
Place of Birth:
Cold Spring Harbor, New York
Date of Birth:
February 24, 1883
Place of Death:
Brooklyn, New York
Date of Death:
January 12, 1978
Place of Burial:
Ashes scattered, Cold Spring Harbor, New York
Cemetery Name:
St. John's Episcopal Church Cemetery
Rosalie Jones was known as a maverick, strong-willed and opinionated by her friends and allies. Those who disliked her used much stronger words.  
Early Life and Education
Her parents were wealthy: her mother, Mary Elizabeth Jones, came from a wealthy, upper-class family. As well as her inherited wealth, Mary also earned a fortune in real estate development, rumored to own property "in every state in the Union." Rosalie's father was Dr. Oliver Livingston Jones, Sr., a physician who also had real estate investments.
In 1909, their home in Cold Spring Harbor, New York burned to the ground. Rumors in the community swirled that Rosalie's brother, Oliver, started the fire. He suffered from mental illness and was eventually institutionalized. In 1911, the family began rebuilding. In 1913, tragedy struck again when Rosalie's father committed suicide. Oliver died in early 1918.
Her mother died in October 1918 during the Influenza Pandemic of 1918, just nine days before her son Philip died. Rosalie's surviving brother, Arthur, inherited the family properties. After many years of fighting, Rosalie took possession of one of the family homes and a financial settlement. In return, she agreed to stop accusing her brother of mismanaging the estate.
Before her death, Rosalie's mother was a member of the New York State Anti-Suffrage Associations. Although raised in an anti-suffrage household, Rosalie was an active suffragist. She first took part in an outdoor suffrage meeting in New York City in 1911. This new and radical way of organizing was started by Maud Malone, another New York City suffragist. From 1912 to 1913, Rosalie served as Nassau County President of the National American Woman Suffrage Association (NAWSA). In the spring of 1912, she traveled around Long Island in a "Votes for Women" wagon pulled by a horse.
Rosalie earned her Bachelor of Arts degree from Adelphi College in Brooklyn and then attended Brooklyn Law School. In 1919, she received a law degree from George Washington University in DC. In 1922, she got her Doctor of Civil Law degree from George Washington College of Law, now part of American University in DC. She passed both the New York and Washington, DC bar exams. After law school, she went into business buying and selling real estate. She made a considerable fortune, much of which she lost during the Great Depression.  
Suffrage Pilgrimages
Like Alice Paul, Rosalie was influenced by Emmeline Pankhurst, a militant suffragette from Britain. To bring attention to the battle for suffrage, Rosalie organized groups of women to march long distances. She called these marches "pilgrimages," and the women marching were "pilgrims."
In December of 1912, over 200 women joined Rosalie for parts of a march of over 140 miles from New York City to Albany, New York.[1] Only a handful of women, including Rosalie, completed the entire route. The march took thirteen cold, wintry days. During the march, the women stopped to hold open air meetings and give out pamphlets in communities along the way. They carried yellow knapsacks and Votes for Women banners. Rosalie's anti-suffrage mother said the march was "ridiculous." It was during this pilgrimage, carrying petitions to the governor of New York, that Rosalie earned the nickname "General" Jones.
In February 1913, General Jones led a group of 225 women on another march from New York City to Washington, DC. As the pilgrims rested in Wilmington, Delaware, two white Southern businessmen confronted Jones about the group's stance on African American women's voting rights. Jones tried to avoid the question. She ultimately stated: "The question is one that has to do largely with certain States. The men and women of those States must solve their own problems."[2]
As the hikers neared Laurel, Maryland, Jones received word that a small group of African American women planned to join the pilgrimage from nearby Muirkirk, Maryland. According to the New York Times, "Gen. Jones did not seem to take the report seriously. Her only remark was, 'Yes they will,' with the accent upon the first and last words."[3] Jones's tone and opinion are difficult for historians to decipher because the language used in the newspaper is itself dismissive of the Black suffragists. Four or five African American women joined the suffrage hike for at least one mile and hoisted a 'Votes for Negro Women' banner, albeit at the very back of the procession. After the marchers left Laurel, a cavalry brigade of women met General Jones and escorted the group into DC. On March 3, 1913, General Jones and her "pilgrims" marched in the DC suffrage procession.
Jones's evasiveness about Black women's voting rights may have stemmed from her immediate circumstances. The 240-mile suffrage hike was physically grueling. People who opposed women's suffrage harassed and intimidated the hikers along the way. In addition to verbal insults, onlookers tore banners and jostled the women. In Wilmington, the white Southern businessmen had also indicated that if the hikers supported Black women's voting rights, the rest of their journey to Washington would be a hostile one, "through the enemy's country."[4]
Life after Suffrage
After ratification of the Nineteenth Amendment in 1920, Rosalie continued working for causes she believed in. For example, she demanded the removal of Robert Moses from his position as President of the Long Island Park Commission. He was, she argued, taking land from people without fair warning. She lived alone for many years at her home on Long Island and had a reputation for being "difficult."
In March 1927, Rosalie married Clarence Dill at St. John's Episcopal Church in Cold Spring Harbor. She removed the word "obey" from their vows, and refused to "be given away" by anyone. Dill represented Washington state in the United States Senate. That November, Dill ran for a second term, and was reelected. While in DC, Rosalie continued to her involvement in things that were important to her. From 1933 to 1935, she was President of the Congressional Club. Members rebuffed her insistence that the organization engage with social causes. They insisted instead that the clubhouse remain neutral ground, a place "free from the constant drive and appeals from scores of groups for various forms of service."[5]
Rosalie and Clarence separated before 1934, while Clarence was still in office. He remained in Washington state while she moved back to New York. In 1936, after months of public speculation, Dill filed for divorce from Rosalie. She fought to prevent it. The case received considerable press – both Rosalie and Clarence were well known and there was name calling and other fodder to entice readers. Among other grievances, Dill claimed that Rosalie called him a "political coward" for not running for a third term. He called her an appalling wife, slovenly, and a terrible housekeeper (even though they had a maid, who testified during the court proceedings). Dill also claimed she spurned his business advice, telling him he should "keep to politics." Rosalie claimed that she gave him thousands of dollars in the early years of their marriage. In the divorce, he got their home in Washington state and she got the furniture.
In 1936, Rosalie ran for Congress in Washington state, promoting a balanced budget and the construction of the Grand Coulee Dam. Her campaign was unsuccessful and she returned to New York. She lived much of the rest of her life on Long Island, "composting her garbage, raising goats, defying traditions, and fighting with her neighbors and relatives."[6]
She spent her last years in Brooklyn, where she died on January 12, 1978. Despite the challenges she had with her family over the years, General Rosalie Jones's ashes were scattered outside of her mother's tomb at St. John's Episcopal Church, Cold Spring Harbor, New York.
Notes 
[1] The pilgrimage to Albany left New York City from the Van Cortlandt Park-242nd Street subway station. It is the northernmost end of the Seventh Avenue Line of the New York City Subway. It was listed in the National Register of Historic Places on March 30, 2005. They ended at the New York State Capitol in Albany, New York. The state capitol building was added to the National Register of Historic Places on February 18, 1971 and designated a National Historic Landmark on January 29, 1979. It is also a contributing property to the Lafayette Park Historic District, listed in the National Register of Historic Places on November 15, 1978.  
[2] "Gen. Jones Doges the Color Question: Callers Bluntly Ask Leader of Hikers If She Favors Granting Votes to Negro Women: Marchers Rest for a Day: Brass Band of School Teachers Will Meet the Suffragists When They Reach Laurel, Md," New York Times, February 20, 1913, ProQuest Historical Newspapers: New York Times, https://www.proquest.com/historical-newspapers/gen-jones-dodges-color-question/docview/97415821/se-2.
[3] "Suffrage Hikers Send Wilson a Flag: General Jones Not Alarmed by a Report that Colored Women's Club Will Fall in Line: Colonel Craft is in Demand: Suffragists Reach Laurel, Md., After Uneventful March of Twenty-two Miles from Baltimore," New York Times, February 27, 1913, ProQuest Historical Newspapers: New York Times, https://www.proquest.com/historical-newspapers/suffrage-hikers-send-wilson-flag/docview/97440311/se-2.
[4] "Message to Wilson Taken from Hikers: Gen. Jones's Suffragist Army Will Enter Washington as Independent Body: Grumbling in the Ranks: Students of Maryland Institution Annoy the Army: Walking on Oilcloth," New York Times, February 28, 1913, ProQuest Historical Newspapers: New York Times, https://www.proquest.com/historical-newspapers/message-wilson-taken-hikers/docview/97478998/se-2.
[5] The Congressional Club at 2001 New Hampshire Avenue NW, Washington, DC was listed on the National Register of Historic Places on October 6, 2011. It is also a contributing property to the Greater U Street Historic District, listed on the National Register of Historic Places on December 31, 1998.
[6] Judith Ader Spinzia, "Women of Long Island: Mary Elizabeth Jones, Rosalie Gardiner Jones," The Freeholder 11 (Spring 2007): 4, https://spinzialongislandestates.com/JONES.pdf.
Last updated: December 23, 2022