Robert Moses Biography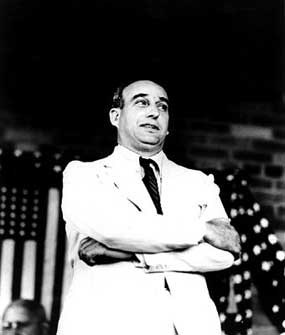 Perhaps no other single person had as great an effect on the development of Jamaica Bay as Robert Moses did throughout the twentieth century. It is certain that he was the primary force behind the building of the highways and bridges in and around the bay, and responsible for most of Jamaica Bay's lands and waters being preserved as parks.

He was also responsible for many projects in Staten Island, including the creation of the Fresh Kills landfill, the Verrazzano Narrows Bridge, and the creation of Great Kills Park (originally named Marine Park).
Robert Moses was born in New Haven, Connecticut in 1888. In 1897, when Moses was still a child, his family moved to New York City, where his mother, Bella was very active in the settlement house movement, which aided the large numbers of immigrants arriving in the city. In 1905, he entered Yale University, from which he graduated in 1909. He then did his post – graduate work at Oxford University in England, where he studied the British civil service, and Columbia University in New York, earning his doctorate in political science in 1914.
Moses got his first job in government in 1913 with the New York City Municipal Research Bureau, which was helping to reform the city's civil service. Moses proposed a plan for reforming the system which was based on merit hires and promotions, rather than on political patronage. Though his plan was not adopted, his work on civil service reform brought him to the attention of Belle Moskowitz, a fellow reformer and close advisor to Alfred E. Smith.
When Smith was elected governor of New York State in 1918, Mrs. Moskowitz recommended that Moses be given the job of chief of staff for a commission that was charged with reorganizing the state's government. Again, his plans were not adopted, but his work on the project moved Moses into Governor Smith's inner circle. Moses and Smith were to remain close until Smith's death in 1946.
It was during the 1920's that Moses' interests in parks and parkways began to grow. It was also during this period that Moses began to hone his skills in drafting legislation. In 1924, he drafted the legislation that created the Long Island Parks Commission and the State Council on Parks, with Moses as chairman of both. He was to hold these positions for nearly 40 years.
Moses built his reputation as the man who "gets things done" with three projects on Long Island; Jones Beach State Park, and the Northern State, Southern State, and Wantaugh Parkways. In addition he had several other state parks built throughout Long Island, and the parkways to get people to them. The parkways themselves were to be park – like, meant for travel by "pleasure vehicles," or passenger cars. Moses saw the automobile as the transportation of the future, and little, if any regard was given to mass transit into the parks. All of the Long Island projects received tremendous public acclaim.
In 1934, while still maintaining his state government positions, Moses was named by New York City Mayor Fiorello La Guardia as the chairman of the Triborough Bridge Authority, and as Commissioner of the New York City Parks Department. He looked to Jamaica Bay, and saw possibilities of duplicating the successes that he had had with the Long Island state parks.
In 1936, Moses was named head of the Marine Parkway Authority, which built the Marine Parkway Bridge and paid for major improvements to Jacob Riis Park, both of which were completed in 1937. In addition, Moses had jurisdiction for all of Jamaica Bay, including the islands and waters, transferred to the New York City Parks Department in 1938.
Between 1938 and 1940 the Belt Parkway was constructed along the north shore of the bay. Along its length, "ribbon parks" such as Plumb Beach and Canarsie Pier were constructed. Frank Charles Park in Howard Beach was also built.
In the 1950's, the New York City was looking to rebuild the old wooden train trestle across Jamaica Bay for use by the subway system. Since the Parks Commissioner had jurisdiction over construction in the bay, Moses would only give permission if two fresh water ponds were built between on Rulers Bar Hassock. These ponds were to become the basis on which the Jamaica Bay Wildlife Refuge was established.
The last project that Robert Moses was associated with was the replacement of the Cross Bay Bridge between Broad Channel and Rockaway in 1971. This bridge replaced the second Cross Bay Bridge that had been built under Moses in 1939.
Robert Moses died in 1981, having left his mark on New York State and City in general, and on Jamaica Bay in particular.
Last updated: January 22, 2021