Person
Amos Bronson Alcott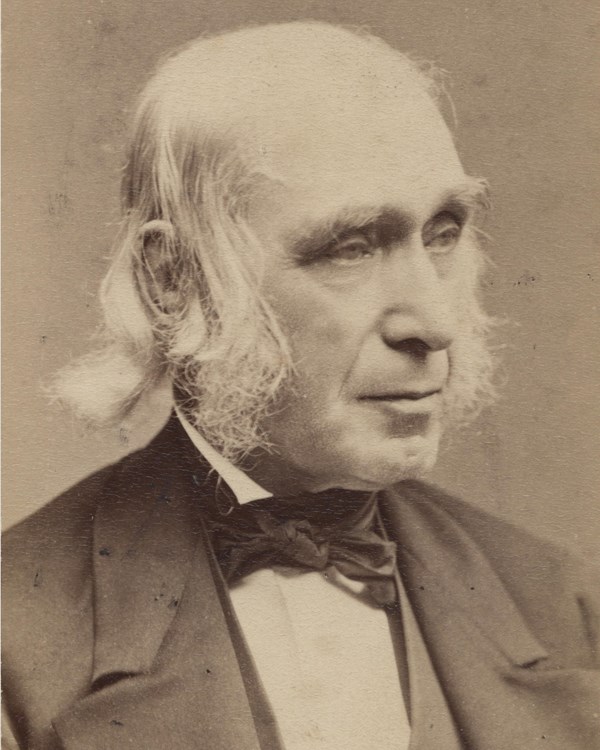 Significance:
Educator, Abolitionist, Transcendentalist, Father of author Louisa May Alcott
Place of Birth:
Spindle Hill, Connecticut
Date of Birth:
November 19, 1799
Place of Death:
Boston, Massachusetts
Date of Death:
March 4, 1888
Place of Burial:
Sleepy Hollow Cemetery
Cemetery Name:
Concord, Massachusetts
Amos Bronson Alcott dedicated his life to various intellectual and social movements, including Transcendentalism, abolitionism, and education reform.
Amos Bronson Alcott spent his early years in rural west-central Connecticut with his parents and seven siblings.1 As a young child, he discovered a love for reading which likely influenced his later passion for learning and education.2 Alcott had limited formal education. At thirteen, Alcott attended Cheshire Academy, but feeling he did not fit in, he dropped out after only a month. He then tried his hand at farming, clockmaking, and selling religious tracts.
In 1819, he went to Virginia in hopes of finding a teaching position. Unsuccessful with this effort, Alcott, like many other young New England men, became a Yankee peddler.3 He made five trips to Virginia and the Carolinas, traveling throughout the region selling various small items and staying in both planters' residences and slave quarters.4 While he initially profited from these trips, Alcott soon found himself in debt and returned North.5 In the fall of 1823, Alcott found a teaching position in Connecticut, and over the subsequent years he taught at schools throughout New England.
In 1830, Alcott married Abigail May at King's Chapel in Boston.6 The couple had four daughters: Anna Bronson (1831), Louisa May (1832), Elizabeth Sewall (1835), and Abby May (1840). As a progressive educator, Alcott believed in the importance of educating his daughters, and his daughter, Louisa May Alcott became the well-known author of Little Women.
Bronson Alcott came to his abolitionist beliefs slowly. His up-close look at chattel slavery during his travels in the South did not immediately turn him into him an antislavery activist. In fact, the first time he heard abolitionist William Lloyd Garrison speak in 1830, Alcott criticized him for lacking "discrimination . . . between the slave-holder who keeps his slaves from motives of expediency and the one whose principals are in favor of slavery."7
Alcott's opinion of slavery had changed by 1834. That June, he joined other Boston area reformers in signing a petition to Congressional candidate Abbot Lawrence to bring his attention to the issue of slavery in the District of Columbia.8
1834 also proved to be a pivotal year in Alcott's teaching career. That year, he established a school in Boston's Masonic Temple on Tremont Street. Yet, many Bostonians criticized his unconventional curriculum and pedagogy, forcing him to close the Temple School four years later.9
After closing the Temple School, Alcott established another school in the parlor of his house on Beach Street in Boston. Here, he taught up to 20 students. However, after Alcott admitted Susan Robinson, a Black child, to his school, the parents of all but one his students withdrew their children out of disapproval, resulting in the closure of the school.10
In June 1843, Alcott helped establish Fruitlands, a Transcendentalist farming collective, but that venture failed and the Alcotts moved out the following January.11 Soon after, Alcott purchased a house on Lexington Road that he named "Hillside." The Alcotts moved in on April 1, 1845 and soon turned it into a stop on the Underground Railroad. According to biographer John Matteson, "[i]t is likely that the Alcotts sheltered more fugitives than there are records to prove; their work demanded secrecy."12 Alcott wrote about one of the freedom seekers who sought refuge in his home, recalling that the individual taught "an impressive lesson to my children, bringing before them the wrongs of the black man and tales of his woe."13
By 1850, Alcott had moved to 88 Atkinson Street in Boston. Throughout the 1850s, Alcott participated in anti-slavery meetings and served as a member of the 1850 Boston Vigilance Committee, which formed in response to the Fugitive Slave Law.14 A June 1852 edition of The Liberator noted that he addressed an anti-slavery meeting in Abington, Massachusetts on the 13th of that month.15 He assisted in the attempt to free fugitive Anthony Burns from the Boston courthouse after Burns' capture in 1854. On May 26, 1854, a crowd led by abolitionists Thomas Wentworth Higginson and Lewis Hayden among others failed to gain entrance to the courthouse, fatally wounding one of the guards in the process. Matteson notes that upon entering the courthouse through the battered down door after the crowd's retreat, Alcott faced a staircase "lined with marshals, [with] pistols and drawn swords at the ready."16 The next night, an armed Alcott helped guard the home of abolitionist Wendell Phillips after reports that a mob planned to attack it.17
In 1857, Alcott purchased a house on Lexington Road in Concord and moved his family there.18 Historian Wilber H. Siebert suggests that Harriet Tubman may have been a guest of the Alcotts when she visited the area.19
Throughout his life, Alcott participated in other reform movements, particularly the fight for women's rights.20 The Liberator documented Alcott's attendance at the Women's Rights Convention in Worcester. This conference "consider[ed] the question of Woman's Rights, Duties, and Relations . . .", making it the first national conference on the topic of women's suffrage.21
While eulogizing Alcott's life at his 1888 funeral, his friend and fellow activist Franklin B. Sanborn said: "Can you remember a single good cause, a single germinating idea, in the last 60 years that did not find embodiment in Mr. Alcott?"22
Learn More...
The Wayside - 1845-1852: The Alcott Years
The Wayside and the Underground Railroad
Fruitlands Museum Historic District
Footnotes
John Matteson, Eden's Outcasts: The Story of Louisa May Alcott and Her Father (New York: Norton, 2007), 13.
Matteson, Eden's Outcasts, 17-18.
The Editors of Encyclopaedia Britannica, "Bronson Alcott," Britannica, accessed July 29, 2021.
Matteson, Eden's Outcasts, 23-24.
Matteson, Eden's Outcasts, 26.
Madelon Bedell, The Alcotts: A Biography of a Family (New York: Potter, 1980), 51.
Amos Bronson Alcott, 16 October 1830, Journals, 25, in Matteson, Eden's Outcasts, 24.
Boston Daily Advertiser, reprinted in The Liberator, June 11, 1852.
Alden Whitman, ed., American Reformers, An H.W. Wilson Biographical Dictionary (New York: H.W. Wilson, 1985), 9, Archive.org.
Matteson, Eden's Outcasts, 84.
Whitman, American Reformers, 10.
Matteson, Eden's Outcasts, 174. Nathaniel Hawthorne renamed the property "Wayside" when he purchased it in 1852.
Alcott, 9 February 1847, Journals, 190, in Matteson, Eden's Outcasts, 176.
George Adams, The Directory of the City of Boston, 1850, 74, Boston Athenaeum.; Austin Bearse, Reminiscences of Fugitive Slave Law Days in Boston (Boston: Warren Richardson, 1880), 3, Archive.org.
"Sunday Meetings in Abington." The Liberator, June 11, 1852. Alcott also helped patrol the streets of Boston during the 1851 trial of freedom seeker Thomas Sims. Gary L. Collison, "The Boston Vigilance Committee: A Re-consideration," Historical Journal of Massachusetts, Volume 12, No. 2 (June 1984), 110.
Matteson, Eden's Outcasts, 218.
Matteson, Eden's Outcasts, 218.
Matteson, Eden's Outcasts, 232.
Wilber H. Siebert, The Underground Railroad from Slavery to Freedom (Mineola NY: Dover, 2006), 186.
An 1846 edition of The Liberator lists Alcott as an attendee of that year's convention of the New England Non-Resistance Society held in Worcester, where several resolutions condemning the Mexican War were passed; "Reformatory," The Liberator (Boston, Massachusetts), December 18, 1846.
"A Convention," The Liberator, September 20, 1850. "The Constitutional Convention and Equal Political Rights," The Liberator, March 4, 1853; "To the Friends of Woman's Rights." The Liberator, August 19, 1853.
Boston Globe, March 6, 1888; Matteson, Eden's Outcasts, 424.
Last updated: January 16, 2023