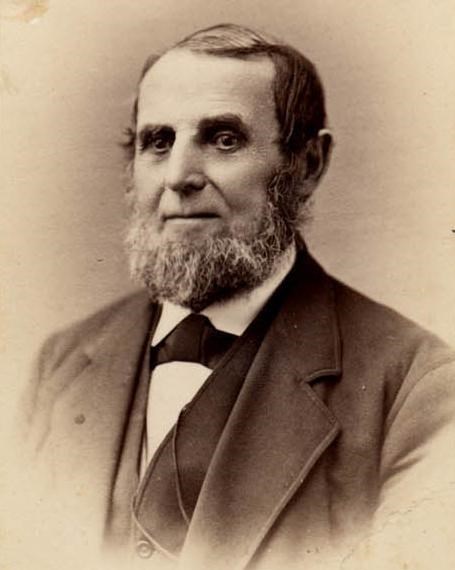 Significance:
Mariner, Abolitionist, Leader of the 1850 Boston Vigilance Committee
Place of Birth:
Barnstable County, Massachusetts
Date of Birth:
April 3, 1808
Date of Death:
December 21, 1881
Place of Burial:
Barnstable County, Massachusetts
Cemetery Name:
Beechwood Cemetery, Centerville, Massachusetts
As a mariner, Austin Bearse assisted freedom seekers on the Maritime Underground Railroad and became a leader of the 1850 Boston Vigilance Committee.
Growing up in Barnstable, Massachusetts, Austin Bearse earned a living as a mate on ships that traded throughout the East Coast. Part of this trade included transporting enslaved individuals. This firsthand experience exposed Austin Bearse to the evils of slavery. As he wrote in his memoir Reminisces of the Fugitive Slave Law Days:
It used to be my business to pull off the hatches and warn [the enslaved people] that it was time to separate, and the shrieks and cries at these times were enough to make anybody's heart ache…Because I no longer think it right to see these things in silence, I trade no more south of Mason and Dixon's line.1
Though it is not clear when Bearse began his anti-slavery activism, he wrote in his memoir that he discovered the Liberator newspaper in 1834, which he "read with delight."2 Little else is known about his work in the 1830s and 1840s. However, Bearse noted in his memoir his participation in a rescue of a freedom seeker in July, 1847. According to Reminisces, he sailed to Albany, New York, and, upon arrival, met with abolitionists Lucretia and Martha Mott. Once there,
Miss Mott told me they had a slave secreted just out of the city, who was in danger. His name was George Lewis. A writ was out for him, and she wished me to take him to Boston. As soon as I was ready to sail, she brought him to my vessel at night, with his baggage, and I stowed him away.3
George Lewis successfully made it to Boston, reunited with his daughter Lizzie, and found employment at a shipyard in East Boston.
After the creation of the third Boston Vigilance Committee in 1850, Austin Bearse quickly established himself as a key member. He served as a successful collection's agent for the organization, appearing throughout the donations section of Account Book of Francis Jackson, Treasurer the Vigilance Committee of Boston. In addition to his work as a collection's agent, Vigilance Committee records highlight Bearse's efforts to directly assist freedom seekers on the maritime Underground Railroad. He owned a boat called the Moby Dick, a vessel that could be hired by Bostonians for daylong fishing excursions and harbor cruises. At night though, Bearse sailed the Moby Dick to help stowaways gain their freedom from southern ships.
For example, an entry in the Account Book of Francis Jackson, documents the committee reimbursing Bearse $100 for "services & boat in rescuing Sandy Swan a Fugitive in Boston Harbor in July 1853."4 Described in greater detail in Bearse's memoir, on the morning of July 15 abolitionists learned of a stowaway on the Florence, a ship docked near Fort Independence on Castle Island. Bearse, along with John W. Browne, William Bowditch, Henry Kemp, and several unnamed Black men sailed the Moby Dick to the Florence. Bearse boarded the ship and later recalled,
I went aft and demanded the negro of the mate…I said roughly, to blind the mate, "I want him, damned quick!" – and I started for him…. He [Swan] had slipped off his irons and I immediately knocked away the shore that held him and he was ready to come. He afterwards said that God had told him in the night that somebody would set him free in the morning. I told him to follow me, and he jumped into the boat quick.5
Because of the efforts of Bearse and the other abolitionists, Sandy Swan successfully escaped to Canada.
Austin Bearse continued his work with the Boston Vigilance Committee until the beginning of the U.S. Civil War. Little else is known about Bearse following the war, but according to census records, he lived in Boston until 1880.6 Described by Thomas Wentworth Higginson as "an intense anti-slavery man [who] possessed much force of character,"7 Austin Bearse proved essential to the success of the 1850 Boston Vigilance Committee.
Learn more...
Safe Harbor: The Maritime Underground Railroad in Boston
Footnotes
Austin Bearse, Reminisces of the Fugitive Slave Law Days (Warren Richardson, 1880), 9, Archive.org.
Bearse, Reminisces, 10.
Bearse, Reminisces, 10.
Account Book of Francis Jackson, Treasurer The Vigilance Committee of Boston, Dr. Irving H. Bartlett collection, 1830-1880, W. B. Nickerson Cape Cod History Archives, 26, Archive.org.
Account Book of Francis Jackson, 35.
United States Census Bureau, Census Record, 1880, Boston, Ward 14, Suffolk, Massachusetts, Enumeration District 693, Roll 557, Page, 183 A. Bearse lived on "City Point;" however, the exact address has yet to be identified. National Park Service mapping platforms place him in the area of City Point. Bearse, Reminisces, 36-37. 
Sandra Harbert Petrulionis, "Fugitive Slave Running on the Moby Dick: Captain Austin Bearse and the Abolitionist Crusade," Resources for American Literary Study 28, 2003, 53-81.
Last updated: January 16, 2023