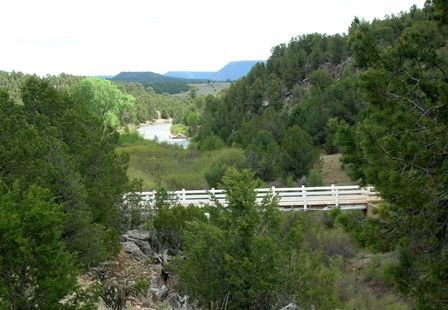 Summer 2018 Tour Schedule (Through September 28th)
Daily:
10:00 a.m. Ancestral Sites Tour (1 hour)
11:00 a.m. Ancestral Sites Tour (1 hour)
1:00 p.m. Table Talk (Drop-in)

Friday and Sunday:
1:30 p.m. Civil War Walking Tour (1.5 hours)

Saturday and Monday:
1:30 p.m. Forked Lightning Ranch House Tour (1.5 hours)

Saturday:
10:30 a.m. Battlefield Hike (2 hours)


Tour Descriptions

Ancestral Sites Tour
Join a ranger for a guided walk around the main loop trail (1.25 miles) to hear about the crossroads of history and culture that defines this gem of a national park. You'll also learn about southwest archaeology and ongoing cultural preservation efforts. No reservations necessary.
Civil War Walking Tour
Take a ranger lead walking tour to gain an understanding of the Civil War and the Battle of Glorieta Pass. The tour is about 1 mile in length and travels out a portion of the Battlefield Trail. The trail is a groomed trail and relatively flat with minimal elevation gain. No reservations necessary but we ask you meet the rangers at the main visitor center to start the tour.
Forked Lightning Ranch Van Tour
This tour explores the history of Forked Lightning Ranch. From ranching, the rodeo with Tex Austin, to Hollywood actress Greer Garson, visitors get a first hand view of the ranch as well as a walk through of the Ranch House overlooking the Pecos River.
**Please note: Space is limited so please stop in at the visitor center or call ahead to reserve a spot on the day you are interested.

Battlefield Hike
Participate in a ranger lead walking tour of the civil war battlefield trail. Discover in greater depth the story behind the Battle of Glorieta Pass while hiking the 2.25 mile loop. Visitors should be prepared for warm weather. Bringing sturdy hiking footwear, snacks, and plenty of water is highly recommended.