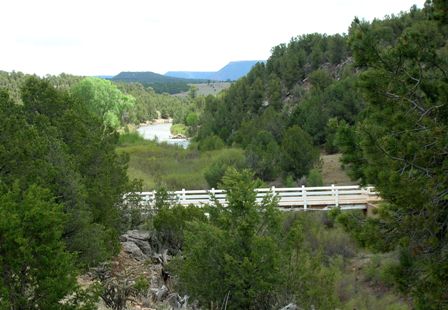 Entrance to the park is free.

Daily Tour of Ancestral Sites

Each day at 10:00 a.m., join a ranger for a guided walk around the main loop trail (1.25 miles; plan on 90 minutes to two hours) to hear about the crossroads of history and culture that defines this gem of a national park. You'll also learn about southwest archeology and ongoing cultural preservation efforts. No reservations necessary.
We look forward to seeing you!

On Saturdays at 8:30 am, we offer a volunteer-guided Battle of Glorieta Pass Tour. This free tour starts from the Visitor Center at 8:30 and should take around two hours. No reservations are necessary for this tour.

To reserve a spot on one of the park's two guided van tours (see below), stop in at the Visitor Center or call 505-757-7241. Space is limited to 9 people on van tours, so call for reservations in advance of the date you seek.


Tour Schedule
Fridays-2:00p.m Civil War in the West-
This two-hour van tour will take you to several sites relating to the Battle of Glorieta Pass. Please check in at the Visitor Center to rendezvous with your guide and other tour-goers.
Wednesdays-2:00 p.m. Forked Lightning Ranch House-Check in at the Visitor Center, as the tour leaves from here.The first stop on the 90-minute van tour is Kozlowski's Santa Fe Trail stage stop. Next you'll be driven to see the bluff overlooking the confluence of the Glorieta Creek and Pecos River where Tex Austin, "Daddy of the Rodeo," hired architect John Gaw Meem to build a house. Completed in 1926, this structure later became the summer home of Pecos National Historical Park benefactors E.E. "Buddy" Fogelson and his wife, Academy Award-winning actress Greer Garson.

PARK HOURS FROM MEMORIAL DAY THROUGH LABOR DAY ARE 8:00 A.M. - 6:00 P.M.