FREE A MARINE TO FIGHT: Women Marines in World War II
by Colonel Mary V Stremlow, USMCR (Ret)
---
Specialist Schools
From the very beginning, selected officers and enlisted women were given specialist training and by the end of the war, 9,641 women — 8,914 enlisted and 727 officers — attended schools run by civilians, the Army, Navy, and Marine Corps. The earliest Navy courses were: Aviation Machinist's Mate at the Naval Training School, Memphis, Tennessee; Link Training Instructor at the Naval Air Station, Atlanta, Georgia; and Aviation Storekeeper at Indiana University, Bloomington, Indiana. The first Marine Corps schools opened to women were: cooks and bakers, motor transport, quartermaster, and non-commissioned officers. After graduation from OCC at Mount Holyoke, several officers were sent to the Navy's Communications School in South Hadley.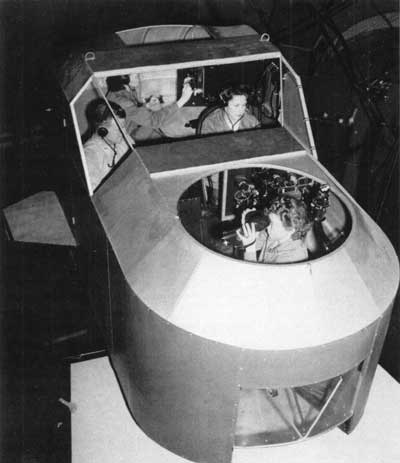 Capt B. E. Tucker, Sgt Rita Schwartz, PFC Jeanette Walker, and PFC Jane Russell are shown in the fuselage of a Link Trainer, with the celestial dome in the background. By August 1944, WRs conducted all courses of Link instruction at Cherry Point. Department of Defense Photo (USMC) 7184
All in all, by the end of the war women attended some 30 specialist schools and the variety is a testament to the dramatic shift in thinking on what women could do: first sergeant, paymaster, signal, parachute rigger, aerographer, clerical, control tower operator, aerial gunnery instructor, celestial navigation, motion picture operator/technician, aircraft instruments technician, radio operator, radio material teletypewriter, post exchange, uniform shop, automotive mechanic, carburetor and ignition, aviation supply, and photography.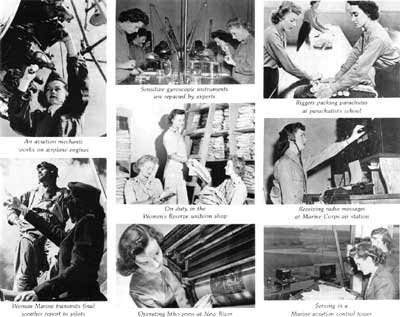 The photographs in this collage show various duties given to WRs assigned to aviation units. Photos courtesy of Sarah Thornton
---