FREE A MARINE TO FIGHT: Women Marines in World War II
by Colonel Mary V Stremlow, USMCR (Ret)
---
Aviation
The most open-minded military units throughout the war and after were the aviation components of all the services. Presumably because they were relative pioneers themselves, aviation leaders were less tradition-bound, and they enthusiastically asked for large numbers of women and were willing to assign them to technical fields. Marines were no exception and right away asked for 9,100. Eventually, nearly one-third of the Women Reservists served in aviation at Marine Corps Air Stations (MCAS) at Cherry Point, Edenton, Santa Barbara, El Toro, Parris Island, Mojave, El Centro, Quantico, Ewa, and at the Marine Corps Aviation Depot (MCAD) in Miramar.
Because of the large number of women posted to air commands, Aviation Women's Reserve Squadrons were formed: Number 1 at Mojave; Number 2 at Santa Barbara; Number 3 at El Centro; Numbers 4 and 5 at Miramar; Numbers 6-10 at El Toro; Number 11 at Parris Island; Number 12 at Ewa; Numbers 15-20 at Cherry Point; and Number 21 at Quantico.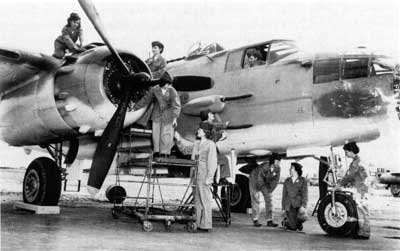 Crew Chief TSgt Selma "Rusty" Olson, standing below the propeller, directs a WR repair crew servicing a North American Mitchell B-25 bomber at Cherry Point in March 1945. In the war, 40 percent of the women Marines held jobs in aviation. Department of Defense Photo (USMC) 8927

Matching Skills to Needs
World War II changed for all time the notion of proper women's work. In the Armed Forces as in civilian life, necessity caused the rules to be rewritten and while an effort was made to fit the women into jobs related to their former occupations, there was, by necessity, an openness to new ideas. Fewer Marine women than civilians were used as stenographers and general clerks, but more were as signed as typists; fewer were used as office machine operators, but far more were assigned to supply and supervisory work. Fewer women Marines were considered professionals in the Corps, but this was due to the large number of school teachers who enlisted but could not be used as instructors.
Fewer women were used in skilled trades than came from these jobs in civilian life, but more women proportionately were used in mechanical jobs than came from these jobs as civilians — especially in aviation.
In 1945, looking towards the future, Colonel Streeter suggested that if women were ever again to be enlisted into the Marine Corps, the whole process of classification and assignment could be greatly improved if all jobs were categorized into four classes:
Class I jobs in which women are better, more efficient than men.

Class II jobs in which women are as good as men, i.e., they can or did replace men on a one-to-one basis.

Class III jobs in which women are not as good as men, but it is possible to use them if the need is great.

Class IV jobs in which women cannot or should not be used at all.
Women's Reserve Employment
At the end of the war a statistical breakdown of the 17,672 women on duty on 1 June 1945 showed them working on the following occupations.
Professional: Semi-professional
Scientific
76
Artistic, Musical
306
Misc (teachers)
622
TOTAL
1,342
Clerical
Clerk General
1,764
Clerk Typist
2,982
Stenographer
1,129
Special Clerical
1,182
Clerical: Supervisory or Administrative
498
Clerical: Communications
661
Clerical: Supply
1,936
Clerical: Office Machine Operators
127
TOTAL
10,279
Sales
TOTAL
741
Service
Personal Service
438
Protective Service
149
TOTAL
587

Mechanical
Mechanical: Aviation
1,086
Mechanical: Non-Aviation
285
TOTAL
1,371
Skilled Trades
Skilled Trades Aviation
83
Skilled Trades Non-Aviation
261
TOTAL
344
Semi-Skilled Jobs
Semi-skilled: Aviation
14
Semi-skilled: Non-Aviation
1,162
TOTAL
1,305
Unskilled Jobs
TOTAL
14
Students
TOTAL
35
General Duty: not elsewhere classified, Basic no SSN
TOTAL
1,648
GRAND TOTAL
17,666*
* 6 women unaccounted for

Administration of Women
Until February 1944, the Women's Reserve Section, Officer Procurement Division, a entity within the Division of Reserve, handled most administrative matters concerning Women Reservists. Then, as a result of a reorganization at Headquarters, all matters involving recruiting, uniforming, recreation and welfare, plans and training were transferred to the appropriate departments and divisions, stripping the Women's Reserve Section of much of its work. After that, its principal duties were: to form and move basic training classes to the recruit depot, to make appropriate selections for officer candidate school, to process resignations and separations of MCWR officers, and to maintain the records and handle correspondence concerning the above matters.
In essence, the MCWR as an organization was always more a perception than reality. Generally, the women were regarded as "extra" Marines to be managed by the long-established divisions that oversaw the administration of the men. Furthermore, when Women Reservists were assigned to posts and stations, they reported to the commanding officer of their unit, who was subordinate to the commanding officer of the post, and who, in turn, was responsible to the Commandant of the Marine Corps. The MCWR Director was a staff officer not in the chain of command, and, in truth, she had nothing to "direct."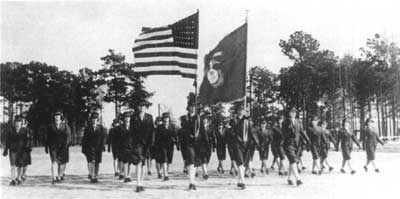 The WRs parade at Camp Lejeune in 1944. Photo courtesy of Mary R. Rich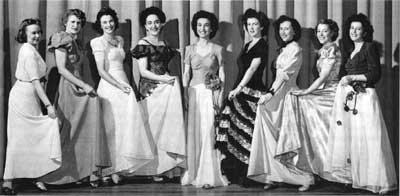 Henderson Hall women Marines presented a stage production, "Manhattan Scene," in which they could once again don formal civilian attire in 1945. From left are: Sgt Shirley Heyser; Sgt Margaret Michalik; Sgt Myrtle Douglas; Cpl Emma Guidry; PFCAngeline Porfilio; Sgt Vivian Coss; Cpl Bernice Peart; Sgt Mary Thompson; and Cpl Mary Kerkhoff. Department of Defense Photo (USMC) 13064
---