FREE A MARINE TO FIGHT: Women Marines in World War II
by Colonel Mary V Stremlow, USMCR (Ret)
---
Epilogue: War's End

Strength
A mere two-and-a-half years after the formation of the Marine Corps Women's Reserve, there were 18,460 women on active duty: 17,640 enlisted persons and 820 officers. Women commanded 28 units and comprised another 17. A few were assigned in dependently to specialities such as recruiting.
When the war finally ended with the abrupt surrender of the Japanese, women Marines were working in 225 specialties in 16 out of 21 functional fields, filling 85 percent of the enlisted jobs at Headquarters Marine Corps and comprising one-half to two-thirds of the permanent personnel at all large Marine Corps posts and stations.
Despite the tentative beginning, women's units flourished. Line organizations included Women's Reserve battalions at Henderson Hall, Quantico, Camp Lejeune, Parris Island, San Diego, Camp Pendleton, and Pearl Harbor; the School Detachment at Camp Lejeune; and Women Reservist companies at San Diego, San Francisco, and the Navy Yard at Mare Island, California, and in Washington, D.C., along with aviation units at Cherry Point, Quantico, Parris Island, El Toro, Miramar, El Centro, Santa Barbara, Mojave, Ewa, and Eagle Mountain Lake (Texas).
Since it was natural to use women in the quartermaster field, WRs were working at the Depot of Supplies in Philadelphia; South Annex, Norfolk; Camp Elliott, California; and Depot of Supplies, San Francisco. They also worked at the four procurement districts: Eastern, in Philadelphia; Southern, in Atlanta; Central, in Chicago; and Western, at San Francisco.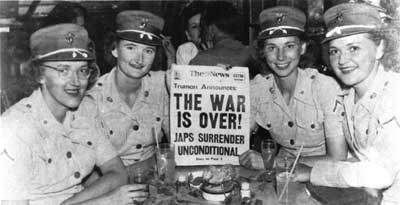 WRs Jo Meers, Mickey Merrill, Mary Szoroletta, and Neva Vredevoogd celebrate the end of the Pacific War with "lemonade" at the Blue Mirror, a favorite "watering hole" on 14th Street in Washington, D.C., where Marines often met. Photo courtesy of Neva Vredevoogd Austin

Demobilization
The task of demobilizing the war machine was essentially an administrative process requiring more clerks than warriors. There's an old saw that says an army fights on beans and bullets. In 1945, the War Department learned that an army disbands on a mountain of paperwork. Although nearly everyone expected the women to return home quickly, they were needed more, not less. Policies regarding the discharge of women — not only from the Marine Corps, but also from the other services — changed daily. Even while acknowledging their own opposition to women in uniform, a lot of men were anxious to keep female clerks on the job to process separation orders, cut paychecks, distribute medals and decorations, arrange transportation, assist surviving dependents, and otherwise settle the accounts of thousands of Marines.
The demobilization procedures called for mandatory resignation or discharge of all WRs, officers and en listed women, by 1 September 1946. In fact, in November 1945 the Commandant was quoted in the newspapers as saying that the Marine Corps Women's Reserve would be reduced to 2,638 enlisted women and 200 officers by 30 June 1946 and the organization ". . . will completely vanish from the picture by September ..."
With the MCWR already at two-thirds its peak strength, Colonel Streeter, believing women should remain no longer than needed, asked to be released. She resigned on 6 December 1945 and, the following day, her assistant, Lieutenant Colonel Katherine A. Towle, was appointed the second Director of the wartime Marine Corps Women's Reserve and promoted to colonel. To Colonel Towle fell the dual responsibility of overseeing the demobilization of the women and planning for a postwar women's organization.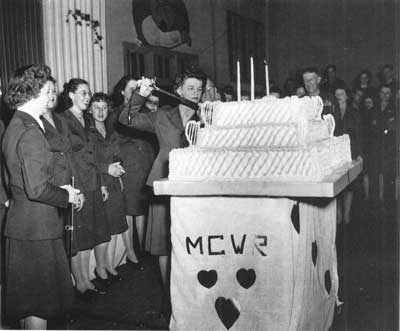 As other WRs look on, SSgt Elaine Martin cuts the birthday cake on 13 February 1946 for Parris Island Marines celebrating the 3d anniversary of the founding women's program. Demobilization of women Marines had already begun by this date. Photo courtesy of Sarah Thornton
In the spring of 1946 there was a steady stream of correspondence among the Services exploring various proposals to give women permanent status in the military. The Commandant endorsed a plan for a small women's reserve to be led in peacetime by a director with three officers at Headquarters and six in recruiting.
Conceding that some sort of women's military organization was inevitable, and legislation authorizing it was pending, the Marine Corps relaxed the requirement that WR officers resign. Those still on active duty could ask for assignment to in active status, and those already separated were sent a letter asking them to reenlist in the Reserve and reminding them of the privileges and responsibilities of belonging to the Marine Corps Reserve. Upon request, they were reappointed to the permanent rank held upon resignation.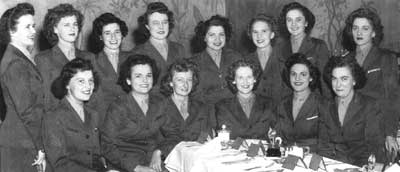 The WRs of Squadroom 1, Barracks 6, Company L, Henderson Hall, enjoy a farewell dinner on Admiral Nimitz Day in 1945. Photo courtesy of Raelyn Harman Subramanian
A point system, similar but not identical to the one used for men, was worked out to control the flow of separations. Women with 25 points on 1 September 1945 were eligible for immediate discharge and the required number of points was progressively reduced until it reached zero the following July. Exceptions were made and immediate separation was possible for women at least 38 years old (later changed to 35) and for married women whose servicemen husbands had been discharged. Married women with a minimum of one year's service could be released if their husbands, discharged or not, were in the country.
At first, commanding officers released women directly from their duty stations and when a unit's strength fell below 100, it was disbanded. Later, separation centers were set up at Henderson Hall, Camp Lejeune, San Diego, and El Toro. In contrast to the others, the WRs in San Diego were attached to the male 1st Separation Company. Maintaining the paternalistic stance taken right from the start, female leaders were charged with assisting the women through the transition from Marine to civilian.
The office of the wartime MCWR was closed on 15 June 1946 when Colonel Towle began terminal leave. Before leaving the Marine Corps to return to the University of California's Berkeley campus as administrative assistant to the vice president and provost, Colonel Towle proposed the name of Major Julia E. Hamblet to be director of the women's postwar organization. She wrote:
It is believed that Major Hamblet has all the attributes and qualifications desirable in a director of a postwar MCWR. She is a college graduate, about 30 years of age (which is considered a great advantage in appealing to volunteers among younger women, especially those of college age), of fine appearance, with a great deal of natural dignity and poise, and has an outstanding service record and reputation. She has had experience in both line and aviation assignments and has served in the present MCWR since her commissioning in the First Officers' Class in May 1943.
The recommendation was acknowledged by Headquarters but not acted upon. Meanwhile Colonel Towle's assistant, Captain Mary V. Illich, set to work tidying up the details of shutting down the wartime Women's Reserve. With one private first class, Captain Illich expected to finish by 15 July 1946, about a month and a half ahead of the Commandant's schedule.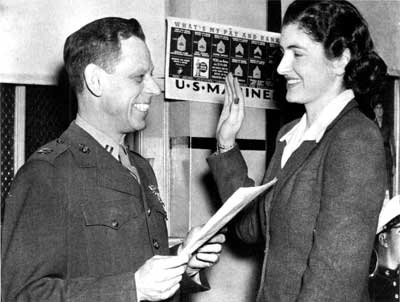 Capt Henry W. Bransom swears in Julia E. Hamblet, the first woman from the nation's capital to join the Marine Corps, who became the director of the postwar Women's Reserve, 1946-1948. She is credited with maintaining the interest of the released WRs during those years and for organizing WR platoons across the country. Marine Corps Historical Collection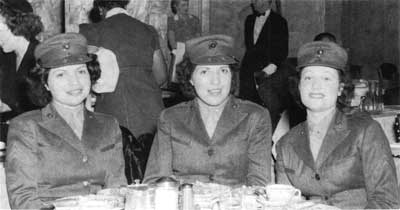 Sisters Petrina and Rose Nigro, with their fellow Marine, Betty Hall, have dinner in Washington, D.C., in 1945, before Rose and Betty leave for duty in San Diego. Photo courtesy of Raelyn Harman Subramanian
Ironically, on the day before she left, Colonel Towle, in a report of the state of the MCWR to the Director of Personnel, wrote:
General morale during demobilization has been gratifyingly high. Part of this had been due to the definite stand the Marine Corps itself had taken from the beginning on MCWR demobilization, particularly in setting and maintaining 1 September as the terminal date of the wartime Women's Reserve. It has been a goal to work toward, and Marine Corps women have never had the uncertainty and confusion concerning demobilization which have occurred in some of the other women's services because of the shifting of date and changes in policy.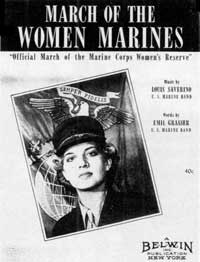 The cover of the music for "March of the Women Marines," music and words by Louis Saverino and Emil Grasser, respectively, of the U.S. Marine Band. Cover sheet courtesy of Marine Band
How could she have foreseen that as the September deadline neared, case after case of exception would be requested? Few were granted, but it kept Captain Illich so busy that on 30 August she received an assistant, First Lieutenant Mary Janice Hale. Lieutenant Hale's appointment came on the heels of a major change in policy when on 7 August 1946 the Commandant authorized keeping 100 WRs on active duty at HQMC, for a period of eight months. The women, clerk typists, payroll clerks, and auditors were assigned to a new division of the Personnel Division to administer the Armed Forces Leave Act of 1946. As an inducement to stay, qualified privates first class who applied were automatically promoted to corporal.
The very next day, on 8 August, the Commandant authorized the retention of even more WRs — 200 who would stay until 30 June 1947 — 10 months beyond the original deadline for complete disbandment. He clearly specified that these women ". . . must have clerical, stenographic or other specific ability (no cooks, truck drivers, hairdressers, etc., unless they have a secondary clerical specification)."
So, in the midst of a determined drive to demobilize the Women's Reserve, 300 women were asked to stay, and even as the last of the WR barracks was being closed, a new unit, Company E, 1st Headquarters Battalion, Headquarters, U.S. Marine Corps, commanded by First Lieutenant Regina M. Durant, was activated on 19 August 1946 with 12 officers and 286 enlisted women.
An anonymous author summed up the demobilization of the Marine Corps Women's Reserve quite well in an undated, unsigned brief history that begins:
It is rumored that when it was announced that women were going to be enlisted in the Marine Corps the air was colored with profanity in the language of every nation as the members of the old Corps gathered to discuss this earth-shattering calamity. It is entirely probable that the wailing and moaning which went on that day amongst the old Marines was never equaled — never, that is, until it was announced that the women Marines were going home. Then, with a complete reversal of attitude, many of those same Marines declared that the women in their offices were essential military personnel and absolutely could not be spared from the office.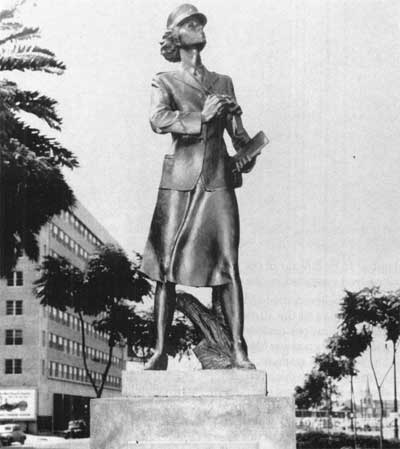 The statue of Molly Marine at the corner of Elke Place and Canal Street in New Orleans was dedicated on 10 November 1943 to the women of the Marine Corps and serves as a symbol of continuous service for today's women Marines, who send an anniversary tribute each year from their duty stations around the world. Department of Defense Photo (USMC) A119296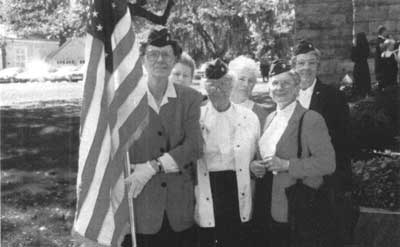 Doris Bibb and members of the Women Marines Association and other former Marine associates gather at the funeral of Col Ruth Cheney Streeter, on 3 October 1990. Photo courtesy of Doris S. Bibb
On its first-year anniversary, 13 February 1944, the Women's Reserve received a treasured message from President Franklin D. Roosevelt:
The nation is as proud of you as of your fellow Marines — for Marine women are upholding the brilliant traditions of the Corps with a spirit of loyalty and diligence worthy of the highest admiration of all Americans. You have quickly and efficiently taken over scores of different kinds of duties that not long ago were considered strictly masculine assignments; and in doing so, you have freed a large number of well-trained, battle-ready men of the corps for action . . . .
But, standing out among all the beautifully worded accolades bestowed on the women Marines of World War II, is a simple statement made by General Holcomb, the Commandant so opposed to having women in the Marine Corps in the beginning: "like most Marines, when the matter first came up I didn't believe women could serve any useful purpose in the Marine Corps . . . . Since then I've changed my mind."
---