---
MENU
---
Chapter 1
Introduction
Chapter 2
Urban Development
Chapter 3
Maritime Activity
Chapter 4
Agriculture
Chapter 5
Industry
Chapter 6
Transportation
Chapter 7
Education
Chapter 8
Religion
Chapter 9
Social/Cultural
Chapter 10
Recommendations
Appendix 1
Patterned Brick Houses
Appendix 2
Stack Houses
Appendix 3
Existing Documentation
---
SOUTHERN NEW JERSEY and the DELAWARE BAY

---

Historic Themes and Resources within the
New Jersey Coastal Heritage Trail Route


CHAPTER 7:
EDUCATION (continued)
---

Rural/Country Schools
By and large the extant rural schools in South Jersey are stylistically folk or mass-vernacular. The simple one- or two-story frame buildings are painted white, with a gable roof and gable-end door. Here, as was common elsewhere, "schools also reflected forms used in neighboring communities and other structures such as houses and agriculture and civic buildings." [22] The temple-like form and color echo the Classical Revival idealism that swept the nation during the nineteenth century. Dimensions were determined by how far the teacher's voice could carry, thus schools typically measured 30' x 40', 20' x 30', 24' x 36', etc., large enough to accommodate about thirty or forty students. [23]
The majority of extant country schools are lookalike, modest, gable-roofed frame buildings constructed of commercially produced and dimensioned materials and manufactured hardware, but incorporate provincialized ornamentation; many have been adapted to a new use. The forms, built from the mid to late 1800s, are repeated in nearby churches, community centers, granges and masonic halls. Foremost among these is the two-story, front-facing gable block, some more elaborate than others. During the last quarter of the nineteenth century, these were more substantial constructions thanks to balloon-frame technology, and exteriors usually covered with clap board. This school form is rarely found west of the Mississippi River. [24]
Almost every small town contained its own school. Five existed in Cumberland County outside Millville, all built between 1870-76: Pine Grove School on Bridgeton Millville Pike; Farmington School on the road from Bridgeton to Buckshutem; Centre Grove School at the junction of Buckshutem, Bridgeton, and Millville roads; and Menantico School on the road to Port Elizabeth. [25] Also, Mauricetown, Haleyville, Port Norris, Turkey Point, Dividing Creek, Fairton, Dorchester, and Greenwich had one school each; Cedarville had two. [26]
At the turn of the century in Salem County, the number of schools per township varied; most appeared to be associated with a town of several hundred or more residents. Hancock's Bridge (population 300) in Lower Alloways Township had one public school that went to the eighth grade, and Pennsville (population 600) in Lower Penns Neck Township also had one public school. Quinton's Bridge (population 750) in Quinton Township had two public schools. Prior to the twentieth century, most schools in rural Salem County appear to be associated with small towns and crossroads. [27]
At the turn of the century, many of the small towns west of today's Route 47 in Cape May County also had community schools. The following towns had one public school: Cape May Point, Dias Creek, Fishing Creek, Green Creek, Rio Grande, South Dennis, and Goshen. The latter's school covered both primary and grammar grades. Cold Spring had two schools; one was graded, the other was not. Dennisville had both primary and grammar schools. Many of these appear to have opened prior to the twentieth century. [28]
The best preserved examples of two-story mass-vernacular buildings are found in the Mauricetown Academy (1860, Fig. 102), the Goshen Public School (1872, Fig. 103), and the Haleyville School (1875)—in the respective towns. Each are frame and two stories tall, with the front gable end facing the road. If not for slightly varying ornamentation, these boxy, rectangular schools are identical. Goshen School is the only one with a square cupola at the front gable end, which probably housed the bell used to summon students—a feature that served as something of a status symbol. Fishing Creek School, now a private residence, is a one-story, clapboard structure with cornerboards. [29] The now-lost Buckshutem School (1875, Fig. 104) also had a cupola. [30] Other typical one-story schoolhouses are found in the Lower Hopewell Township School (1859) and Centre Grove School (1876); both are plain with a low-pitched roof.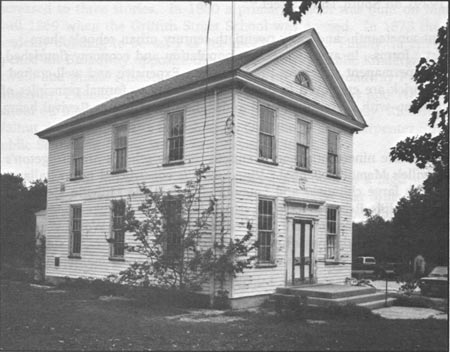 Figure 102. Mauricetown Academy (1860). The entry is in the gable end, secondary doors to the side; the pediment has a dentiled cornice and semi-lune.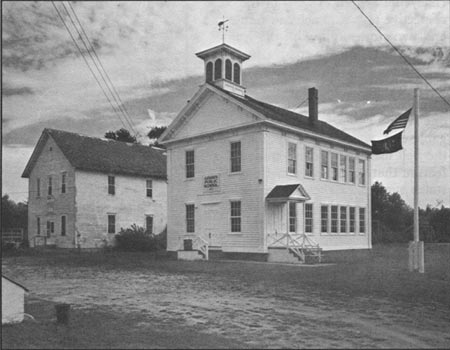 Figure 103. Goshen Public School (1872), with community building in background. Main gable-end entry and seven-bay side facades with banked windows offer improved light and ventilation.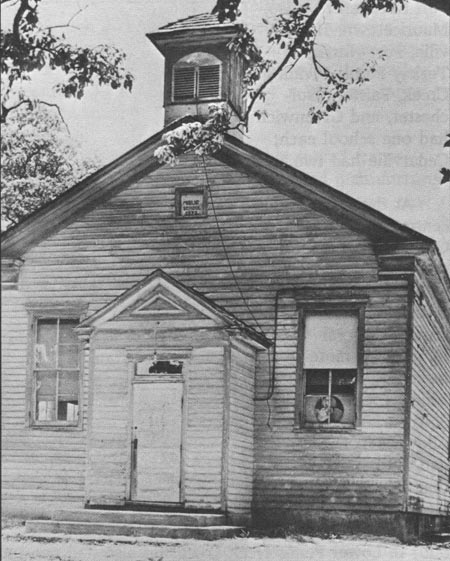 Figure 104. Buckshutem Pubic School (1875). The traditional gable front with returning cornice is topped by a cupola. Rutgers University, early 20th century.
There is some similarity among mid to late nineteenth- and early twentieth-century schools. The Lower Hopewell Township School (1859, Fig. 105), for instance, is a rectangular form with a typical gable end doorway and another on the long side facade; two small windows flank each side of the door, which also features a braced gable roof. Built approximately a half-century later, the one-story Downe Township Primary School and the brick bungalow-styled school near Delmont are not dissimilar. The former is a side-facing rectangular form that features a double-door entrance and flanking windows, although the facade is overshadowed by the steeply pitched hip roof and exposed rafters. [31] The latter is a purer building type that may have been a patternbook derivation.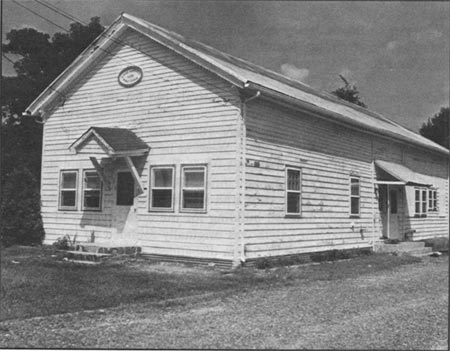 Figure 105. Lower Hopewell School (1859) has been somewhat altered, but it retains the vernacular Greek Revival form popular during the 19th century. Leach.

Libraries
Most libraries in South Jersey are housed in recently built structures in urban centers. Two older examples, however, are found in the Salem Free Public Library or John Tyler Building (1885), and the Bridgeton Public Library.
The Bridgeton Public Library (1816), relatively old for the region, is a brick, Federal style building with a gable roof and decorative cornice highlighted with dentil molding. The structure, which has served as the library since 1886, was originally erected as the Cumberland National Bank and was moved to its present location in 1886 (when the present Cumberland National Bank was erected at the former site). Prior to this, Bridgeton does not appear to have had a library. The Salem Free Public Library (Fig. 106), named for John Tyler who revived local interest in the library in 1863 and served as the library board president in the same year, is an architecturally unusual building for the area because of its whimsical Victorian detailing. The library in Salem was originally founded by subscribers on 14 June 1804. In 1809 the Library Company of Salem disbanded and it did not resume until 1843. The company was disbanded again until 1863, when John Tyler worked to reorganize the library, which has remained a vital part of the community. [32]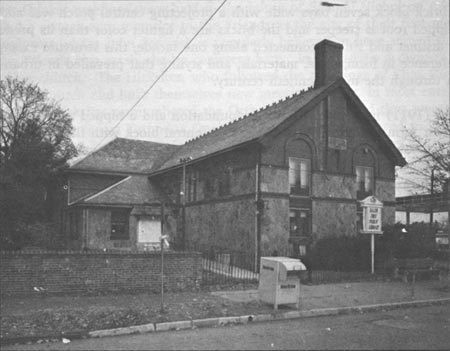 Figure 106. Salem Free Public Library (1885). The library is also called the John Tyler building, named for the president of the library board in 1863.

Descriptions of Additional Historic Resources
Shiloh Elementary School/Union Academy (1848-49, 1920). The two-story, rectangular brick block is simple, but features tall windows separated by full-height brick pilasters. The shallow, hipped roof is topped with a square cupola that contains a bell. A similar-scaled rectangular brick block seven bays wide with a projecting central porch was added in the 1920s; its hipped roof is steeper and the bricks are a lighter color than its predecessor. Individually distinct and simply connected along one facade, this structure exemplifies the ongoing preference in form, scale, materials, and styling that prevailed in urban school construction through the mid twentieth century.
Culver School (1911) is brick with a stone foundation and a hipped roof with a low pitch. The rectangular form is created by a three-story central block with flanking two-story wings. There are two double doorways between the main block and the wings that feature an arched transom; beneath the left one is the word "GIRLS," beneath the right is "BOYS." The Monroe Street School in Bridgeton also had separate entrances for boys and girls.
The R.D. Wood School (1916) is constructed of brick, but the three-story rectangular block is a more reserved and open Classical Revival design. It features a raised, rusticated basement, but the first- and second-floor facades are made up largely of multi-light, banded windows with some awning openings, which indicate a later construction date and awareness of what new technologies could offer. The styling is maintained, however, using the full-height pilasters between the bays, and a heavy cornice that obscures the low-pitched hipped roof. The double entry doors are topped with semicircular transoms contrasted by the arched door surround with central keystone.
Notes >>>