---
MENU
---
Chapter 1
Introduction
Chapter 2
Urban Development
Chapter 3
Maritime Activity
Chapter 4
Agriculture
Chapter 5
Industry
Chapter 6
Transportation
Chapter 7
Education
Chapter 8
Religion
Chapter 9
Social/Cultural
Chapter 10
Recommendations
Appendix 1
Patterned Brick Houses
Appendix 2
Stack Houses
Appendix 3
Existing Documentation
---
SOUTHERN NEW JERSEY and the DELAWARE BAY

---

Historic Themes and Resources within the
New Jersey Coastal Heritage Trail Route


CHAPTER 3:
MARITIME ACTIVITIES (continued)
---

Lights/Lighthouses
To ensure the safety of the different vessels that traversed South Jersey coastal waters, a number of lighthouses, towers, and beacons were erected. Unlike some transportation-related structures, these nineteenth-century structures have not been replaced by a modern equivalent mechanism—though the lights themselves have all been automated. These utilitarian structures, erected on land and in the water, are often associated with a number of service buildings, including keepers' lodge and oil house. The four well-known light houses in the study area are Finn's Point Rear Range Lighthouse (Fort Mott Light), East Point Light (Figs. 40-41), ShipJohn Lighthouse (Fig. 42), and Cape May Point Light (Fig. 43). [35]
In 1837 the federal government bought land at Finn's Point to erect a battery that would help Pea Patch Islanders defend Philadelphia and the river in the event of attack. At first slated as a temporary facility, it was made permanent in 1870. By 1878, Fort Mott boasted two 8" guns, and the battery was strengthened ten years later during the Spanish American War. The fort was named after General Gersham Mott, commander of New Jersey volunteers in the Civil War. [36] During World War I, Fort Mott also safeguarded Carney's Point where E.I. du Pont de Nemours & Co. manufactured gun cotton used in mines, torpedoes, and propellants. The fort closed after World War I. [37] Finn's Point National Cemetery, near Fort Mott, was used during the Civil War as the burial site of Confederate soldiers who succumbed to cholera and other diseases while imprisoned on Pea Patch Island. In 1875 the government designated it a national cemetery.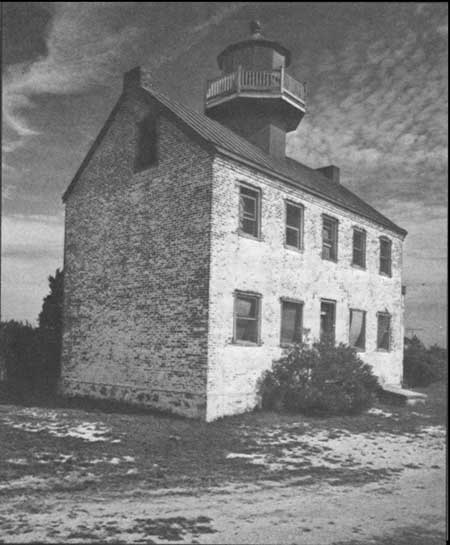 Figure 40. East Point Light (1848) today is empty but intact, with its red-brick exterior exposed.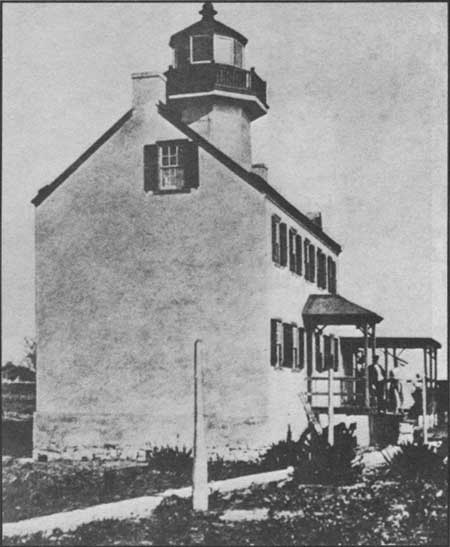 Figure 41. East Point Light when the brick stuccoed or painted white. Undersail, ca. 1900.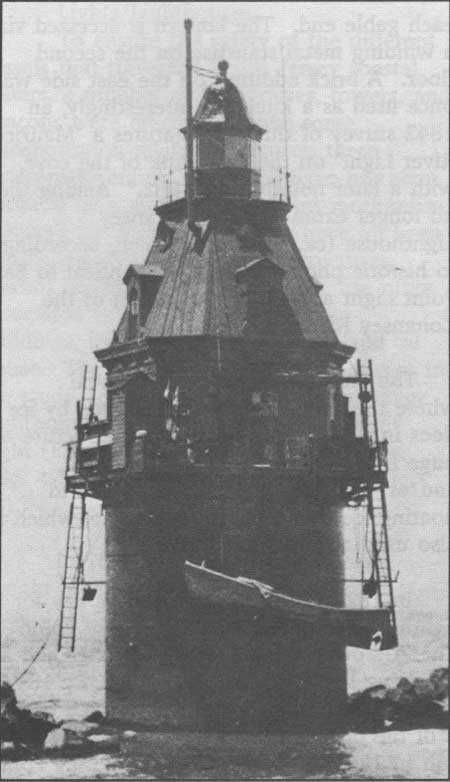 Figure 42. ShipJohn Light (pre-1876) is a Victorian caisson-type light in the Cohansey River. Undersail.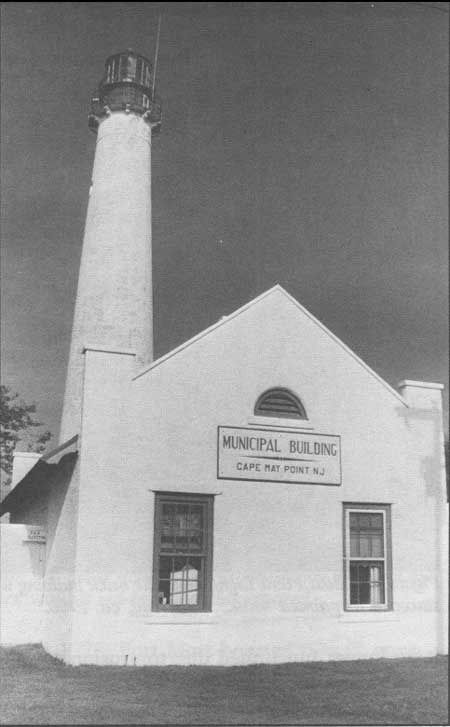 Figure 43. Cape May Point Light (1859), consists of a free-standing tower and keepers' dwellings. Leach.
East Point Lighthouse (1848), built to guard the eastern shore of the Maurice River Cove, represents the only local example of a Cape Cod-style form—simply a lantern atop a gable-roof structure that resembles the regionally indigenous I-house. The low height was typical of mid nineteenth-century lights in a geographically flat area; structures thereafter reached 150-170'. It is brick, three bays wide, and one room deep with interior chimneys on each gable end. The lantern is accessed via a winding metal staircase on the second floor. A brick addition on the east side was once used as a kitchen. Interestingly, an 1842 survey of this area features a "Maurice River Light" on the east bank of the cove, with a later notation of "1882." Among the no longer extant sites is Cohansey Lighthouse (ca./pre-1842) which, according to historic photographs, was identical to East Point Light and sat at the mouth of the Cohansey River.
The ShipJohn Light is on a shoal where the ship JOHN was destroyed by ice floes in 1797. This caisson-type structure—a huge iron tube filled with rocks, sand, and/or concrete—was less vulnerable to floating ice than the screwpile type, which is also used at non-landed sites.
In 1821 Congress approved money for a lighthouse to be built on Cape May Point. The 70' tower erected two years later had a revolving light with fifteen lamps. By 1847 it no longer functioned due to erosion of the shore, and a second structure was erected on Great Island bluff, one-third of a mile from the site of the original; it, too, was lost to erosion. The third and present Cape May Point light was built in 1859 at what is now Cape May Point State Park. The light atop the free-standing 170' tower has been automated, and the site includes two modest gable-roofed keeper's dwellings that have been restored. [38]
Finn's Point Rear Range Lighthouse (1877) is in what today is the Supawna Meadows National Wildlife Refuge near Fort Mott north of Salem. This light was erected to guide naval traffic around the shoals and islands of the Delaware River. Completed in 1877 by the Kellogg Bridge Company of Buffalo, New York, the tower measures 100' from base to focal plane. Constructed of wrought rather than cast iron, the skeletal tower rests on a freestanding masonry base, a type of construction popular from the 1860s. The tower platform is reached by a spiral, cast-iron stair. The iron cylinder is entered through a "handsome classical galvanized iron doorway, which has a pedimented aedicule motif, molded capitals and paneled pilasters." [39] The light was automated in 1939 and discontinued in 1951. [40]
Some of South Jersey's light structures are lost. Another lighthouse existed at Egg Island, just north of the southern terminus of the point. Two "signals" are indicated to have existed as late as 1842-43: West Creek signal, on the west bank of that waterway, and Goshen Signal, located between Goshen and Withs creeks. [41]
Notes >>>