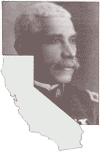 Five Views: An Ethnic Historic Site Survey for California
---
MENU
---

Introduction
A.M.E. Church
Education
Industry
Farming
Business
Associations
Noted Individuals

Historic Sites
Selected References
---

---

A History of Black Americans in California:
HISTORIC SITES
---
Fifty-first Street School
Los Angeles, Los Angeles County
The original elementary school, constructed around 1910 for $8,720, was a one-story, wood-frame, four-room building with two brick posts that fronted on 51st Street. After a fire, circa 1922, a wood-frame replacement structure was built at the same location but fronting on Holmes Avenue. This building suffered damage during a 1933 earthquake and was remodeled. The present expanded stucco structure is partitioned into four sections. It has a two-story front and a three-story rear section with bungalows along two sides.
A large playground area in the rear of the school has a mural wall to separate the school from the adjacent industrial neighborhood. Bordering the front of the building are several cropped bushes and a neatly manicured lawn.
The Holmes Avenue School served a Black community established in 1905 in a subdivision known as the Furlong Tract. Living in single-family homes, the community supported its own business district. When the public elementary school opened in 1910, it was the first such institution in the Los Angeles school system built in a Black community to accommodate neighborhood students.
Four White teachers and a White principal were assigned to the school when it opened. The first Afro-American teacher, Mrs. Bessie Burington Burke, was not hired until 1911. Mrs. Burke graduated from Polytechnic High School and attended State Normal School, which later became part of the University of California at Los Angeles. Her first teaching appointment was at Holmes Avenue. Mrs. Burke was not only the school's first Afro-American teacher, but later she became the school's principal, the first Black principal in the district's regular school program. According to oral sources, a Black man, Professor Eason, did receive an earlier appointment, although as a night school principal.
Segregation practices of the period were reflected in the assignment of teachers. Before 1950, those few Black teachers who were permitted to work in the Los Angeles school system were assigned to schools that had large Afro-American student bodies. If an Afro-American wanted to work, he or she had to ask for the South Area (also known as Area A or B), where most of the predominantly Black schools were located. Other areas (such as the West Area) were off limits. A few token representatives who could "pass" as White were allowed to teach outside the South Area. Eventually, the Los Angeles School District was desegregated, and the teaching staff at Holmes Avenue became predominantly Black. This change came long after the school had developed a reputation as a training or experimental ground for new teachers in Los Angeles.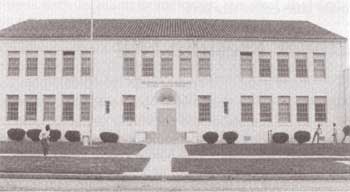 Fifty-first Street School, Los Angeles, Los Angeles County
NEXT> Gabriel Moore Ranch