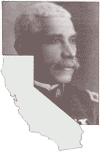 Five Views: An Ethnic Historic Site Survey for California
---
MENU
---

Introduction
A.M.E. Church
Education
Industry
Farming
Business
Associations
Noted Individuals

Historic Sites
Selected References
---

---

A History of Black Americans in California:
HISTORIC SITES
---
Biddy Mason Home Site
Los Angeles, Los Angeles County
Donna Mungen, in The Life and Times of Biddy Mason (1978), referred to Mason as a slave who became a wealthy Los Angeles landowner and philanthropist. Biddy Mason was born August 15, 1818 on Robert Smith's plantation in Hancock, Georgia. Thirty-eight years were spent in bondage, four of them in California, before she finally received her freedom. On January 19, 1856, the United States District Court in Los Angeles emancipated Biddy Mason, her three daughters, and 10 other Afro American women and children, all of whom had been held as slaves by Robert Smith during a nearly four-year residence in California.
Smith came to California with slaves about 1851, and lived in a Mormon settlement in San Bernardino until 1855. In the winter of 1855, he decided to leave California for Texas. The Los Angeles sheriff, summoned by members of the Black community, interrupted the party's departure, and thwarted Smith's plans to take his slaves out of California. Smith was served with a writ of habeas corpus. The case was heard in the United States District Court of Appeals. Legal counsel for the slaves was financed by the Los Angeles Black community.
Immediately following the emancipation decree, Biddy Mason was offered a job as a midwife and nurse by a Los Angeles doctor who had become interested in the litigation.
Soon thereafter, she purchased property at 331 South Spring Street and built a clapboard house which she occupied until her death January 15, 1891. Over the years, this enterprising ex-slave acquired many parcels of Los Angeles property. As the town developed, most of her early investments became prime urban real estate and formed the basis of her considerable wealth.
During the latter half of the nineteenth century, 331 South Spring Street served as a haven for newcomers and others needing assistance. Through many philanthropic deeds, Mason became known as Grandma Mason. She regularly visited prisoners in local institutions, bearing gifts and aid. Churches also benefitted from her charity. On occasion, both Black and White churches had their expenses paid by this woman. She also supported formation of the city's first and oldest Black church, the First African Methodist Church, now known as 8th and Townes. It is presently housed in a modern edifice at 2270 South Harvard Street.
NEXT> Booker T. Washington Community Service Center