Places To Go
Arizona UTV Registration and Equipment
Parashant recommends you check the rules at the Arizona State Government UTV link above to understand what is required for a UTV to operate on the roads in the Parashant. If you have a specific question not answered by the above site, please contact us using the information at the bottom of the page.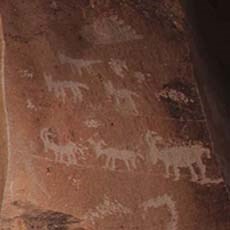 Nampaweap
This site displays messages left behind by native tribes that once inhabited Parashant National Monument. Nampaweap, meaning "foot canyon" in Paiute, is thought to have been a passageway used by the native peoples for traveling from the Grand Canyon to the higher elevation ponderosa pine forests. Thousands of petroglyphs marked into the smooth surface of basalt rock are thought to be a record of events, memories and stories of ancestors who had once passed through this canyon.
Please respect this site and do not destroy, damage, or deface the petrogylphs by touching or walking on them.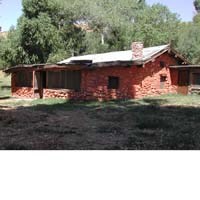 Tassi Ranch
Fed by multiple springs, Tassi Ranch, may have been an important waypoint for Native Americans and American settlers, explorers and ranchers. By the mid 1930's the informal use of the springs led to construction of reservoirs, irrigation ditches and a house and outbuildings clustered around the spring. These historical structures illustrate how dependent ranchers and homesteaders modified the natural landscape of the desert to create sites for agriculture and settlement in a harsh and remote environment.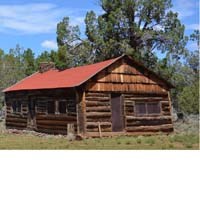 Waring Ranch
Horse Valley, the original headquarters of Waring Ranch, was homesteaded by Jonathan Deyo "Slim" Waring in the mid 1920's. Waring acquired even more land by purchasing others' improvements, filing for water rights and buying tracts of land containing water as they became available, gradually building up control of the grazing rights to the entire Kelly Point plateau. By the mid 1960's Waring was the largest private land owner on the Strip, owning 13,000 acres of land and holding three grazing allotment permits.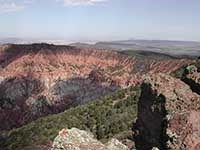 Hells Hole
Located in the Mt. Logan Wilderness, amid pinyon-juniper woodlands, Hells Hole is a naturally eroded ampitheater that displays the colorful nature of the Moenkopi Formation.Lacking a basalt cap, Hells Hole was created from erosion of the soft sandstone resulting in topography of high relief, rounded cones, steep slopes, abrupt rims, and several areas of gentle sloping terrain.
Toroweep/Tuweep Area
Toroweep/Tuweep are located in Grand Canyon National Park. For more information on this unique Grand Canyon viewpoint click here.


Last updated: January 30, 2019