Mount Trumbull Scenic Loop Drive
Stunning views into the Grand Canyon, raging volcanoes, Native American petroglyphs, herds of cattle, cowboy line shacks, and an historic schoolhouse make the Mount Trumbull Scenic Drive from St. George, Utah to Pipe Spring National Monument one of the most popular backcountry unpaved drives in the region.

If you want to visit the Tuweep/Toroweap Overlook area, that is within Grand Canyon National Park. A new reservation system begins July 21, 2022. This does not apply to any lands within Grand Canyon-Parashant National Monument or the Arizona Strip Field Office.
Tuweep Planning Information and the Press Release.
You will need a high clearance vehicle with a full tank of gas and all-terrain tires because this loop includes about 150 miles of unpaved roads.
There is no gas available after you leave St. George until you reach Arizona Highway 389 at the Kaibab Reservation or in Colorado City, AZ so start with a full tank of gas.
These instructions start in St. George. Mileages listed below are approximate. Be aware that some trucks and SUVs have minor differences in odometer readings if tire size differs from the factory setting. All turns are very well marked by road signage. Rangers recommend you bring the
2016 BLM Arizona Strip Visitor Map
with you before starting out. There are over 6,000 miles of roads on the Arizona Strip so it is easy to get lost out there.
Vehicle Recommendations:
• High Clearance Trucks or SUVs (passenger cars, most crossovers, minivans, and RVs not advised)
• Four Wheel Drive
• All-Terrain Tires
Directions
From Interstate 15, take Exit 2 east onto the Southern Parkway (Hwy 7) toward the airport. Take Exit 3 (River Road) and turn south. Set your vehicle trip odometer to 0 where the pavement ends at the state line. Due to minor differences in tire size and odometer accuracy from vehicle to vehicle, the mileages listed here are only approximate.

BLM Road 1069
You have now crossed into Arizona and are on BLM Road 1069. The road is well maintained gravel. For the first 4 miles you will be on Arizona State Trust Land. At mile 4.4 you will pass the BLM Arizona Strip sign. You are now on BLM land. BLM1069 winds its way up to Quail Hill Pass. At mile 20.6 you will reach the BLM1004 junction in Wolf Hole Valley. Continue straight. The road number has changed from BLM1069 to Mohave County Road 5.
Mohave County Road 5 (CR5 - Western Section)
Between Wolf Hole Valley and the Mt. Trumbull Schoolhouse the road is usually in very good condition when dry. The road varies from gravel to clay. The clay sections will be impassible for a few hours after mild rain in summer. After heavy rain or snow, the clay section near the schoolhouse can be impassible for days due to deep mud, especially in winter.
At mile 50.7 you will reach the replica Mt. Trumbull Schoolhouse. Take a few minutes to see the exhibits inside. Historic family photos of the first ranchers here and a map show historic homesteads. There is a vault toilet at the schoolhouse. There will not be another vault toilet on the loop until you reach the Mt. Trumbull trailhead, and then again at the old Tuweep Ranger Station (no longer regularly staffed) near Toroweap if you take the spur to Toroweap.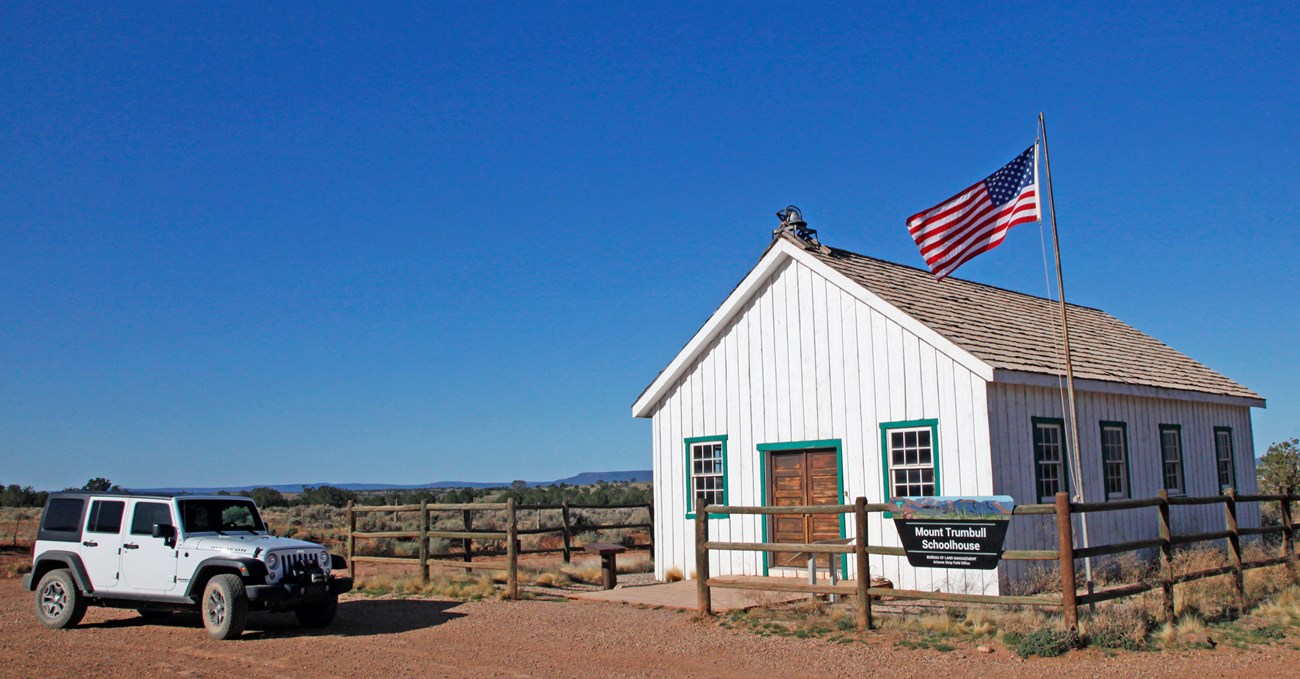 Mohave County Road 5 (CR5 - Southern Section)
There is a vault toilet available at the Schoolhouse. After a visit to the schoolhouse, CR5 turns east toward the Hurricane Cliffs. This section is hazardous after rain or snow. At any time of year the road is at least moderately rough. East of the schoolhouse the road ascends a half-mile long dugway.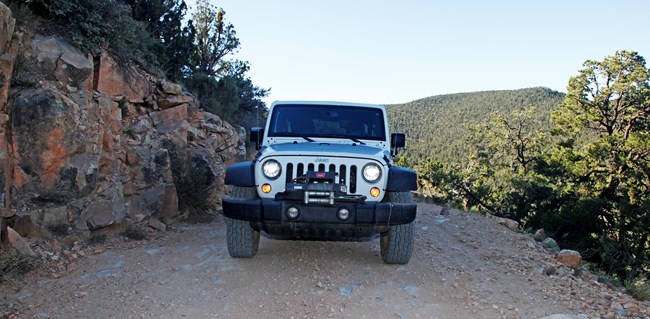 This dugway was constructed in the 1930s by the Civilian Conservation Corp, one of many projects they undertook on the Arizona Strip during the Great Depression.
The road shoulder on the downhill side is soft and there is a steep dropoff. Vehicles can not pass here. Vehicles traveling downhill on the dugway get the right of way. It is unsafe for vehicles heading downhill to attempt to go into reverse and back up the steep dugway. The rear wheels will spin and hop on the loose gravel. This can bounce a vehicle off the road. It is much easier for uphill traveling vehicles to slowly back down to a wide spot.
Once on top of the Hurricane Cliffs dugway, the clay roadbed through Potato Valley is dry and passable for high clearance vehicles most of the year. However, after heavy rain it can be deeply rutted and impassible for a few days. The elevation at Potato Valley is over 6,000 feet so it is usually impassible in winter because of snow and ice.
Attractions in the Mt. Trumbull and Mt. Logan Area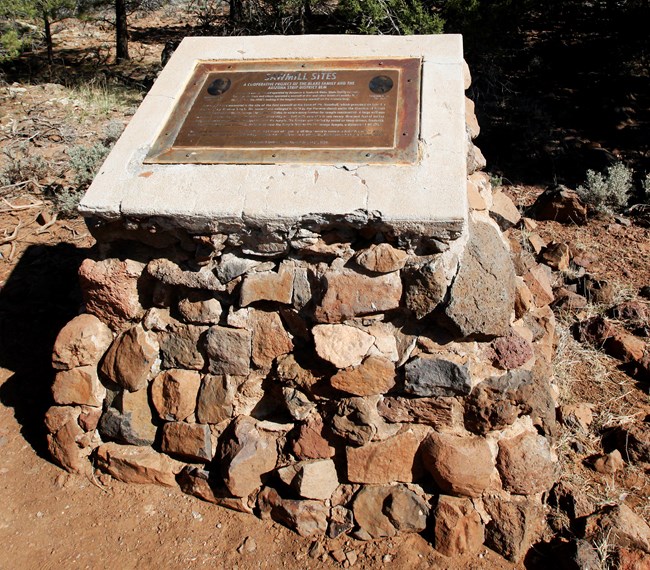 New for 2020:
A vault toilet has been installed at the Mt. Trumbull trailhead!
See this page
for information on the hike to the top of Mt. Trumbull.
Historic Sawmill Site and Nixon Spring
There are no ruins remaining here but this is where the lumber mill processed the giant ponderosas for the frame of the St. George Temple. The sounds of the steam-powered lumber mill would have rumbled in this valley. The boards were loaded onto wagons and ox teams pulled the wagons over 80 miles back to St. George in the 1870s.

Nixon Spring still produces water today. It is now used to help fight wildfires. A spigot at the Mt. Trumbull trailhead may have water in summer but the water has not been treated. It must be boiled before drinking.

Hikers who want to climb to the top of Mt. Trumbull should be advised that while the rim seems close, the trail gains 1,528 feet to the top.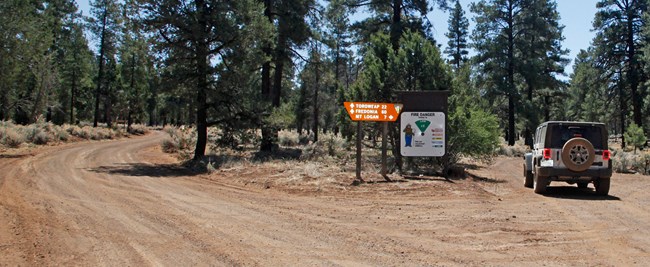 Mt. Logan Overlook
Just east of the Sawmill bronze plaque and Mt. Trumbull trailhead is the BLM1044 spur road that heads south to Mt. Logan. Reset your odometer to zero at the Fire Danger sign.

Look for the grey Kaibab squirrels with their bright white tails in these woods. They were released here from a population taken from the South Rim of the Grand Canyon in the 1970s by Arizona Fish and Game. The new population took the area well and are commonly seen.

At mile 1.2 on BLM1044 look to your left to see a wall of jumbled black boulders. This is the remnants of a 960 year old lava flow from the Little Springs eruption. There are no trails onto the lava flow and the basalt is very loose and dangerous. Read more about
Parashant volcanoes
.

Continue on BLM1044. At mile 4.5 you will come to a Y. Turn right. You will see the marker for BLM1064 after you round the corner. Continue on BLM1064 but don't reset your odometer. Note: At the Y 1044 continues south. Only UTVs and specially modified short wheelbase 4x4s should take this route. It connects to Whitmore Canyon but is extremely narrow, rocky, and rough. At mile 5.2 you will end up on top in a meadow. On the left side of the road are several lava rock boulders and a pulloff to park. Stop here for the first of two stunning views. You are now at 7,600 feet above sea level. Between the boulders you'll see the trail. Walk about 100 yards out to the Mt. Logan overlook of a section of the Grand Canyon.

Continue 1.1 miles further to the end of BLM1064. You will find another overlook to the north towards the Pine Valley Mountains. This is also the recently restored trailhead to the top of Mt. Logan and nearby
Hell's Hole
, an amphitheater of colorful clay similar to Cedar Breaks National Monument.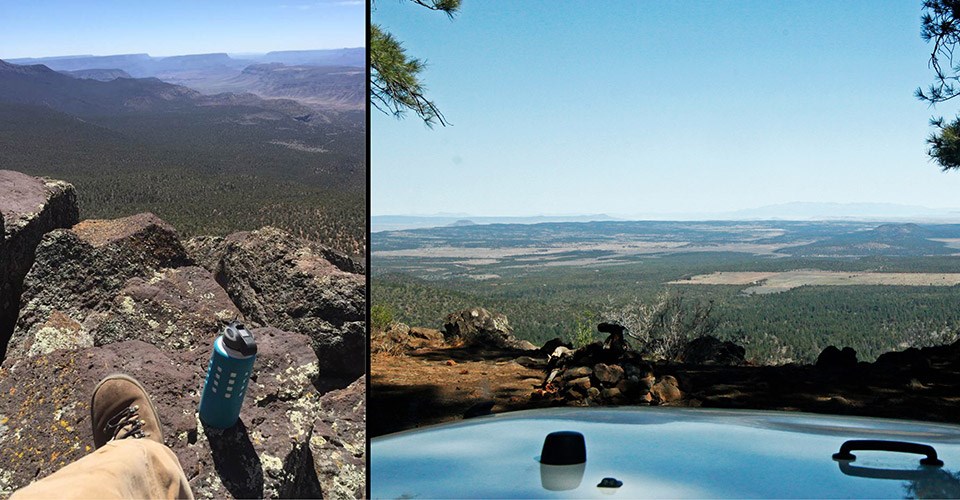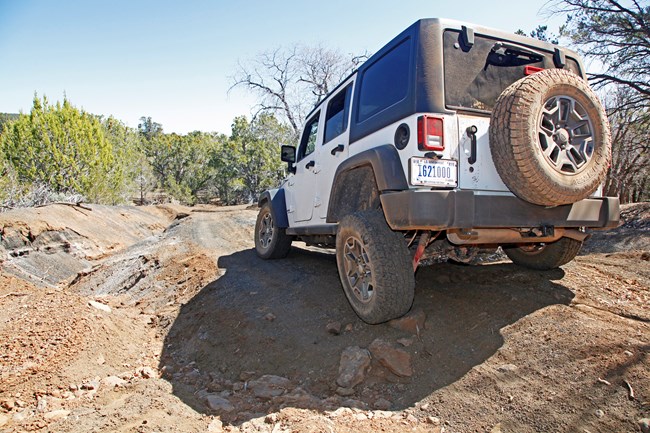 As you head back to CR5, if you want a better view of the Little Springs Cinder Cone take a 1 mile diversion on BLM1029. This road wraps around the southern flank of the eruption site. At mile 0.8 you can see what geologists call a 'spatter rampart,' similar to a cinder cone but made up of larger lava bombs, comes into clearer view. It was ripped in half by the lava flow that came up beneath it. Aerial View of the cone and the NW and SE lobes of the lava flow.

The first mile of BLM1029 is fine for all 4x4s. However the road becomes very rough and is only passible for UTVs, Jeeps, and modified short wheel-base 4x4s. If you have the right vehicle, BLM1029 is a shortcut to Nampaweap from BLM1044. All other 4x4s need to return to CR5 to get to Nampaweap.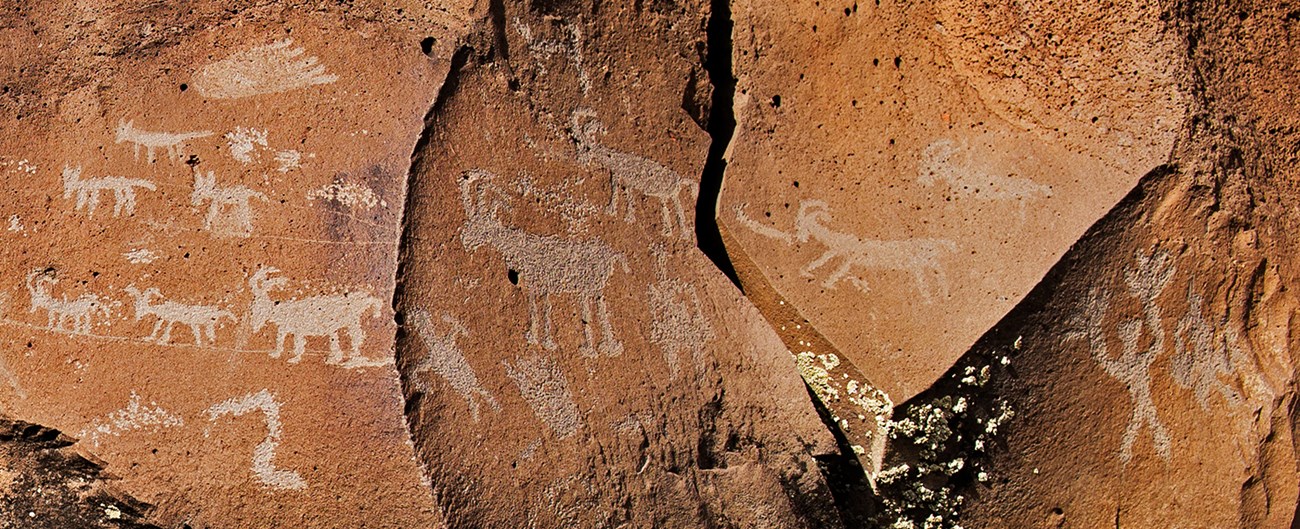 Nampaweap Petroglyph Site and the Southeast Lobe of the Little Springs Lava Flow
If you took the 1029 and turned around, take the 1044 back north to CR5. Reset your odometer to zero and turn east over Mt. Trumbull pass. At 3.3 miles look for the Nampaweap sign and turn right onto BLM1028. Travel 1.1 miles to a 4-way intersection and a sign for the Nampaweap parking area on the east side of the road. A 2/3 mile trail down a gradually sloping old roadbed leads to a series of petroglyphs on ancient lava rock.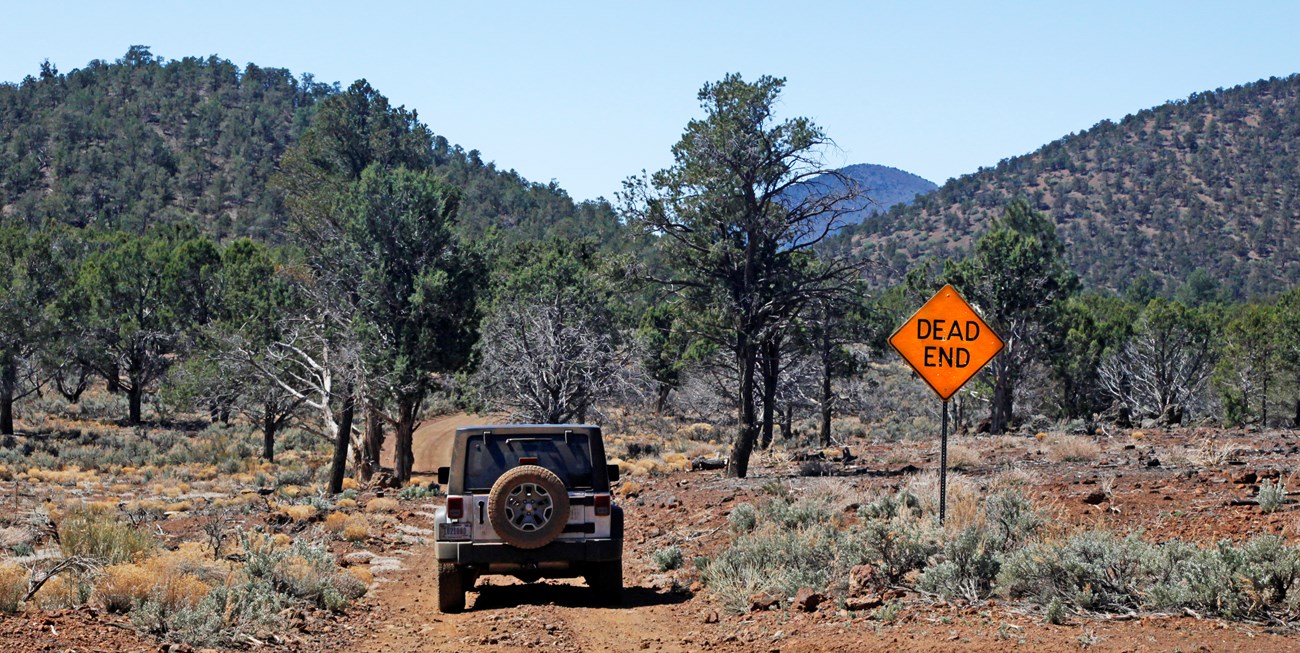 Tuweep, Toroweap Overlook and the Kanab Plateau areas of Grand Canyon National Park
Click HERE
for the national park web page that includes the information you need to know before you visit Tuweep and the Toroweap Overlook.
New requirement as of July 2022 -
Grand Canyon National Park Institutes Pilot Day Use Reservation System for Tuweep and the Toroweap Overlook. You must have a reservation, even for a day use visit, and show proof of entrance fee paid. Click the link for the information you need to be familiar with to visit the national park. This reservation system DOES NOT apply to any lands within Grand Canyon-Parashant National Monument, just the national park to the east of the monument.
Return to CR5 from Nampaweap and descend from Mt. Trumbull into the Toroweap Valley. In 3.7 miles you will reach an intersection. If you want to visit Toroweap in Grand Canyon National Park, turn right. You are now on CR115. The first 11 miles of the road is rough gravel with some muddy areas after rain. There will be a vault toilet open 24 hours/day all year at the old Tuweep Historic District once you enter Grand Canyon National Park. The final two miles of the road to the Toroweap Overlook require high clearance 4x4s as the road crosses extremely rough sandstone.

Visit go.nps.gov/tuweep for information on this area of Grand Canyon National Park before you visit. There are specific rules to know, and once it exceeds a certain number of visitors, access will be staggered as others leave. Camping permits must be purchased days in advance. Only day use is allowed for visitors who do not have a camping permit. Unlike Parashant, dispersed camping or first come-first serve camping at the small campground is not allowed at Toroweap.
Mohave County Road 5 (CR5 - Eastern Section)
At the CR115 and CR5 intersection, it is 6.4 miles north to the CR109 junction. This section is usually in good condition. Once you reach the CR109/CR5 Y intersection you can choose which route to take north. If it has rained, take CR109 instead of CR5 since CR5 through Clayhole Valley is impassible after rain.

CR5 to Colorado City
CR5 at first winds through a scenic volcanic field and right up to a dramatic cinder cone and lava flow called Hat Knoll, which is about a half million years old. This route is dangerous and impassible when wet or icy. The roadbed is made only out of clay, making it totally impassible after rain, especially the Clay Hole Wash crossing. If you have mud-rated tires, they will not help you on this clay. It is like peanut butter and packs into the treads and won't come out until it dries. If it has rained recently or a storm is threatening, take CR109 instead. Gas is available in Colorado City on Hwy 389.

CR109 to the Kaibab Reservation
This is the preferred route to finish the Mt. Trumbull loop rather than the CR5/Clay Hole road any time rain or snow threatens. CR109 is usually in much better condition. Gas is available at the Kaibab Reservation on Hwy 389.

If you have questions about anything you saw on your drive, please don't hesitate to contact us using the link at the bottom of the page.
Last updated: June 22, 2022