Kelly Point Road Winter Restricted Vehicle Access
General Information
Kelly Point Road (NPS1203) southeast of Mt. Dellenbaugh restricts motorized vehicle traffic in the winter (late November/early December to mid-March) due to seasonally adverse weather that affects road conditions. In the past motorized vehicles have significantly damaged the roadbed and meadows as motorists drove around deep mud and standing water. The gate is closed once conditions deteriorate because of rain or snow. Rangers wait to reopen the gate in the spring until the roadbed is dry and hard so that it can support the weight of a vehicle without creating deep ruts.

By the date of the winter restriction, all motorized vehicles (trucks, SUVs, UTVs, ATVs, dirt bikes, etc) must be removed from NPS1203 and NPS1207 and taken past the gate to BLM road 103 by Mt. Dellenbaugh. Nonmotorized recreation is still allowed on the 1203 and 1207 in winter, including bicycles, foot traffic, and horse use, as these types of recreation do not significantly impact the roadbed. The Mt. Dellenbaugh trailhead is open. The closure gate across road 1203 is located a short distance past the trailhead at the NPS/BLM boundary fence. Scroll to the bottom of this page for a map of the gate location.
To protect monument resources and meet visitor requests, a permit system has been put in place for interested parties who want to travel to Kelly Point during the winter in a motorized vehicle. If the roadbed can handle traffic and weather conditions are favorable, the Chief Ranger may issue a permit.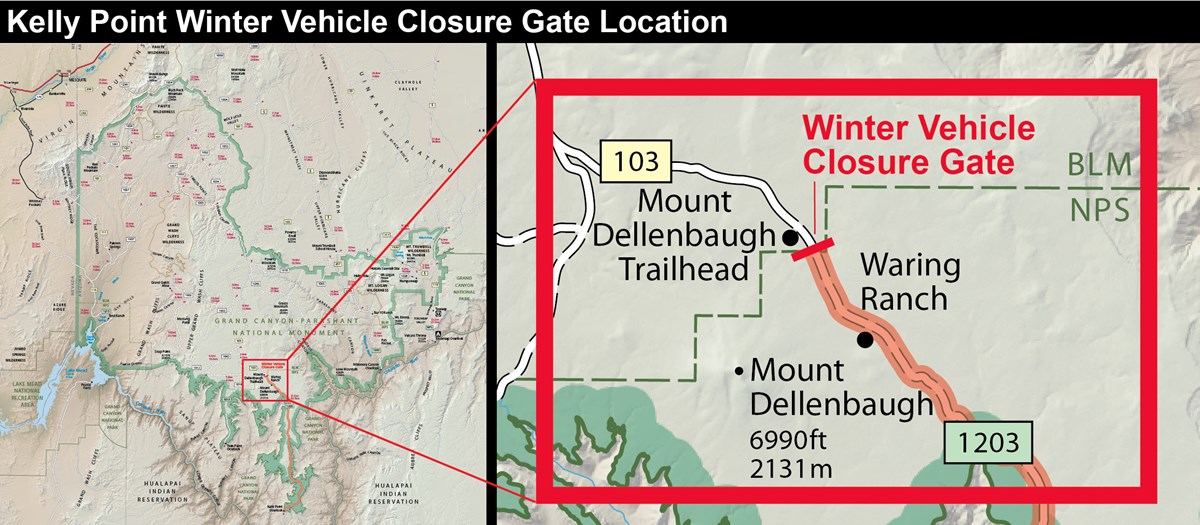 Things to Know Before Applying
Permit applications are to be placed a minimum of 3 business days prior to the intended start date of the trip. Requests for permits will be evaluated in the order they are received.
How to apply
Complete the Application Form

Permit Response Time
Weather and road conditions will be evaluated and a determination on the issuance of the permit will be made prior to the intended start date. Grand Canyon–Parashant National Monument reserves the right to cancel permits at any time, prior to the start date, in the event of changing weather or road conditions or other unforeseen circumstances.
Safety
Travel in the backcountry of Grand Canyon- Parashant National Monument has inherent risks and travelers assume complete responsibility for their own safety. Rescue is not certain. Backcountry users should have all necessary safety equipment, be in good physical condition, and be able to survive on their own for an extended period of time while taking all necessary precautions. Your safety is your responsibility.
Regulations
Backcountry hikers are responsible for knowing and obeying all Grand Canyon –Parashant and Grand Canyon National Park rules and regulations. The permit will allow access to Kelly Point for the duration of the visit based on the permit request.
Itinerary
If staying overnight list areas and dates for intended camping areas. Ensure the permit reflects requests and dates are consecutive with itinerary. Include nights on BLM land, Grand Canyon National Park, and other possible locations.
Group Size
A maximum of three vehicles per permit will be allowed.
Last updated: April 1, 2022