Burnt Canyon Trail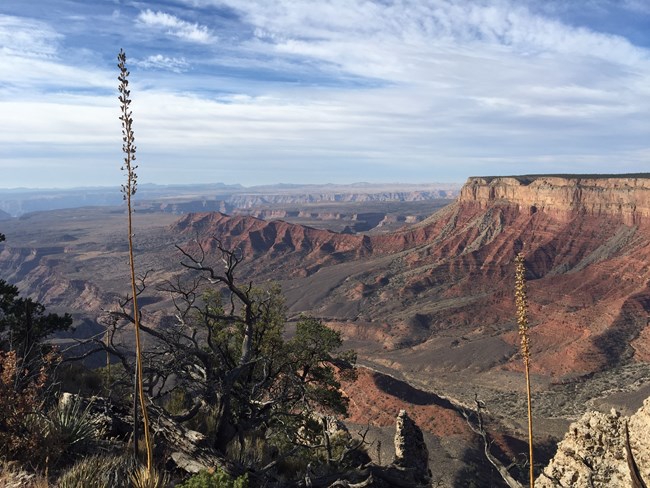 Total Distance:
3 miles round trip
Time:
2 hours for most
Elevation Change:
78 feet
Trailhead:
5,996 feet/1,828 meters
Overlook:
6,074 feet/1,851 meters
Along the NPS1219 road to Twin Point is the Burnt Canyon trail. This 3-mile round trip trail is level and easy walking when dry. It is usually inaccessible due to mud and ice from December to February. The trail follows a grassy old roadbed to a quiet, isolated view of the western Grand Canyon. On a clear day, the top of Mt. Charleston near Las Vegas, NV can be seen over 100 miles away.
At the viewpoint is ample cleared space in the old roadbed to set up a tent on soft clay. If you plan to have a campfire (when there is not a fire ban) please have it where others have had a campfire ring rather than create a new ground disturbance.
There is no access down to the Sanup Plateau from this trail. Backpackers who want to access the Sanup Plateau need to either use the Twin Creek trail or the Sanup Plateau Viewpoint trail at the end of Twin Point. All overnight backpacking below the rim requires a
backcountry permit
from Grand Canyon National Park.
Last updated: May 18, 2021