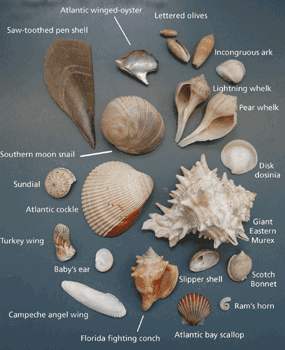 The following 37 species of molluscs have been documented at the National Seashore; the common name is followed by the scientific name.

Variable Coquina - Donax variabilis
Atlantic Giant Cockle - Dinocardium robustum
Broad Ribbed Caditid - Carditamera floridana
Sawtooth Penshell - Atrina serrata
Common Sundial - Architectonica nobilis
White Baby Ear - Sinum perspectivum
Janthina - Janthina janthina
N/A - Dentalium sp.
Eastern Oyster - Crassostrea virginica
Scorched Mussel - Brachidontes exustus
False Angelwing - Petricola pholadiformis
Atlantic Pearl Oyster - Pinctada imbricata
Rock Shell - Thais haemostoma
Striped False Limpet - Siphonaria pectinata
Lineolate Periwinkle - Littorina lineolata
Antillean Murite - Nerita fulgurans
Tinted Cantharus - Pisania tincta
Cayenne Keyhole Limpet - Diodora cayenensis
Greedy Dovesnail - Anachis avara
Disk Dosinia - Dosinia discus
Spiny Jewelbox - Arcinella arcinella
Alternate Tellin - Tellina alternata
Brown Moonsnail - Polinices hepaticus
Lettered Olive - Oliva sayana
Pointed Venus - Anomalocardia auberiana
Bay Scallop - Argopecten irradians
Scorched Mussel - Brachidontes exustus
Not Available - Laevecardium mortoni
Not Available - Mulinia laterale
Not Available - Acteon cumingii
Greedy Dovesnail - Anachis avara
Striate Bubble - Bulla striata
Not Available - Bursatella leecheii
Variable Cerith - Cerithium lutosum
Common Atlantic Slippersnail - Crepidula fornicata
Not Available - Diastoma varium
Bruised Nassa - Nassarius vibex
One of the most interesting mollusks to appear on Padre Island beaches does not actually inhabit the island or its waters: the Ram's Horn squid. These small creatures live at depths of about 300 ft. to 3,000 ft. (the deepest water in the park is about 12 feet). However, after they die, the small bouyancy chambers they use for adjusting their depth in the water often wash up onto our beaches. They look very much like miniature ram's horns and thus give the squid its name. One is shown in the bottom right of the photo at the top of this page. For a glimpse into the life of this fascinating creature, follow this link to an article in Wikipedia.