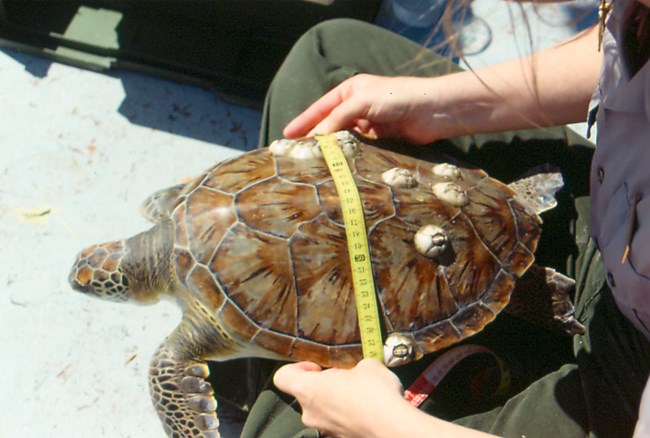 Data on residency, seasonality, relative abundance, distribution, movements, migration, sex ratios, sizes, and mortality factors of green turtles (Chelonia mydas) in Texas were collected through investigation of stranded, netted, and satellite-tracked turtles (Shaver, 2000). This study helped gather additional information needed by the National Park Service (NPS), National Marine Fisheries Service (NMFS), Texas Parks and Wildlife Department (TPWD), and U.S. Fish and Wildlife Service (USFWS) on green sea turtles in Texas, particularly those inhabiting the Mansfield Channel and in the Laguna Madre, in order to afford this threatened species adequate protection.
The Mansfield Channel is located at the southern end of Padre Island National Seashore, along the south Texas coast. The Mansfield Channel is one of only three direct routes of passage between the Gulf of Mexico and the Laguna Madre. A pair of jetties armor the Gulf of Mexico entrance to the channel. A variety of human activities are conducted at the Mansfield Channel and in the Laguna Madre (dredging, boating, fishing, etc.).
The Mansfield Channel and Laguna Madre provide important habitat for foraging, developing, resting, and migrating sea turtles. Although hawksbill (Eretmochelys imbricata), Kemp's ridley (Lepidochelys kempii), and loggerhead (Caretta caretta) turtles have been documented in the vicinity of the Mansfield Channel, the Mansfield Channel and Laguna Madre are particularly important to juvenile green turtles (Shaver, 1994, 2000, unpublished data), which were once commercially exploited in south Texas.
Sea turtles were netted at the Mansfield Channel jetties from 1989 through 1997 and catch-per-unit-effort (CPUE) was compared between study months and years. Two hundred fifty-eight green turtles (n = 383 captures) were netted in the Mansfield Channel during 1,149 h of effort (3.63 turtles/km‑h) from June 1989 through December 1997. Seventy-three of the 258 individuals were recaptured. CPUE was highest in the warmer months. CPUE varied each year, but generally increased over time.
Six hundred seven green turtles were located stranded along the Texas coast from 1980 to 1998, including 471 found from 1989 to 1997. Strandings were distributed throughout Texas, but were most numerous in south Texas. Of the 298 stranded turtles for which possible stranding causes were identified, 230 were victims of hypothermic stunning.
Netting and stranding data were compared (Shaver, 2000). Yearly numbers of stranded turtles and yearly catch-per-unit-effort (CPUE) followed similar trends and were correlated. Monthly trends of stranding numbers and CPUE differed dramatically. Strandings were most numerous during the winter and CPUE was highest during the summer and fall. The sex ratio for stranded turtles (1980-1998:1.09F:1:00M; 1989-1997: 0.94F:1:00M) differed from the sex ratio for netted turtles (4.16F:1.0M). Turtles found stranded (mean = 37.8 cm SLCL) were larger than those netted (mean = 32.4 cm SLCL). Ninety-eight percent of the stranded and all of the netted green turtles were juveniles.